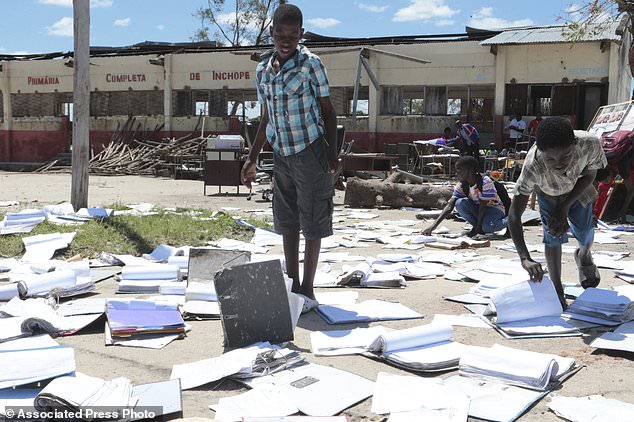 redo Jump to...
print Print...
(from an Associated Press report at the UK Daily Mail) BEIRA, Mozambique – Authorities in Mozambique say that with a key road open to the badly damaged city of Beira, conditions on the ground improving and more international help arriving, vital aid to those hit by Cyclone Idai should now flow more freely.
Cyclone Idai's death toll has risen above 750 in the three southern African countries hit 10 days ago by the storm, as workers rush to restore electricity, water and try to prevent outbreak of cholera.
In Mozambique the number of dead has risen to 446 while there are 259 dead in Zimbabwe and at least 56 dead in Malawi for a three-nation total of 761.
The death toll is "very preliminary," said Mozambique's environment minister, Celso Correia, who said it is expected to rise. …
Some 228,000 displaced people are now in camps across the vast flooded area of Mozambique, said Correia, who is the government's disaster coordinator, briefing journalists on Monday. It is still too early to give a number of missing, he said.
Diarrhea is reported in camps but he says it is too early to say whether it is cholera. He has said that it is almost certain that the deadly disease will emerge.
Aid teams are going to high points on islands created by Cyclone Idai and finding "a lot of people," Correia said.
Until all areas can be reached and assessed, it is impossible to say the disaster response effort has turned a corner, he said.
When asked by journalists about people found sheltering in a school along the newly opened main road to Beira who said they had not eaten since the storm, Correia said the aid had to be prioritized according to necessity.
At least they were found and aid is coming, he said. "They can still hang on for a few days."
Correia defended Mozambique's storm warning system, asserting that people knew weeks in advance that trouble was coming. More than 300,000 people were warned in advance, he said. "All reports say the system worked," he said.
Some residents of Beira and Buzi, however, have said they had heard nothing to indicate the scale of the cyclone and were shocked by the quickly rising waters, and some have expressed anger at the government for not giving more warning.
Mozambique's former president, Joachim Chissano, was at the press briefing and said authorities "did what they could" to warn residents. Chissano asserted that it would take three years to rebuild the city of Beira.
Sebastian Rhodes Stampa, deputy director of the U.N. Humanitarian operation, told reporters that "a lot more assistance" should be seen by Tuesday as more aid arrives at staging areas such as the Beira airport. …
He said the government is repairing key roads just enough to allow aid and other trucks to have access, with repair crews on hand when problems arise. They are being repaired "for now, and that's good enough," Stampa said.
One bright spot amid the hurried response efforts is the weather, which on Monday morning in Beira was dry, partly cloudy and hot. With no rains, the flooded areas should be able to drain.
"I'm pretty confident in the weather," Stampa said. "It's the only thing I'm confident about."
The United States military says President Donald Trump has directed it to support relief efforts to help Mozambique with the destruction caused by Cyclone Idai more than a week ago. …
The U.S. Africa Command statement says AFRICOM provides disaster relief "when it has unique capabilities that can be utilized in the U.S. Government's response."
It says the Combined Joint Task Force – Horn of Africa will lead the U.S. military efforts and that its initial assessments have begun at the scene of the disaster.
From an Associated Press report published at the UK's DailyMail .com on March 25. Reprinted here for educational purposes only. May not be reproduced on other websites without permission from the Daily Mail.
Questions
1. For MOZAMBIQUE, give the following information:
capital

location/the countries that share its borders

the religious breakdown of the population

the type of government

the chief of state (and head of government if different) If monarch or dictator, since what date has he/she ruled? – include name of heir apparent for monarch

the population
Find the answers at the CIA World FactBook website. For each country, answers can be found under the "Geography" "People" and "Government" headings.
NOTE: Before answering the following questions, read the info under "Background" and watch the videos under "Resources" below.
2. For MOZAMBIQUE:
a) list the who, what, where and when of the news item
b) How many people are known to have died as a result of Cyclone Idai?
c) Why is cholera such a concern? (What is cholera?)
d) Cyclone Idai caused severe flooding and loss of life. Why are officials more hopeful at this point?
Background
---
Cyclone Idai:
The storm made landfall near the port city of Beira in Mozambique's Sofala province on March 14, packing winds of up to 106 mph and bringing torrential rain.
Floods of up to 19 feet deep have caused "incredible devastation" over a huge area in Mozambique, the World Food Program has said, with homes, roads and bridges washed away.
The current flood zone is estimated to cover 1,200 square miles.
Nearly two million people have been affected.
Mozambique, Malawi, Zimbabwe and Madagascar all suffered high levels of rainfall.
But the worst of the flooding has been in Mozambique, with rivers flowing downstream from neighboring countries. The area close to the River Buzi west of Beira has been particularly hard-hit.
The storm first struck Beira – Mozambique's fourth-largest city and a port that sits on the mouth of the River Pungwe. Its geography, with parts of it lying below sea level, makes it vulnerable to severe storms.
The city bore the brunt of the storm, which caused flooding, knocked down buildings and engulfed roads. A large dam also burst, cutting off the last road into the city. The hospital has also been damaged. (from a March 22 BBC News report)
Resources
Watch a March 21 report from ABC News:
---
Watch a March 23 report from the UK's Chanel 4 News:
Daily "Answers" emails are provided for Daily News Articles, Tuesday's World Events and Friday's News Quiz.