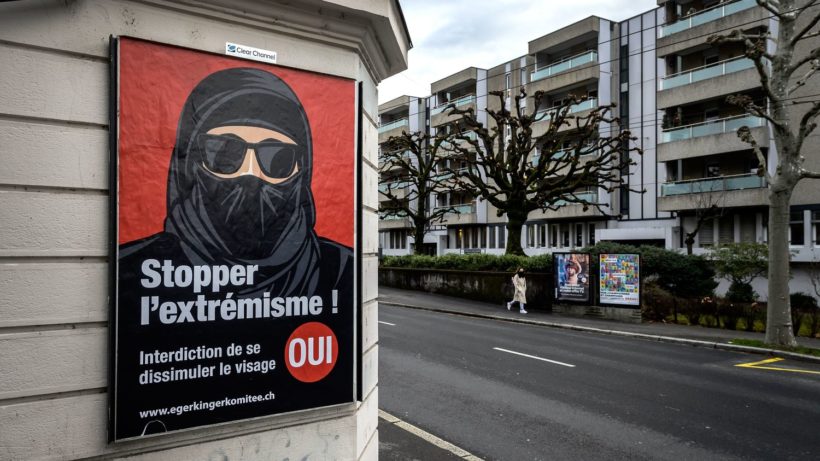 redo Jump to...
print Print...
(by Associated Press) BERLIN — Swiss voters approved a proposal on Sunday to ban face coverings, both the niqabs and burqas worn by some Muslim women in the country and the ski masks and bandannas used by protesters.
The measure will outlaw covering one's face in public places like restaurants, sports stadiums, public transport and on the street. It foresees exceptions at religious sites and for security or health reasons, such as face masks people are wearing now to protect against COVID-19, as well as for traditional Carnival celebrations. Authorities have two years to draw up detailed legislation.
Two Swiss cantons, or states, Ticino and St. Gallen, already have similar legislation that foresees fines for transgressions. National legislation will put Switzerland in line with countries such as Belgium and France that have already enacted similar measures. …
Supporters of the proposal, which came to a vote five years after it was launched, argued that the full-face coverings symbolize the repression of women and said the measure is needed to uphold a basic principle that faces should be shown in a free society like Switzerland's.
In the end, 51.2% of voters supported the plan. There were majorities against it in six of Switzerland's 26 cantons — among them those that include the country's three biggest cities, Zurich, Geneva and Basel, and the capital, Bern. SRF public television reported that voters in several popular tourist destinations including Interlaken, Lucerne and Zermatt rejected it.
Backers included the nationalist Swiss People's Party, which is the strongest in parliament. The committee that launched the proposal is led by a lawmaker from the party, Walter Wobmann, and also initiated a ban on the construction of new minarets that voters approved in 2009.
A coalition of left-leaning parties that opposes the proposal put up signs ahead of the referendum that read: "Absurd. Useless. Islamophobic."
Wobmann told SRF that the initiative addressed both "a symbol of a completely different system of values … extremely radical Islam" and security against "hooligans." He said that "this has nothing to do with symbolic politics." …
"In Switzerland, our tradition is that you show your face. That is a sign of our basic freedoms,"Wobmann said before the vote. Facial covering is "a symbol for this extreme, political Islam which has become increasingly prominent in Europe and which has no place in Switzerland," he said.
The BBC reports that approximately 5% of Switzerland's population of 8.6 million people are Muslim, most originating from Turkey, Bosnia and Kosovo.
Published by the Assocated Press on March 7, 2021. Reprinted here for educational purposes only. May not be reproduced on other websites without permission from the Associated Press (AP).
Questions
NOTE: Before answering the following questions, read the "Background" and watch the videos under "Resources" below.
1. List the who, what, where and when of the news item.
2. a) Where will people be prohibited from wearing face coverings in Switzerland?
b) How long will officials be given to establish the details of the legislation?
3. What reasons were given for supporting the ban on face coverings? (generally the position of those on the right)
4. Why were others opposed to the ban? (generally the view of those on the left)
5. One opponent of the ban said she defends the right of women who want to wear a face covering. Should she also defend the right of women who don't want to wear any type of face – or even hair covering – but are required/forced to do so by their male relatives? Explain your answer.
Background
The populist Swiss People's Party celebrated the referendum result, calling it in a statement "a strong symbol in the fight against radical political Islam."
Party president, Marco Chiesa, said the "prohibition on veiling" is lawful and does not violate human rights, pointing to decisions by the European Court on Human Rights to uphold similar bans passed by bloc nations.
"It is legitimate for the state to take such a measure to meet the requirements for co-existence in society," Chiesa said. "The burqa creates a barrier between its wearer and the environment and thus prevents integration into society."
The party also said by voting yes to the veil ban Swiss voters were saying yes to more security "because it is expressly directed against hooligans and left-wing [rioters] who commit violence and vandalism while masked."
With the vote, Switzerland joins Austria, France and the Netherlands among other European nations to ban face coverings and comes after it in 2009 voted to ban minarets. (from a March 8 UPI report)
---
Switzerland joins other countries that have banned face coverings in public (from CNN News18):
France:  In 2011, France banned face coverings with a law prohibiting concealment of the face in public space. The act banned wearing of face-covering headgear, including masks, helmets, balaclavas, niqābs and other veils covering the face in public places. The ban also included the burqa if it covers the face. The ban was highly debated in the public as people raised concerns over immigration, nationalism, secularism, security, and sexuality. The advocates of the ban said face coverings hindered the clear identification in terms of security risk and 'forcing' women to cover their face under Islamic practices was sexist and oppressive. Opponents of the ban said that it encroaches on individual freedoms and targeted Muslims for their beliefs.
Belgium: Full face coverings, including burqas, in public are banned in Belgium since 2011. People violating the law can face a fine or up to seven days in jail. However, Belgium only has around a million Muslims and out of those, only 300 wear burqa or niqab.
Denmark: Burqas were first banned in August 2018 months after validating the law in May that year. The law imposes a fine of up to €135 for offenders.
Austria: In Austria, the law mandates that people should make their face visible from hairline to chin, under the law known as Law against Wearing Face Veils. The ban has been in place since 2017. Violators of the law face a fine of up to €150.
Bulgaria: In Bulgaria, the burqa ban has been in place since 2016 with violators facing a fine of up to €750. However, it has made exemptions for people playing sport, at work or in a house of prayer.
The Netherlands: The ban applies to burqas, veils full-face helmets and balaclavas. The ban came into place here after 14 years of debate. A fine of at least €150 can be imposed.
Resources
Watch a March 7, 2021 Euronews report:
Daily "Answers" emails are provided for Daily News Articles, Tuesday's World Events and Friday's News Quiz.