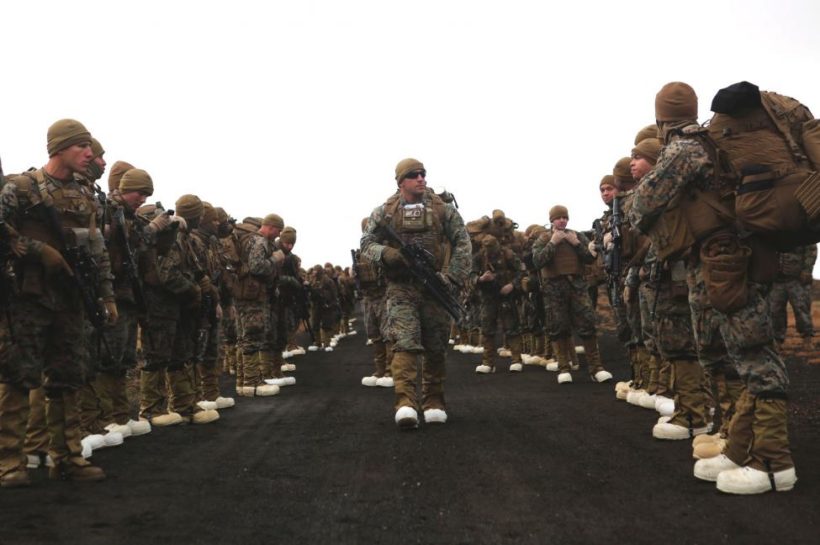 redo Jump to...
print Print...
(by Tauren Dyson, UPI) — U.S.-led NATO forces began their biggest military exercises since the end of the Cold War in Norway on Thursday to demonstrate the alliance's defense capabilities.
Exercise Trident Juncture 18, which runs from Oct. 25 to Nov.7, tests and evaluates logistics capabilities of all NATO members. It is expected to involve more than 50,000 personnel [20,000 from the U.S.], 10,000 vehicles, 150 aircraft and 70 ships from 31 nations. [The Marine Corps will make up the largest U.S. service element, along with key assets from the Navy, Army and Air Force.]
The exercise, which was announced in June, follows Russia's move to carry out its largest ever military readiness exercise in September comprised of 300,000 troops.
The first Exercise Trident Juncture took place in 2015, when roughly 36,000 personnel from 30 countries engaged in activities in Italy, Portugal and Spain.
"If you can train in Norway, you can train anywhere in the world," Sgt. Robert Durham, of the 24th Marine Expeditionary Unit of the U.S. Marine Corps, told UPI. Durham will join approximately 7,500 U.S. marines at Trident Juncture, more than any other U.S. military branch.
During this year's exercise, NATO forces will navigate Northern Europe, tackling air, land, maritime, special operation and amphibious forces missions that span central and eastern Norway, Iceland and the surrounding areas of the North Atlantic, along with the Baltic Sea and the airspace over Finland and Sweden. …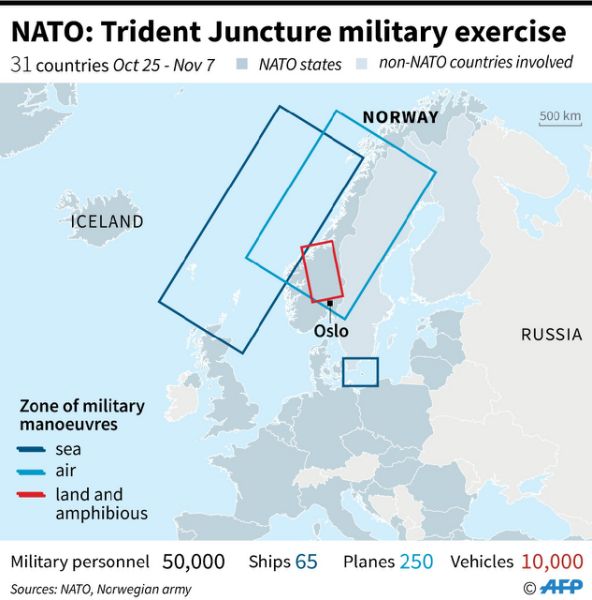 The Marines will work directly with the the Icelandic Coast Guard and the Royal Marines to provide help to rapidly move large amounts of materials from ship to shore.
"It's really a challenging environment in Norway in a variety of ways … the temperature alone is one thing, but the geography is another," Durham said. "It's an opportunity to demonstrate our capabilities in those environments, and it's very important, especially for our younger Marines to get to experience something like that."
Maj. Adrian Rankine-Galloway, USMC Director of the U.S. Joint Information Center, told UPI:
"The U.S., like all allied nations, has collective defense responsibilities tied to our NATO membership. We participate in NATO exercises to enhance our interoperability and teamwork with our NATO allies and partners. We must ensure that we are ready to fight and defend, if called on to do so." …
The exercise, however, is not only designed to test the organizational skills of the the allied forces, but also their ability to perform in rough weather.
Maj. Rankine-Galloway expects temperatures in Iceland and Norway to range from 35 to 45 degrees, with possible precipitation. These conditions, Galloway said, will help prepare the Marines and sailors to act in combat mission in difficult weather.
"Exercises like this make the Alliance better prepared to counter any aggression, if necessary," Rankine-Galloway said.
U.S. Navy Admiral James Foggo — commander of the Allied Joint Force in Naples, Italy — echoed that sentiment during a Trident Juncture press conference. He said one of the exercise's messages was to "show NATO is capable of defending, it is capable of deterring any adversary, not anyone in particular."

He added that the exercise is "a message to anyone who might conduct any kind of aggressive act leading to an Article 5 scenario inside the NATO Alliance."

Trident Juncture 18 is modeled after an Article 5 scenario, a call to action to protect any NATO country under attack. Since NATO launched in 1949, the only Article 5 scenario to occur was in response to the Sept. 11 attack.

Some experts think the exercise is a direct response to a potential Russian threat, as tensions between it and the alliance have continued to grow since Russia's annexation of Crimea from Ukraine in 2014, its continued efforts to destabilize Ukraine, its building military capabilities in the Arctic and its largest ever military exersizes in September.

["Such activity… comes across as provocative, even if you try to justify it as being of a purely defensive nature," the Russian embassy in Oslo said.

Addressing these concerns, Admiral Foggo said, "Any fears on the part of the Russian Federation are unfounded. We defend, we deter, we don't take somebody else's territory. That's not our intent and they are not the focal point of this exercise."]

During a meeting in Brussels earlier this year, NATO defense ministers presented another plan to push back against future threats. In addition to Trident Juncture, the organization will launch its new "four thirties," which prepares 30 troop battalions, 30 aircraft squadrons and 30 warships to deploy in 30 days. The plan is scheduled to be in place by 2020.

"We have decided further steps to strengthen our shared security and boost defense and deterrence against threats from any direction," NATO Secretary General Jens Stoltenberg said after the Brussels meeting.

Published at the UPI .com on October 25. Reprinted here for educational purposes only. May not be reproduced on other websites without permission from United Press International.
Questions
1. For NORWAY, give the following information:
capital

location/the countries that share its borders

the religious breakdown of the population

the type of government

the chief of state (and head of government if different) If monarch or dictator, since what date has he/she ruled? – include name of heir apparent for monarch

the population
Find the answers at the CIA World FactBook website. For each country, answers can be found under the "Geography" "People" and "Government" headings.
NOTE: Before answering the questions below, read the info under "Background" and watch the videos under "Resources."
2. For NORWAY:
a) list the who, what, where and when of the news item
b) What is the purpose of NATO? How many member nations are in NATO?
c) What is the purpose of the Exercise Trident Juncture 18?
How many of the 50,000 military personnel taking part in the joint NATO exercises are from the U.S.?
e) What will the U.S. Marines do during the exercises?
f) For what reasons is the U.S. participating in Trident Juncture 18? Be specific.
Background
NATO:
The North Atlantic Treaty Organization (NATO) is an alliance of 29 countries from North America and Europe committed to fulfilling the goals of the North Atlantic Treaty signed on April 4, 1949.
Twelve countries were part of the founding of NATO: Belgium, Canada, Denmark, France, Iceland, Italy, Luxembourg, the Netherlands, Norway, Portugal, the United Kingdom, and the United States. NATO grew by including Greece and Turkeyin 1952 and West Germany in 1955, and then later Spain in 1982.
In accordance with the Treaty, the fundamental role of NATO is to safeguard the freedom and security of its member countries by political and military means. (from nato.int)
NATO was established to counter the risk that the Soviet Union would seek to extend its then-control of Eastern Europe to other parts of the continent.
NATO's role as a political and military alliance was to provide for collective defense against any form of aggression and to maintain a secure environment for the development of democracy and economic growth.
NATO is committed to the peaceful resolution of disputes. If diplomatic efforts fail, it has the military capacity needed to undertake crisis-management operations. These are carried out under Article 5 of the Washington Treaty – NATO's founding treaty – or under a UN mandate, alone or in cooperation with other countries and international organizations. (from nato.int)
The member states of NATO in the order of joining:
1949 – Belgium, Canada, Denmark, France, Iceland, Italy, Luxembourg,  Netherlands, Norway, Portugal,  United Kingdom, United States.
1952 – Greece, Turkey
1955 – Germany
1982 – Spain
1999 – Czech Republic, Hungary, Poland
2004 – Bulgaria, Estonia, Latvia, Lithuania, Romania, Slovakia, Slovenia
2009 – Albania, Croatia
2017 – Montenegro
---
U.S. Joins NATO's Trident Juncture Exercise: (from defense.gov)
NATO is a defensive alliance whose purpose is to protect its member states. In response to a changed security environment, NATO continues to enhance its readiness and agility, including through exercises like Trident Juncture. This is to ensure the alliance can counter any threat from any direction. Everything that is done —  including military exercises — is defensive, proportionate and in line with international obligations.
Combined training and security cooperation efforts enable allies and partners to respond more effectively to regional crises and foster interoperability. The exercise will also include more than 150 aircraft, 70 ships and 10,000 vehicles. An exercise of this scale allows the United States to demonstrate the global reach of the U.S. military, enhances professional relationships, and improves overall coordination with ally and partner militaries during times of crisis.
Portions of the exercise will also take place in Sweden, Finland and Iceland. This exercise has air, sea and land elements, and officials say Norway offers the possibility to train realistically in all of these domains. The cold and wet weather will pose additional challenges, but will allow troops to train to operate in extreme conditions.
Trident Juncture is designed to test NATO's ability to plan and conduct a major collective defense operation — from troop training at the tactical level, to command large elements of a NATO force. Although Trident Juncture is not a cyber defense exercise, it will help the U.S. build resilience against cyber attacks and disinformation.
---
Read about the April 2018 NATO drills in Norway.
Did you know  that the U.S. pays approximately 22% of NATO's budget? The other 28 countries fund the remainder. President Trump has called on all NATO members to fulfill their obligations. Which wealthy country has not done so? Read about it here.
Resources
Watch a report from Canada's Global News:
---
Watch a report from London's Telegraph:
Daily "Answers" emails are provided for Daily News Articles, Tuesday's World Events and Friday's News Quiz.