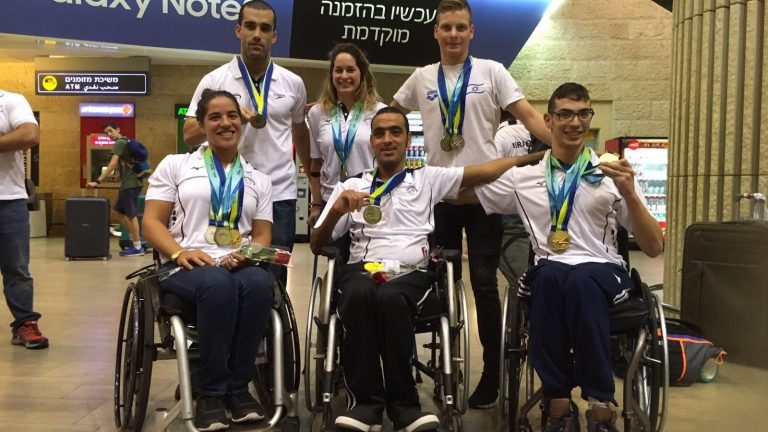 (Compiled from BBC News, i24News and CBN News) — Malaysia has been stripped of the right to host the 2019 World Paralympic Swimming Championships for barring Israeli athletes from competing, says the International Paralympic Committee (IPC).
Malaysia, which is a majority Muslim country, banned the athletes because of what Kuala Lumpur says is Israel's poor treatment of Palestinians.
The Israeli foreign ministry condemned the decision and accused Malaysia of anti-Semitism.  Israel had called on the International Paralympic Committee to challenge the decision or change the venue of the competition, with the foreign ministry calling the decision to bar athletes "shameful," and that the move "totally opposes the Olympic spirit."
On Sunday, after deliberations by the IPC governing board in London, the organization decided to find a new host for the championships, which was set to begin on July 29.
"The Paralympic Movement has, and always will be, motivated by a desire to drive inclusion, not exclusion," said Andrew Parsons, IPC President, in a statement, adding that the decision would be the same "regardless of the countries involved," should a similar matter arise again.

"When a host country excludes athletes from a particular nation, for political reasons, then we have absolutely no alternative but to look for a new championships host,"  Parsons said.

"All World Championships must be open to all eligible athletes and nations to compete safely and free from discrimination. Politics and sport are never a good mix and we are disappointed that Israeli athletes would not have been allowed to compete in Malaysia."
Parsons added: "Since [Malaysia was awarded host country], there has been a change of political leadership and the new Malaysian government has different ideas."
Malaysia is one of a number of Muslim-majority countries that has no formal diplomatic ties with Israel, with entry to the country on an Israeli passport prohibited. The IPC said it had been given assurances by the Paralympic Council of Malaysia in 2017 that all eligible athletes would be allowed to compete safely in Kuching.
Earlier this month, Malaysia's foreign minister Saifuddin Abdullah said in a press conference, "Even if we have already committed to hosting an event, [Israeli athletes] will not be allowed (into the country)" and said Malaysia will not invite Israelis to participate in any future international events held in Malaysia.
"Malaysia will not host any more events involving Israel or its representatives. This is to me, a decision to reflect the government's firm stance over the Israeli issue," he said after meeting a coalition of Muslim groups.
Mahathir Mohamad, 93, who previously served as Prime Minister from 1981 to 2003,  and was elected prime minister again last May, has for decades been accused of anti-Semitism for his attacks against Jews. In a BBC interview last October, he described Jews as "hook-nosed" and blamed them for the troubles in the Middle East.
Prime Minister Mohammad opposes the existence of the Jewish state of Israel, saying "Jerusalem has always been Palestinian territory and it must remain in its current status."
Mohammad defended his decision to exclude Jewish athletes from the Paralympic games while speaking at Oxford University, saying, "A country has a right to keep its border closed to certain people, that's why borders are there."
"Malaysia has no diplomatic relations with Israel at all, and we don't think that they should come to our country because we have no relations with them. We feel that they were doing a lot of wrong things but getting away with it, because nobody dares to say anything to them," he said.
The 2019 championships, which are due to run from July 29 to August 4, will be the determining factor for who will participate in the 2020 Paralympic Games in Tokyo. More than 600 swimmers from 60 nations will compete in the championships.
Cities interested in replacing Malaysia as host of the championships must express interest to the IPC by February 11.
Parsons told BBC Sport that the IPC is already "working with some possible hosts" and is "confident" the championships will go ahead on roughly the same dates.
Israeli foreign ministry spokesman Emmanuel Nahshon tweeted: "This is a victory of values over hatred and bigotry, a strong statement in favor of freedom and equality. Thank you @Paralympics for your brave decision."
Compiled from articles at BBC News and i24News on January 27 and CBNNews on Jan. 28. Reprinted here for educational purposes only. May not be reproduced on other websites without permission.
Questions
1. For MALAYSIA, give the following information:
capital

location/the countries that share its borders

the religious breakdown of the population

the type of government

the chief of state (and head of government if different) If monarch or dictator, since what date has he/she ruled? – include name of heir apparent for monarch

the population
Find the answers at the CIA World FactBook website. For each country, answers can be found under the "Geography" "People" and "Government" headings.
NOTE: Before answering the following questions, read the info under "Background" and watch the video under "Resources" below.
2. For MALAYSIA:
a) list the who, what, where and when of the news item
b) For what reason has the International Paralympic Committee (IPC) stripped Malaysia of its right to host the 2019 Paralympic swimming championships?
c) What commitment had the Malaysian government made to the IPC in 2017?
d) How did the Israeli government respond to Malaysia's barring of Israeli athletes from the games, and the IPC's final decision on the matter?
e) Should all world sporting events be open to all eligible athletes and nations?
f) This week also marks 74 years after the liberation of Auschwitz, the Nazi concentration camp in which 1,100,000 Jewish men, women and children were murdered (another 150,000 Polish mostly Catholics/Christians and tens of thousands of Roma and other people were also murdered in Auschwitz). January 27 is International Holocaust Remembrance Day – the day the world acknowledges and remembers. Why is it important that the world deny Malaysia this type of anti-Semitic act?
g) Did you know that there are other Muslim-majority countries that do not recognize Israel as a state and prohibit their athletes from facing Israeli competitors in various sporting events? What is your reaction to this?
Resources
Visit the IPC website.
---
Watch a Jan. 29 news report:
Daily "Answers" emails are provided for Daily News Articles, Tuesday's World Events and Friday's News Quiz.