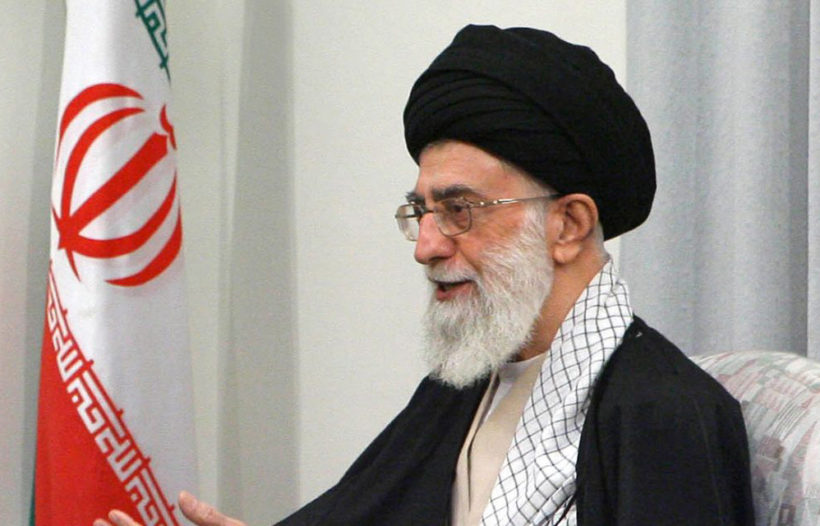 redo Jump to...
print Print...
(by Bozorgmehr Sharafedin and Michael Georgy, Reuters) – Iran's Supreme Leader Ayatollah Ali Khamenei claimed on Monday the attackers who killed 25 people at a military parade on Saturday had been paid by Saudi Arabia and the United Arab Emirates, and that Iran would "severely punish" those behind the bloodshed.
The deputy head of Iran's Revolutionary Guards also accused the United States and Israel of involvement in the attack and said they should expect a devastating response.
In the southwestern city of Ahvaz, thousands packed the streets to mourn the victims of Saturday's assault, many chanting "Death to Israel and America." Twelve members of the elite Islamic Revolutionary Guard Corps were among the dead.
…In one of the worst such attacks against Iran's most powerful military force, gunmen fired on a viewing stand in Ahvaz on Saturday where officials had gathered to watch an annual parade marking the start of Iran's 1980-88 war with Iraq.
Iran's Fars and IRNA news agencies said on Monday five attackers were killed, not four as previously reported by state media. The body of the fifth assailant had not been identified as it was mixed up with other casualties, Fars said.
"Based on reports, this cowardly act was done by people who the Americans come to help when they are trapped in Syria and Iraq, and are paid by Saudi Arabia and the UAE. …It is America who supports these little mercenary countries in the region. It is Americans who are provoking them. It is Americans who provide them with their required necessities to perpetrate such crimes," Iranian President Rouhani claimed on his official website.

Guards Brigadier General Hossein Salami, in a speech broadcast on state TV, said: "You have seen our revenge before. You will see that our response will be crushing and devastating and you will regret what you have done."
Tasnim news agency quoted Salami as saying the "horrific crime" exposed the dark side of an alliance that the United States, Saudi Arabia and Israel had created to counter Iranian influence in the region. … It is, however, highly unlikely the Iranian Guards will strike any of its foes directly and risk setting off a regional conflict. …
The UAE (United Arab Emirates), a close ally of Saudi Arabia and Washington, rejected Iran's allegations alluding to its involvement in the violence.
U.S. Secretary of State Mike Pompeo, when asked if the United States played any role in the attack, said: "When you have a security incident at home, blaming others is an enormous mistake."  The loss of innocent lives was tragic, Pompeo added.
There has been no reaction from Saudi Arabia or Israel.
[Nikki Haley, US ambassador to the UN, rejected Iran's accusations.  She said on CNN's "State of the Union" on Sunday, "You've got a lot of rhetoric coming from Rouhani. The United States condemns any terrorist attack anywhere, period. We've always stood by that. I think what Rouhani needs to do is he needs to look at his own home base.  He can blame us all he wants; the thing he's got to do is look in the mirror."].
Iran's Intelligence Minister, Mahmoud Alavi, said a network of suspects had been arrested in connection with the attack, the judiciary's news agency Mizan reported. He did not elaborate.
Karim Dahimi, a human rights activist in London, told Reuters local sources had said more than 300 people had been arrested in the cities of Ahvaz, Khorramshahr and Abadan in recent days, mostly from the Sunni Muslim community. [Iran's Islamic clerics are Shi'ite Muslims. Iran is a Shi'ite-majority country.].
Ahvaz National Resistance, an Iranian ethnic Arab opposition movement which seeks a separate state in oil-rich Khuzestan province, and Islamic State have both claimed responsibility.
The Iranian Guard Corps was set up after the 1979 Islamic revolution to protect the Shi'ite clerical ruling system and revolutionary "values." It answers to Ayatollah Khamenei and has an estimated 125,000-strong military with army, navy and air units.
Excerpted from a September 24 Reuters report.
Questions
1. For IRAN, give the following information:
capital

location/the countries that share its borders

the religious breakdown of the population

the type of government

the chief of state (and head of government if different) If monarch or dictator, since what date has he/she ruled? – include name of heir apparent for monarch

the population
Find the answers at the CIA World FactBook website. For each country, answers can be found under the "Geography" "People" and "Government" headings.
NOTE: Before answering the questions below, watch the videos under "Resources."
2. For IRAN:
a) list the who, what, where and when of the news item
b) What countries did various Iranian leaders blame for the terrorist attack on the military parade in Iran this weekend?
c) What threat did the Iranian leaders make against us?
d) How did US Ambassador to the UN Nikki Haley respond to Iran's false accusations and threats against us?
Background
The world knows the Iranian government is the world's largest state sponsor of terrorism:
On September 7, a number of mortar shells exploded near the US embassy in Baghdad, inside the city's highly fortified 'Green Zone.' In response to the attack, the White House released a statement on September 11 blaming Iranian backed militia, saying:

"Iran did not act to stop these attacks by its proxies in Iraq which it has supported with funding, training and weapons."

Secretary of State Mike Pompeo noted "Iran has been the world's largest state sponsor of terror for quite some time."

He said: "They have armed militias, the Lebanese Hezbollah, militias in Iraq; they're arming the Houthis in Yemen, launching missiles in the Gulf states." He also noted that Iran is "responsible for the arming and training of these militias."

In August, the US State Department created the Iran Action Group. Secretary Pompeo stated at its launch that the "Iranian people and the world are demanding that Iran finally act like a normal nation." (From a Sept. 22 UK Express report)
Resources
Sep. 24, 2018 – The deputy head of Iran's Revolutionary Guard promises retaliatory attacks against the U.S. and its allies after gunmen killed at least 25 people and injured dozens more at a military parade in southern Iran; Trey Yingst reports from Jerusalem.  Watch a Fox News report:
---
Watch a Euronews report:
Daily "Answers" emails are provided for Daily News Articles, Tuesday's World Events and Friday's News Quiz.