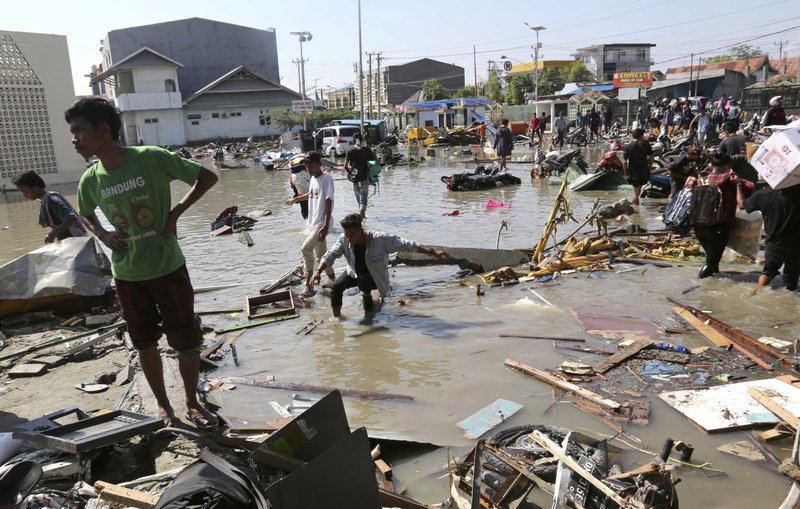 redo Jump to...
print Print...
(by Niniek Karmini, Associated Press) PALU, Indonesia — Rescuers struggled Sunday to reach victims in several large coastal towns in Indonesia that were hit by an earthquake and tsunami, and authorities feared that the toll of more than 800 confirmed dead would rise.
With the area largely cut off by damaged roads and downed communications lines, military and commercial aircraft were delivering some aid and supplies to the hard-hit city of Palu on the island of Sulawesi, and others in the region.
But there was a desperate need for heavy equipment to reach possible survivors buried in collapsed buildings, including an eight-story hotel in Palu…
At least 832 people were confirmed killed by the quake and tsunami that struck Friday evening, Indonesia's disaster agency said, with nearly all of those from Palu. The regencies of Donggala, Sigi and Parigi Moutong — with a combined population of 1.2 million — had yet to be fully assessed.
"The death toll is believed to be still increasing, since many bodies were still under the wreckage, while many have not been reached," said disaster agency spokesman Sutopo Purwo Nugroho.
Bodies covered in blue and yellow tarps lined the streets of Palu, and officials said they were digging a mass grave for at least 300 of the dead.
It was not immediately known when the burial would take place, but "this must be done as soon as possible for health and religious reasons," said Willem Rampangilei, head of the National Disaster Mitigation Agency. Most of Palu's residents are Muslim.
… Indonesian President Joko "Jokowi" Widodo toured Palu on Sunday and said rescuers were having difficulty reaching victims because of a shortage of heavy equipment.
"There are many challenges," Jokowi said. "We have to do many things soon, but conditions do not allow us to do so." He said authorities were deploying more heavy machinery so emergency workers could help recover more victims Monday.
The stricken areas also needed medical supplies, fuel, fresh water and experts.
It was the latest natural disaster to hit Indonesia, which is frequently struck by earthquakes, volcanic eruptions and tsunamis because of its location on the "Ring of Fire," an arc of volcanoes and fault lines in the Pacific Basin. In December 2004, a massive magnitude 9.1 earthquake off Sumatra island in western Indonesia triggered a tsunami that killed 230,000 people in a dozen countries. More recently, a powerful quake on the island of Lombok killed 505 people in August.
In Donggala, the site closest to the epicenter of Friday's earthquake, aerial footage on Metro TV showed the…sands of beaches swept out to sea, along with some buildings. Some buildings in the town were severely damaged, with plywood walls shredded and chunks of concrete scattered on the pavement. Much of the damage, however, appeared limited to the waterfront.
Palu, which has more than 380,000 people, was strewn with debris from the earthquake and tsunami. A heavily damaged mosque was half submerged and a shopping mall was reduced to a crumpled hulk. A large bridge with yellow arches had collapsed.
The city is built around a narrow bay that apparently magnified the force of the tsunami as the waves raced into the tight inlet. Nugroho, the disaster agency spokesman, said waves were reported as high as 20 feet in some places.
…With hundreds injured, earthquake-damaged hospitals were overwhelmed. …
Communications with the area were difficult because power and telecommunications were cut, hampering rescue efforts. Most people have slept outdoors, fearing strong aftershocks.
Indonesia is a vast archipelago of more than 17,000 islands that span a distance that would stretch from New York to London. It is home to 260 million people. Roads and infrastructure are poor in many areas, making access difficult in the best of conditions.
The disaster agency has said that essential aircraft can land at Palu's airport, though AirNav, which oversees aircraft navigation, said the runway was cracked and the control tower damaged.
Sulawesi has a history of religious tensions between Muslims and Christians, with violent riots erupting in the town of Poso, not far from Palu, two decades ago. Indonesia is the world's most populous Muslim country.
Published at Associated Press on Sept. 30.  Writers Margie Mason in Jakarta, Indonesia, and Stephen Wright in Makassar, Indonesia, contributed.
From the UK Guardian,  "What we know so far":
A 7.5 magnitude earthquake struck the Indonesian island of Sulawesi on Friday at about 6pm and was followed by a tsunami with waves up to [20 feet] high.
The death toll from the earthquake and tsunami currently stands at 832, but is expected to rise sharply.
Authorities have said the final death toll could reach the thousands as rescue teams push into the Donggala region, which was directly hit and is home to 300,000 people.
In some of the smaller villages and subdistricts around Palu, it is feared entire communities of up to 2,000 people have been killed after mudslides submerged and crushed their homes.
A 14-day state of emergency has been declared in Sulawesi.
Heavy machinery needed to move rubble has still not reached the area, so search and rescue efforts are being done primarily by hand.
Some telecommunications had been restored to the area but there continues to be no power in Palu. There is also a shortage of food and fuel in the city, with huge queues at petrol stations.
The structural damage done to prisons by the earthquake allowed for a massive prison break across the area. 1,425 prisoners are now missing from jails.
Questions
1. For INDONESIA, give the following information:
capital

location/the countries that share its borders

the religious breakdown of the population

the type of government

the chief of state (and head of government if different) If monarch or dictator, since what date has he/she ruled? – include name of heir apparent for monarch

the population
Find the answers at the CIA World FactBook website. For each country, answers can be found under the "Geography" "People" and "Government" headings.
NOTE: Before answering the questions below watch the videos under "Resources."
2. For INDONESIA:
a) list the who, what, where and when of the news item
b) How many people were confirmed dead on Sunday?
c) Why do authorities fear the death toll will climb much higher?
d) As of Sunday, why were rescuers having trouble reaching victims?
Resources
Watch an October 1 NewsAU report:
---
Watch an October 1 BBC report:
---
Watch a September 30 report from The Guardian:
Daily "Answers" emails are provided for Daily News Articles, Tuesday's World Events and Friday's News Quiz.