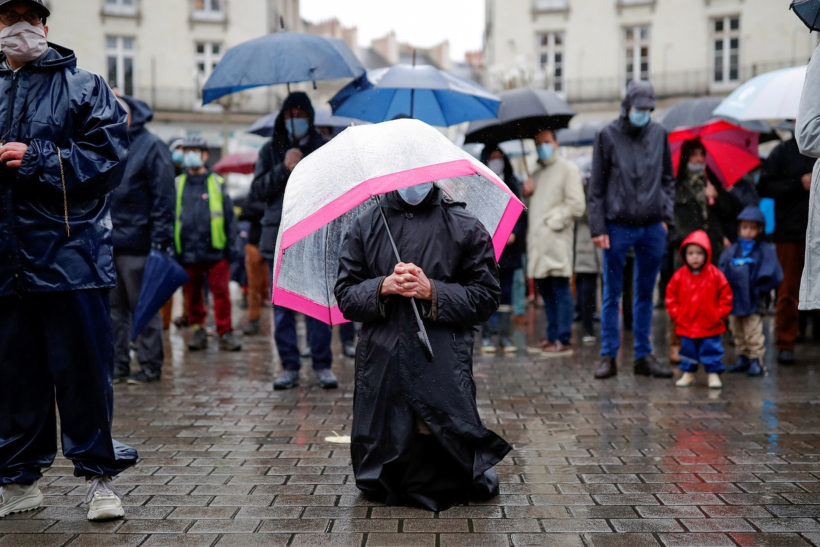 (Compiled from AP and Reuters) PARIS — With banners reading "Let us Pray" and "We Want Mass," (On veut la messe) Catholic protesters held several demonstrations around France on Sunday, calling for authorities to relax virus lockdown measures to allow for religious services.
Catholics held an open air mass in the western French city of Nantes, home to one of France's best known cathedrals, to protest against COVID-19 restrictions, under which masses in churches are banned.
Dozens of people, wearing face masks, knelt down with umbrellas in pouring rain to pray in Nantes' central Graslin Square, and to support calls for public masses to resume.
"It is very hard for us. It's like we are being deprived of our food. We need our spiritual food. When we are deprived of our mass, it is like being deprived of our food," said Jerome Duchesne, a protester taking part in the ceremony in Nantes.
Duchesne said the masses should resume since churches and cathedrals could easily adopt COVID-19 sanitary protocols, such as by having sufficient spaces between worshippers.
On Friday, devout Catholics sang hymns and rallied for hours at the landmark Saint-Sulpice Church on the Left Bank of Paris at a similar demonstration — but Paris police said the protest didn't respect social distancing and violated an order against praying in the streets, so they banned a similar rally planned for Sunday.
Predominantly Roman Catholic France banned Mass and other religious services for the month of November as part of nationwide partial lockdown measures aimed at reining in infections and relieving pressure on hospitals. Churches and other religious sites remain open for individual visitors to come and pray alone.
As part of a lockdown that came into effect on Oct. 30, large public gatherings in all religious venues have been banned, due to fears that the COVID-19 virus can spread rapidly in enclosed spaces.
Similar gatherings to the one in Nantes were reported or planned in the eastern city of Strasbourg, Bordeaux in the southwest, and outside the Saint-Louis Cathedral in Versailles.
In Paris, police stepped up controls over the weekend to ensure residents were complying with lockdown rules.
While France is seeing signs that the current surge may be reaching its peak, Interior Minister Gerald Darmanin instructed believers to watch services online and avoid public gatherings while the lockdown is in place. In a statement published on Twitter, he said he would meet Monday (Nov. 16) with religious leaders to discuss how the government may eventually open up services again, notably amid pressure to allow in-person Christmas celebrations.
Compiled from reports by Associated Press at ABC News and by Reuters on Nov. 15. Reprinted here for educational purposes only. May not be reproduced on other websites without permission.
Questions
NOTE: Before answering the following questions watch the video under "Resources" below.
1. List the who, what, where and when of the news report.
2. How did Jerome Duchesne, taking part in the open air mass in Nantes, explain the reasons that authorities should reverse their ban on church services?
3. What does the French government's latest lockdown order prohibit?
4. a) What did Catholics on the Left Bank of Paris do on Friday?
b) How did Paris police respond?
5. What do you think of the Paris police response?
Resources
Watch a news report from RT's Ruptly (Russian government news):
Daily "Answers" emails are provided for Daily News Articles, Tuesday's World Events and Friday's News Quiz.