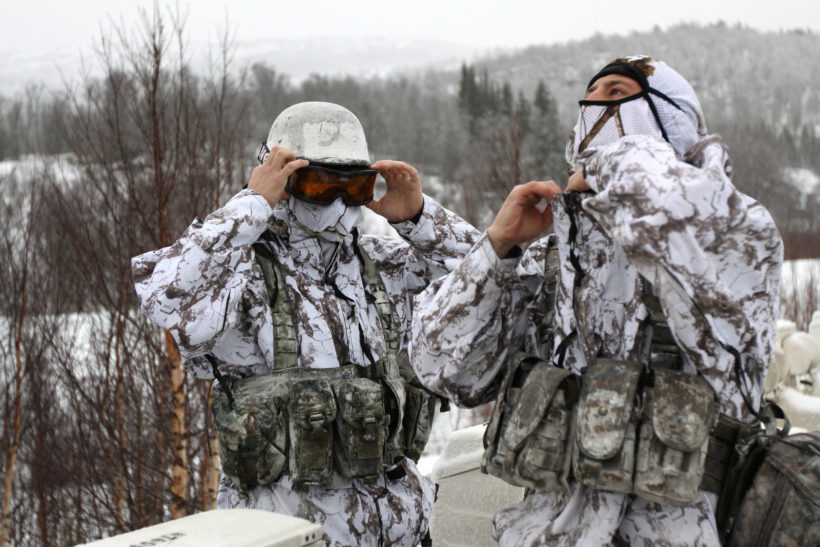 redo Jump to...
print Print...
(by Julian Robinson, UK Daily Mail) – Up to 35,000 soldiers will take part in Nato military drills across Norway this year – the largest the country has seen since the Cold War.
The Scandinavian nation, which shares an Arctic border with Russia, will host troops from 30 countries during Trident Juncture, scheduled for October and November.
More than 120 aircraft, 70 ships and 10,000 vehicles will participate in the training exercises, which come amid heightened tensions between Moscow and the West.
Operations will take place in surrounding areas of the North Atlantic and the Baltic Sea, including Iceland, and the airspace of Finland and Sweden.
Air, land, maritime, special operation forces and amphibious forces will also participate in what is one of the biggest Nato exercises in recent years.
Frank Sølvsberg, spokesperson for Trident Juncture, said the drills will be three times larger than any other prior military exercise carried out in Norway.
"This will be a very big and important exercise that will affect many," he is quoted as saying.
The operation will be so big Norwegians have been warned it will affect more than a hundred municipalities 'directly or indirectly'.
Trident Juncture takes place every three years and was last held in the Mediterranean around Italy, Spain and Portugal. [The mission of the Trident Juncture exercises is to demonstrate an increased level of cooperation in joint modern warfare and forward-leading alliance equipped with the appropriate capability and capacity to deter present and future security challenges – posed mainly by Russia.]
According to the Norwegian news website VG, the 35,000 troops will be 'very visible in large parts of Southeastern and central Norway' when the alliance 'will train to defend Norway'.
The main drills will take place between October 25 and November 7 but preparations will get underway as early as August.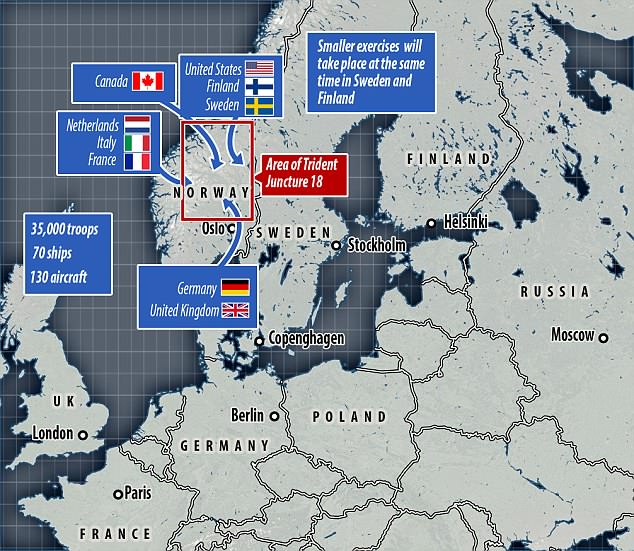 US Admiral James G. Foggo, III, who currently serves as commander of US Naval Forces Europe, visited Norway ahead of the planned drills and told TV 2: "It's an amazing training opportunity for all involved parties. I think it also sends a clear message to others who will threaten the alliance."
The drills come as tensions continue to mount between Russia and Western nations over the Syria crisis.
Vladimir Putin has backed the regime of dictator Bashar al-Assad during the country's devastating civil war.
But America, France and Britain have joined forces to launch air strikes on suspected chemical weapons plants in the war-torn nation after a poison gas attack on a rebel-held town.
NATO Spokesperson Oana Lungescu told MailOnline: 'To keep our nations safe in an unpredictable world, we need to make sure that our Alliance is strong.
"We do that by working together, and by making sure that our military forces remain robust. For that, joint training and demanding exercises are key. Trident Juncture 2018 will ensure that NATO forces are trained and ready. It will be an important test, and a display of our collective capabilities."
"NATO is a defensive Alliance," Lungescu added, saying, "This is why we are open and transparent in the way we exercise, and this is why our exercises are not directed against any country. The international rules on military exercises will be respected in full during Trident Juncture 2018."
In total, 106 NATO exercises are planned for 2018. …
Published at UK Daily Mail on April 17.
Questions
1. For NORWAY, give the following information:
capital

location/the countries that share its borders

the religious breakdown of the population

the type of government

the chief of state (and head of government if different) If monarch or dictator, since what date has he/she ruled? – include name of heir apparent for monarch

the population
Find the answers at the CIA World FactBook website. For each country, answers can be found under the "Geography" "People" and "Government" headings.
NOTE: Before answering the following questions, read the info under "Background" and watch the video under "Resources".
2. For NORWAY:
a) list the who, what, where and when of the news item
b) Where specifically will the military exercises take place?
c) What branches of the militaries will take part in these NATO exercises?
d) How often is Trident Juncture held? Where was it held last?
e) What is the purpose of the Trident Juncture exercises? Be specific.
Background
Mike Winnerstig, a security analyst at the Total Defense Research Institute (FOI) said, "Norway is a small country, just like Sweden, and dependent on other states in the event of a major war. This means that one must practice receiving large numbers of troops from other countries. In Norway, there is also a huge amount of ammunition and equipment for the American Navy."
---
More from the Daily Mail article above:
Meanwhile, Norway's foreign minister said this week that her government was discussing whether to ask Washington to extend the stay of U.S. Marines in the country, a presence that has angered Moscow.
Some 330 Marines are scheduled to stay until the end of this year after an initial contingent arrived in January 2017, the first foreign troops to be stationed in the NATO member state since the end of World War Two.
'We are currently in a phase where we are discussing different options, but I think from our point of view it has been very useful and very successful,' Ine Eriksen Soereide told Reuters in an interview.
'The Americans have been very happy with how things have played out. They do see after many years where they had a lack of winter training and expertise of wintry conditions … they are now, to a larger extent, able to deal with the cold.'
The minister reiterated that Oslo did not see Moscow as a military threat and that the threat of war in the Arctic, NATO's northern flank, was 'low'.
But she said Oslo saw challenges in the way Russia was developing, not only militarily but also in the areas of civil society, the rule of law and democracy.
The Russian embassy in Oslo told Reuters on Saturday the extension of the presence of U.S. Marines on Norway's soil would worsen its relations with Moscow and could escalate tensions on NATO's northern flank.
---
ON NATO:
The North Atlantic Treaty Organization (NATO) is an alliance of 29 countries from North America and Europe committed to fulfilling the goals of the North Atlantic Treaty signed on April 4, 1949. In accordance with the Treaty, the fundamental role of NATO is to safeguard the freedom and security of its member countries by political and military means. NATO is playing an increasingly important role in crisis management and peacekeeping. (Go to wikipedia for a list of NATO members)
POLITICAL – NATO promotes democratic values and encourages consultation and cooperation on defence and security issues to build trust and, in the long run, prevent conflict.
MILITARY – NATO is committed to the peaceful resolution of disputes. If diplomatic efforts fail, it has the military capacity needed to undertake crisis-management operations. These are carried out under Article 5 of the Washington Treaty – NATO's founding treaty – or under a UN mandate, alone or in cooperation with other countries and international organizations. (from nato.int)
Resources
Watch a report:
Daily "Answers" emails are provided for Daily News Articles, Tuesday's World Events and Friday's News Quiz.