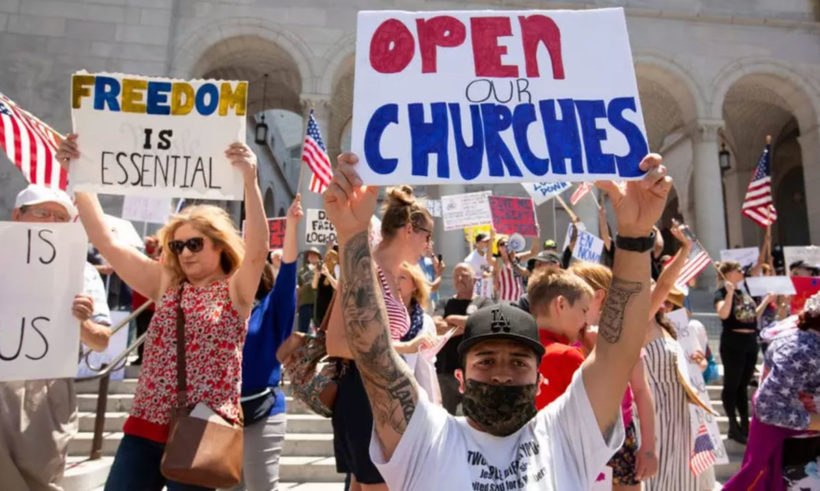 redo Jump to...
print Print...
(by Pamela Manson, UPI) — As the COVID-19 pandemic surges again in the United States, churches are fighting state and local orders that cap attendance at services at lower numbers than allowed at nonreligious places and events, such as stores and protests.
Governors and other officials who issue the orders say the restrictions are necessary to minimize the spread of coronavirus. But religious institutions across the United States have filed numerous court challenges since the spring arguing that the different capacity limits and social distancing requirements for them are unconstitutional.
U.S. Rep. Kevin Hern, R-Okla., has introduced a bill that would prohibit state and local governments from setting lower caps in the case of people who are exercising a First Amendment right. The Equal Opportunity First Amendment Act — which would apply to orders issued during a national or state emergency — also would allow those who allege they were harmed by unequal enforcement of a public gathering rule to sue in federal court.
"In many instances, Americans are confused and horrified as their local government allows large gatherings of people exercising their First Amendment right to protest but bans church services," Hern said in a news release.

"In many communities, businesses and shopping malls are open but houses of worship still have a 10-person limit. These inconsistent ordinances are disproportionately harming communities of faith. If the First Amendment protects protesters, it protects worshipers, as well."
Hern is focusing on freedom of religion, but his bill also would ban discriminatory capacity caps for people exercising the First Amendment's other freedoms — speech, press, assembly and petition….
The legislation, introduced July 30, has 24 co-sponsors in the House of Representatives, all Republicans. The bill is awaiting a vote in the Judiciary Committee. GovTrack estimates the odds of the legislation passing in the Democratic-majority House are low.
…In California, opponents of orders by Gov. Gavin Newsom that banned indoor religious services in 18 counties and set capacity limits in others say they are discriminatory. Under those orders, churches can feed and shelter and offer nonreligious counseling to an unlimited number of people, but cannot hold religious gatherings in the same building.
Paul Jonna, a Rancho Santa Fe, Calif., attorney and special counsel to the Thomas More Society, said the restrictions violate the right to the free exercise of religion. Protests are encouraged, but churches are subject to "draconian" rules, he said.
Many governors "just don't see the importance of churches" and don't take the First Amendment into account when deciding whether to place caps on religious gatherings, Jonna said.
In addition, Jonna — an attorney at LiMandri and Jonna representing churches in three California cases on behalf of the society, a Chicago-based public interest law firm — contended many of the reasons given for limiting religious gatherings are not supported by scientific evidence.
"Going to church is not more dangerous than going to the grocery store," he said. "It's clear to our experts that there is no science justifying treating churches differently."
He added: "If this current pandemic serves as a basis to shut down churches, we're setting a very dangerous precedent."
Published at UPI .com on November 12, 2020. Reprinted here for educational purposes only. May not be reproduced on other websites without permission from United Press International.
Questions
1. List the who, what, where and when of the news report.
2. For what reason have governors and other officials ordered restrictions on religious worship?
3. What would the bill introduced by Congressman Kevin Hern (R-OK) do?
4. a) What point did Congressman Hern make about the discrepancy between rules for businesses vs. rules for churches?
b) Do you agree with the congressman? Explain your answer.
5. Re-read paragraph 7. Why do you think this is so?
6. What are churches able to do and not do under California Gov. Gavin Newsom's draconian orders?
7. Re-read paragraphs 9-13. What is your reaction to attorney Paul Jonna's assertions?
Daily "Answers" emails are provided for Daily News Articles, Tuesday's World Events and Friday's News Quiz.