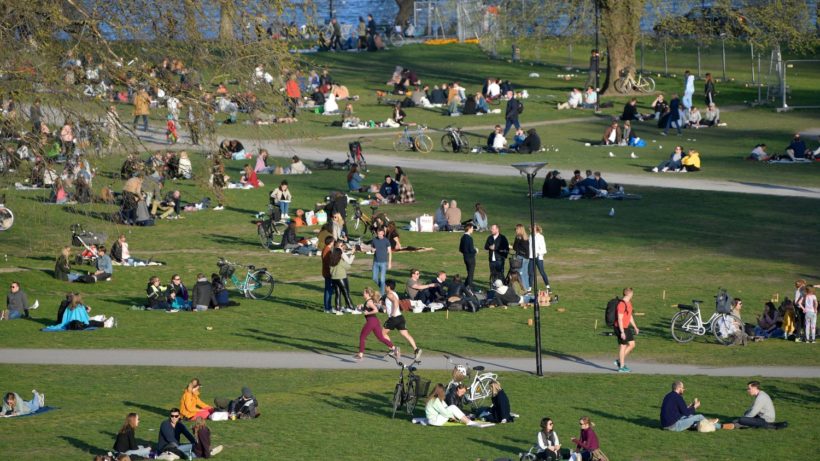 redo Jump to...
print Print...
(Compiled from JustTheNews and NPR) – Sweden's decision to keep schools, malls and restaurants open with limited restrictions during the pandemic is yielding success, with its capital city about to reach herd immunity in the next few weeks, according to the country's ambassador to the United States.
"About 30% of people in Stockholm have reached a level of immunity," Ambassador Karin Ulrika Olofsdotter told NPR in an interview published Sunday. "We could reach herd immunity in the capital as early as next month."
Herd immunity means between 60% and 80% percent of a country's population has become immune to a virus, either recovering from it or through immunization.
Sweden banned gatherings of over 50 people but otherwise left schools, restaurants and malls open;  social distancing is mandated by the government. Facilities that don't comply have been aggressively closed down. The government has also discouraged nonessential travel and recommended that people over 70 stay at home. Authorities have also prohibited visits to nursing homes.
Sweden has reported more than 18,500 confirmed coronavirus cases and 2,194 deaths as of Sunday.
The country's approach to the pandemic has bucked much of the Western world, and generated controversy.  [The Swedish government believes imposing only limited restrictions rather than a complete lockdown is the best strategy to slow the spread of the virus in Sweden.]
"We share the same goal as all other countries, and that is of course to save as many lives as possible and protect public health," Olofsdotter explained to NPR. "So we face the same reality as everyone else. But what's different, and I think it's important to underline that all countries are different, is that politicians take the measures that they think works best for their country and their general public."
The ambassador said the decision to keep restaurants, shops and schools open during the crisis could potentially speed up Sweden's economic recovery, but she made clear that businesses and employees have been suffering under the pandemic.
"Our unemployment, which was about 6.5% before, is now roughly around 11% and growing," she said. "This is, of course, extremely serious, and we expect that our GDP will shrink between 4-10% for 2020."
Earlier this month, Swedish Prime Minister Stefan Löfven told Swedish newspaper Dagens Nyheter, "We have chosen a strategy of trying to flatten the curve and not get too dramatic a process, because then the health care system probably will not cope. But it also means that we will have more seriously ill people who need intensive care, we will have significantly more deaths. We will count the dead in thousands."
Compiled from articles published at NPR .com by HJ Mai on April 25, 2020 and John Solomon at JustTheNews .com. Reprinted here for educational purposes only. May not be reproduced on other websites without permission from NPR.
Questions
NOTE: Before answering the following questions, read the info under "Background" and watch the videos under "Resources" below.
1. List the who, what, where and when of the news report.
2. What is herd immunity?
3. What percent of people in Stockholm have immunity to coronavirus?
4. What does Swedish Ambassador Karin Olofsdotter say it is important to note about how countries respond to the coronavirus pandemic?
5. a) What is the population of Sweden?
b) Check out the map / location of Sweden. Watch the video under "Resources." Conditions appear to be ok, but this is not over yet. What do you think of the Swedish government's approach to dealing with the coronavirus?
6. Nursing home residents are already susceptible to loneliness. In an effort to protect them from the virus, all visitors have been banned indefinitely.
a) Why do you think no reporter has questioned the effect the prohibition of visitors has had on nursing home residents?
b) Families (all visitors) are banned from nursing homes in the U.S. also. What are some things you can do for people in nursing homes in your community?
Resources
Watch an April 24, 2020 report from The Telegraph:
Daily "Answers" emails are provided for Daily News Articles, Tuesday's World Events and Friday's News Quiz.