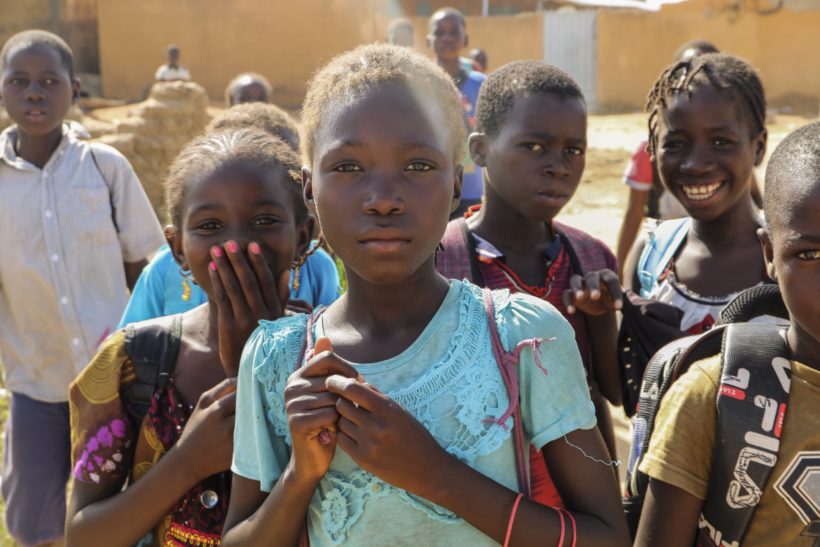 redo Jump to...
print Print...
(by Associated Press) DORI, Burkina Faso — …Children returning to school in Burkina Faso's volatile Sahel region have to practice safety drills to prepare for potential jihadist attacks that have ravaged the West African nation, killing more than 2,000 people this year.
For 10-year-old Balkissa Barro, the simulation of dropping to the ground and hiding under desks brings up memories of when Islamic extremist gunmen stormed her village last year and killed seven relatives, forcing her family to flee.
"I'm afraid of being chased away from school," said Barro as she slung a bag on her back and walked hesitantly to class in Dori town, where she now lives.
In Burkina Faso, worries over the COVID-19 pandemic come second to threats of attacks by extremists linked to al-Qaida and the Islamic State (ISIS) group.
…Even as schools began to reopen in October, many remained shut due to [safety concerns], especially in hard-hit regions like the Sahel, the epicenter of the [ongoing attacks by Islamic extremists].
Some 65 percent of the Sahel region's more than 1,000 schools are closed, according to the UN and those that are functioning lack the resources to open safely. …
On a visit to Dori last month, one of the last safe havens in the region, educators told The Associated Press that the number of students in class had doubled due to the influx of internally displaced people, putting the teacher to student ratio at one to 100 children.
Physical distancing is impossible. Students sit crammed in makeshift tented classrooms…. While the government earlier this year said it was procuring 12 million masks and soap for students, teachers in Dori said they have not received anything. At Wendou school, 1,400 children use 14 hand-washing stations and no one has masks, said Dofiko Kone, the headmaster.
But, like the students, he's more concerned about the violence than the pandemic.
"It is really difficult for children because there are children who saw their parents killed in front of them, there are children who ran away and couldn't even take anything with them, they have nothing to eat, there are children who are here without families," he said.
…Education in Burkina Faso has been under attack since violence engulfed the country after the ouster of long time President Blaise Compaore in 2014, which left a security vacuum.
Human Rights Watch documented more than 120 attacks and threats against students, teachers and schools by Islamist groups opposing the country's school curriculum* between 2017 and 2020, according to a report in May. (*Islamist extremist groups insist only Islamic teachings should be taught in school; no "Western" education)
At least 13 schools were burned in Tansarga commune in the east in July and September and more than 40 percent of schools in the Sahel's Oudalan province were destroyed, according to an October report from ACAPS, a humanitarian analysis organization.
While struggling families in the Sahel are happy their children can continue learning, many still can't shelter or feed them.
Hama Ousseni Diallo's been living in a makeshift displacement site on the outskirts of Dori since he was chased from his village by gunmen one year ago. When the pandemic hit, he sent six of his children — the youngest was 8 — to work in a restaurant so they wouldn't starve because they were no longer being fed at school, he said.
Although they've now returned to class, school meals haven't yet started and the little support he gets from aid groups is not enough to sustain them.
"The children go to school but when they come back … there is no food, there is no place to sleep," he said.
From an Associated Press report at NYPost .com on Nov. 27. Reprinted here for educational purposes only. May not be reproduced on other websites without permission.
Questions
1. For BURKINA FASO, give the following information:
capital

location/the countries that share its borders

the religious breakdown of the population

the type of government

the chief of state (and head of government if different) If monarch or dictator, since what date has he/she ruled? – include name of heir apparent for monarch

the population

literacy rate
Find the answers at the CIA World FactBook website. For each country, answers can be found under the "Geography" "People" and "Government" headings.
NOTE: Before answering the following questions, read the info under "Background" and watch the video under "Resources" below.
2. a) list the who, what, where and when of the news item
b) What groups are responsible for most of the terrorist attacks in Burkina Faso?
c) How many Burkinabé have been killed by these terrorists in the past year?
d) How many documented attacks have there been against students, teachers and schools by Islamist groups in the past 3 years in Burkina Faso?
e) For what specific reason are the jihadists destroying schools?
Background
---
From an October 8 UN report:  Burkina Faso has seen a recent surge in violence, that has claimed hundreds of lives and displaced thousands this year.  According to UNHCR, the landlocked west African nation is now the world's fastest-growing displacement and protection crisis, with over 1 million people – more than 5 per cent of the population – displaced within the country, many of them multiple times.
Conflict has also aggravated food insecurity in Burkina Faso, affecting more than 3 million people, including over 535,000 children under the age of five, who are suffering from acute malnutrition.  The situation has been further complicated by floods that have washed away crops and destroyed houses, leaving many dependent on humanitarian assistance.
---
While there is a multitude of non-state armed groups operating in the region, the two main [extremist groups staging] attacks in recent years have been: 
the al-Qaeda-linked Jama'at Nasr al-Islam wal Muslimin (JNIM)
the ISIL-affiliated Islamic State in the Greater Sahara (ISGS).
Other Islamic extremist groups operating in the wider region include al-Mourabitoun, Ansarul Islam, Plateforme, Ansar al-Din and Boko Haram.
According to the United Nations, attacks have increased fivefold in Burkina Faso, Mali and Niger since 2016, with more than 4,000 deaths reported last year in the border areas between the three hardest-hit countries.
The violence in the epicenter of the conflict has caused a major humanitarian crisis as attacks targeting civilians increase in number and frequency.
Over the past 12 months, more than 700,000 people were forced to flee their homes in Burkina Faso, according to the UN.  Tens of thousands of Malians and Nigerien have also been displaced while thousands of schools have been shut. (From a Feb. 27, 2020 AlJazeera report)
---
History of Burkina Faso:
In the late 19th century, several European states attempted to move into the region, but it was the French who established a protectorate of Upper Volta in 1896. Independent from France in 1960, the country changed its name to Burkina Faso in 1984.
Repeated military coups during the 1970s and 1980s were followed by multiparty elections in the early 1990s.
Former President Blaise Compaore (1987-2014) resigned in late October 2014 following popular protests against his efforts to amend the constitution's two-term presidential limit.  An interim administration organized presidential and legislative elections – held in November 2015 – where Roch Marc Christian Kabore was elected president.
The country experienced terrorist attacks in its capital in 2016, 2017, and 2018, while additional attacks in the country's northern and eastern regions resulted in more than 1,800 deaths and over 500,000 internally displaced persons in 2019.
The Government of Burkina Faso has made numerous arrests of terrorist suspects, augmented the size of its special terrorism detachment… in the country's north, and joined the newly-created G5 Sahel Joint Force to fight terrorism and criminal trafficking groups with regional neighbors Chad, Mali, Mauritania, and Niger. Burkina Faso's high population growth, recurring drought, pervasive and perennial food insecurity, and limited natural resources result in poor economic prospects for the majority of its citizens.  

(from CIA World FactBook, 2019)
Resources
Watch an April 26, 2020 report from France24:
---
See map and read about the spread of Islamic terrorist groups in Africa at AfricaCenter.
Read "Islamic jihadists attack 3rd church in a month in Burkina Faso" (May 2019)
Did you know?  Per U.S. Africa Command, "The United States and Burkina Faso engage in a number of military training and exchange programs, including in counterterrorism and humanitarian assistance."
Daily "Answers" emails are provided for Daily News Articles, Tuesday's World Events and Friday's News Quiz.