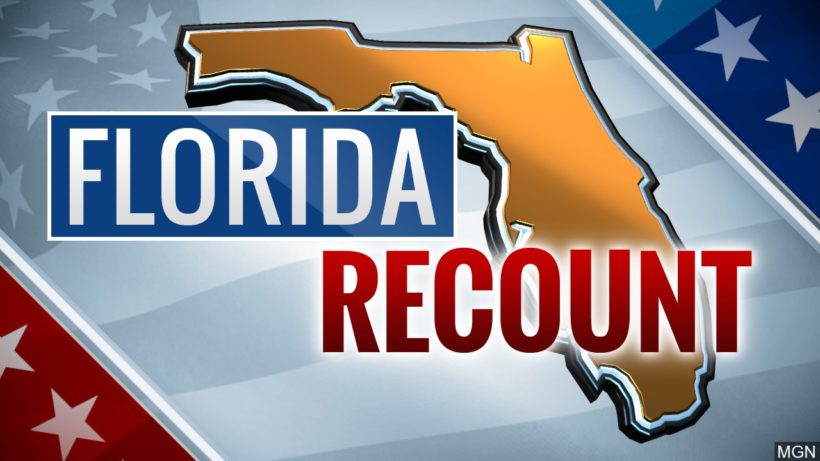 (by Allen Cone, UPI) — Florida's secretary of state on Saturday officially ordered machine recounts in three statewide elections — U.S. senator, governor and agriculture commissioner — after receiving unofficial election results from all 67 counties.
All three races were within a half-percentage point, triggering the machine recount, according to [Democrat turned Republican] Secretary of State Ken Detzner. County election officials will feed ballots into machines and report the results by 3 p.m. Thursday. If the results are within a quarter-percentage-point margin or less, there will be a hand recount with results due by noon Nov. 18.
The Senate race is within .15 — with Gov. Rick Scott leading incumbent U.S. Sen. Bill Nelson by less than 13,000 votes out of more than 8 million votes cast — 4,098,107 to 4,085.545 — in Tuesday's election. …
In the race for governor, the margin is less than 34,000 votes or .41. Republican Ron DeSantis, who resigned as a member of the U.S. House to run for governor, has 4,075,879 votes to Democratic mayor of Tallahassee Andrew Gillum's 4,4042,195. …
For agriculture commissioner, Democrat Nikki Fried leads Republican Matt Caldwell by only 4,674 votes, a 0.06-point margin that will also trigger a hand recount. …
On Tuesday election night, Caldwell, a Republican in the state House, had the lead.
Before the recount was announced, Caldwell said in a statment: "We will fight to ensure this election is accurate and fair. The people of Florida deserve nothing else."
Since Tuesday night, the results in the three races had tightened as votes from two South Florida counties were added to the totals: Democrat-majority Broward and Palm Beach. …
Republican officials, including Scott and Florida Sen. Rubio, have alleged wrongdoing. Rubio has criticized Broward County Supervisor of Elections Brenda Snipes in several tweets since Thursday, including one that said, "A U.S. Senate seat & a statewide cabinet officer are now potentially in the hands of an elections supervisor with a history of incompetence & of blatant violations of state & federal laws."
On Thursday, Scott accused "left-wing activists in Broward County" of trying to steal the election for Nelson. And in a series of tweets on Friday, President Donald Trump accused the Democrats of attempting "Election Theft in Broward and Palm Beach Counties."
On Saturday, Trump posted: "Trying to STEAL two big elections in Florida! We are watching closely!"
The Florida Department of Law Enforcement said Friday it was told by the Department of State, which is run by a Republican Scott appointee, that they had received "no allegation of criminal activity." On Saturday morning, Scott said he was "encouraging every Florida Sheriff to watch for any violations and take appropriate action."
On Saturday night, Scott announced he has secured 7,500 volinteers to monitor the recount process "and ensuring election officials are following the law." He said they will report any issues regarding machine setup and testing, ballot storage and transportation."
On Saturday, Scott posted on Twitter: "More than an hour past the noon deadline, the Broward County Canvassing Board continued to count ballots, violating state law. Senator Nelson has no objection to this illegal activity. This shows Nelson's true colors. No law is above him when his job is at stake."
Published at UPI on November 11. Reprinted here for educational purposes only. May not be reproduced on other websites without permission from United Press International.
Questions
1. For FLORIDA, give the following information:
a) capital:
b) location and adjoining states:
c) the population:
NOTE: Before answering the questions below, read the info under "Background" and watch the video under "Resources."
2. The first paragraph of a news article should answer the questions who, what, where and when. List the who, what, where and when of this news item. (NOTE: The remainder of a news article provides details on the why and/or how.)
3. Facts about the recount:
a) Why are the races for senator, governor and agriculture commissioner being recounted?
b) When must results be submitted by?
c) What would cause a hand recount in any of the races?
4. List the opponents and votes in each race.
5. Republicans have alleged wrongdoing in the Florida races. Watch the interview with former speaker of the House Newt Gingrich.
a) What is your reaction to Mr. Gingrich's comments? (concern or disbelief?) Explain your answer.
b) If concern, what do you think should be done? If disbelief, give a brief rebuttal to Mr. Gingrich's assertions.
Resources
Watch a Nov. 12 interview with Newt Gingrich:
Daily "Answers" emails are provided for Daily News Articles, Tuesday's World Events and Friday's News Quiz.