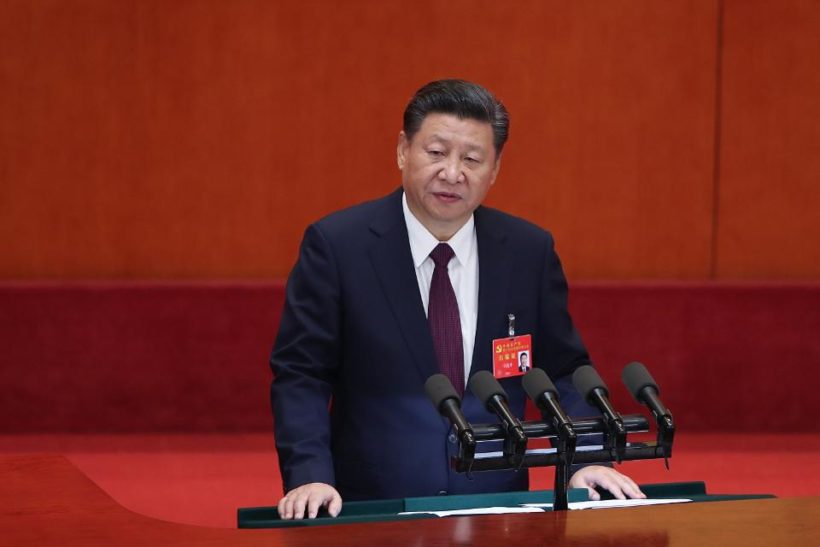 redo Jump to...
print Print...
NOTE:  We are testing out something new this week.  We have separated the three Tuesday's World News articles into separate posts, with one in place of today's Daily News Article.
---
CHINA – With tears and song, Communist Party leaders welcome Xi as great, wise leader
(by Christian Shepherd and Philip Wen, Reuters, Oct. 19) BEIJING – Chinese officials on Thursday heaped praise on President Xi Jinping's political ideology, unveiled a day earlier at a key Communist Party Congress, a sign that it could be enshrined in the party's constitution and further cement his power.
Some ruling Communist Party officials were moved on Thursday to song, dance and tears in adulation of Xi, a day after he opened the twice-a-decade conclave pledging to build a prosperous "modern socialist country" for a "new era."
Three outgoing members of the elite seven-man Communist Politburo Standing Committee that Xi heads lauded "Xi Jinping Thought on Socialism with Chinese Characteristics for a New Era," according to the official communist government Xinhua News Agency.
Such statements indicate that Xi could cement his power with his new eponymous slogan being incorporated into the party's constitution. Whether the theory is included bearing his name will be a key measure of his status, analysts have said.
No other leader has had an eponymous ideology included in the document while in office since Mao Zedong, the founder of modern China.
Xi is poised to begin a second five-year term [this] week.
Party officials hailed Xi as a wise and great "lingxiu," or leader, a reverent honorific bestowed on only two others: Mao Tse Tung [the communist dictator who ruled China from 1949 until his death in 1976] and his short-lived successor Hua Guofeng – another sign that Xi has accumulated more power than his immediate predecessors and could revive a party chairmanship as a precursor to staying on in some capacity beyond the end of his second term in 2022.
"Xi Jinping… has obtained the heartfelt love and respect of the entire party, army and people, he deserves to be called wise leader," Beijing party secretary Cai Qi, a Xi ally and one-time colleague, said on Wednesday at a meeting of the city delegation, according to the official Beijing Daily.
Officials lavishing praise on the party's top leader at a congress is not unusual, but overt displays of emotion or personal adulation are rare.
One female delegate from the southern province of Jiangxi broke into song to praise Xi's treatment of ethnic minorities, while another from Guangdong province said that, listening to Xi's speech, her eyes had brimmed with tears.
"I feel that the reason for my country's accomplishments is fundamentally the helmsmanship of Xi Jinping," said Jing Junhai, Beijing's deputy party chief, invoking a phase often used to describe Mao.
The 64-year-old Xi has consolidated power swiftly since assuming the party leadership in 2012, locking up rivals for corruption, tightening controls on civil society, revamping the military and asserting China's rising might on the global stage.
Some party officials painted Xi as a saviour.
"Because of the Party Central Committee with comrade Xi Jinping as its core, in five years, the party has been saved, the army has been saved, the country has been saved," Liu Shiyu, head of China's securities regulator, said on Thursday.  …
Questions
1. For China, give the following information:
capital

location/the countries that share its borders

the religious breakdown of the population

the type of government

the chief of state (and head of government if different) If monarch or dictator, since what date has he/she ruled? – include name of heir apparent for monarch

the population
Find the answers at the CIA World FactBook website. For each country, answers can be found under the "Geography" "People" and "Government" headings.
NOTE: Before answering the questions below, read the info under "Background" and watch the video under "Resources."
2. For CHINA:
a) list the who, what, where and when of the news item
b) What 2 signs are there from the Communist Party Congress that indicate Xi could stay in power past the end of his second term as president?
c) What is unusual about the praise given by party officials to President Xi during the Party Congress?
d) List several actions Xi has taken since 2012 to consolidate his power.
CHALLENGE (Optional): How many of the following words used in the article do you know?
(political) ideology
enshrined
adulation
conclave
eponymous
reverent
honorific
precursor
overt
helmsmanship
Background
CHINA: 3.5 hours': Xi Jinping gives marathon speech, China listens (from an Agence France-Press report)
BEIJING: As Chinese leader Xi Jinping delivered his three-plus-hour speech at the Communist Party congress, delegates ranging from men in suits to military officers and former presidents dutifully turned every page as they read and listened to his words.
On the internet, government bureaus saturated social media with their favorite phrases from Xi's speech, while photos circulated of children watching Wednesday's congress in classrooms.
The carefully orchestrated address was in keeping with the cult of personality that state media have crafted around the Chinese leader, who is expected to consolidate his already formidable power at the week-long conclave.
The majority male audience of nearly 2,300 delegates inside the imposing Great Hall of the People in central Beijing would interrupt their collective page-turning to applaud key sections of the speech.
Jiang Zemin, the 91-year-old former Chinese president, was seated prominently on stage and used a large magnifying glass to study the document.
He also conspicuously checked his watch several times.
Xi touted his nationalistic "China dream" slogan, and heralded a "new era" that will see "China moving closer to center stage and making greater contributions to mankind."
When he concluded his speech — which was twice as long as the one given by his predecessor Hu Jintao in 2012 — the delegates applauded enthusiastically as Xi took a bow.
"The speech was extremely good. The most important part was the idea of a new era, with everything getting better and moving forward," a delegate from Henan province told AFP, declining to give his name.
"I think Xi's thoughts should be included in the (party) constitution," he said, nodding when asked if Xi's name should also be enshrined, then saying he had to go.
Adding Xi's name to the constitution would put him in an exclusive club alongside Communist China's founder, Mao Zedong, and the architect of economic reforms, Deng Xiaoping.
During Xi's speech, social media was flooded with images of watch parties across the country, with Communist party committees in areas as far-flung as northeastern Jilin and southern Yunnan provinces.
By early afternoon, the hashtag #19thPartyCongress# on microblogging platform Sina Weibo had received a mind-boggling cumulative 1.19 billion views — nearly one per every person in the world's most populous country.
As soon as the meeting ended, media outlets and government bureaus across the country peppered social media with the same graphic from the party's official mouthpiece the People's Daily: a series of 10 motivational quotes from Xi's speech pasted next to an image of him at his lectern.
"Every one of these is important," wrote one commenter, expressing a common refrain.
"Don't forget everyone to always cheer on the party!" wrote another.
It is unclear whether less fawning social media comments were posted but deleted by censors in a country with one of the world's most restrictive internet censorship regimes.
Resources
Watch a report from Euronews:
Daily "Answers" emails are provided for Daily News Articles, Tuesday's World Events and Friday's News Quiz.