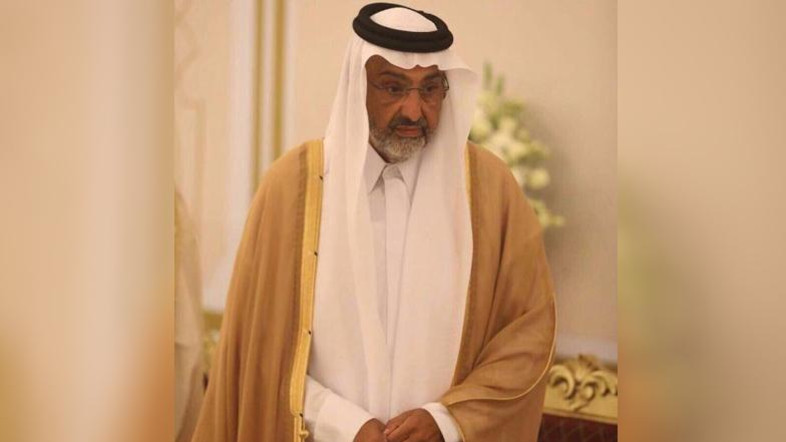 (from Deutsche Welle with AP and AFP) – Sheikh Abdullah bin Ali Al Thani, a little-known member of Qatar's ruling family, appeared in a video on Sunday claiming that he is being held captive in the United Arab Emirates.
In the video, which was carried by Qatari broadcaster Al-Jazeera, Sheikh Abdullah said he had initially been invited to Abu Dhabi as guest of crown prince Sheikh Mohammed bin Zayed Al Nahyan.
"I am a guest of Sheikh Mohammed, but it is not hosting now, it is now an imprisonment," he said. "They told me not to leave and I am afraid something will happen to me and that they blame Qatar."
However, an official from the UAE Foreign Ministry denied the allegations, insisting that Abdullah had travelled to the country at his own behest and subsequently left. "He is free to move about and has expressed his desire to leave the state, all procedures were facilitated for him without any obstruction," the official said in a statement released by the Emirati state news agency WAM, without giving further details of his destination.
The UAE is one of four Gulf nations to boycott Qatar since last June over its alleged support of extremist groups and ties to Iran. Bahrain, Egypt, Saudi Arabia and the UAE have all cut off land, sea and air routes to the oil-rich nation.
Qatar has long denied funding extremists. It has recently restored diplomatic ties to Iran, with whom it shares a major off-shore gas field.
"I just wanted to let you know that Qatar is innocent in this and I am being hosted by Sheikh Mohammed and anything that happens to me after this is his responsibility," Abdullah was also reported as saying in the video.
A spokeswoman for Qatar's Foreign Ministry said in a statement that Doha was closely monitoring the situation.
"The state of Qatar observes the situation closely, and due to the total severance of ties with the UAE it is difficult to clearly establish the circumstances surrounding the situation," Lulwa al-Khater said.
[Sunni-led Saudi Arabia, Bahrain, UAE and Egypt cut ties with Qatar on June 5, accusing it of backing extremism and fostering ties with their Shiite rival, Iran. Doha denies the claim. Saudi Arabia and its allies also imposed sanctions against Doha and presented Qatar with a list of demands. Kuwait has been trying to mediate, and several Western diplomats have toured the region to defuse the row.]
Following the Gulf nations placing a boycott on Qatar, Sheikh Abdullah emerged as an unlikely mediator, having met on several occasions with Saudi Crown Prince Mohammed bin Salman. During their first meeting in August, the two discussed temporarily reopening the countries' land border to allow Qatari pilgrims to make the Muslim pilgrimage to Saudi city of Mecca.
Prince Bin Salman subsequently answered Abdullah, although Doha insisted that Abdullah was in Saudi Arabia on a personal trip and did not represent the government.
Saudi-funded television subsequently began suggesting that Abdullah should rule Qatar as an emir in exile, and a newly created Twitter account bearing his name amassed hundreds of thousands of followers. The last tweet, however, dates back to last October and he has not been seen since.
Abdullah's prominent role in the crisis has come as a surprise to many. While his grandfather, father and brother all once ruled Qatar, the royal Al-Thani branch to which he belongs was ousted in the palace coup in 1972. The last position he held in the government was decades ago as head of the country's equestrian and camel racing federation.
Published on January 14, 2018 at Deutsche Welle with wire reports from AP (Associated Press) and AFP (Agence France-Presse).
Questions
1. For QATAR, give the following information:
capital

location/the countries that share its borders

the religious breakdown of the population

the type of government

the chief of state (and head of government if different) If monarch or dictator, since what date has he/she ruled? – include name of heir apparent for monarch

the population
Find the answers at the CIA World FactBook website. For each country, answers can be found under the "Geography" "People" and "Government" headings.
NOTE: Before answering the questions below, read the info under "Background" and watch the videos under "Resources."
2. For QATAR:
a) list the who, what, where and when of the news item
b) Which countries began a boycott of Qatar in June?
c) For what reason have these countries cut ties with Qatar?
d) What is your opinion of the accusations/denials by both groups?
Daily "Answers" emails are provided for Daily News Articles, Tuesday's World Events and Friday's News Quiz.