redo Jump to...
print Print...
(by Ryan Pickrell, The Daily Caller, Nov. 10) – President Donald Trump shared his vision for Asia with regional leaders at a conference in Vietnam Friday.
Speaking at the Asia-Pacific Economic Cooperation (APEC) summit in Vietnam, the fourth leg of a five-nation tour across Asia, Trump emphasized sovereignty and independence, freedom, fair trade, and the failures of past administrations to secure a realistic role for America in the region.
"Throughout my travels, I've had the pleasure of sharing the good news from America," he explained, "I've had the honor of sharing our vision for a free & open Indo-Pacific — a place where sovereign & independent nations, w/diverse cultures & many different dreams, can all prosper side-by-side."
"In more and more places throughout this region, citizens of sovereign and independent nations have taken greater control of their destinies, and unlocked the potential of their people," the president said.

"Today I am here to offer a renewed partnership with America — to work together to strengthen the bonds of friendship and commerce between all of the nations of the Indo-Pacific, and together, to promote our prosperity and security," Trump stressed to regional leaders, adding, "The United States is prepared to work with each of the leaders in this room today to achieve mutually beneficial commerce that is in the interests of both your countries and mine."
The president stated that the days of "chronic trade abuses" are over, reminding all countries — China in particular — that the U.S. will no longer tolerate the "audacious theft" of intellectual property or the forced transfer of technology to foreign firms. Trump avoided blaming China, putting the burden of guilt on past administrations.
"If their representatives are able to get away with it, they are just doing their jobs," he said, echoing statements he made earlier in China, "I wish previous administrations in my country saw what was happening and did something about it. They did not, but I will."

"We are not going to let the United States be taken advantage of anymore," the president asserted. "I am always going to put America first, the same way I expect all of you in this room to put your countries first."
The president condemned sweeping multilateral agreements like the Trans-Pacific Partnership (TPP) — "large agreements that tie our hands, surrender our sovereignty, and make meaningful enforcement practically impossible." The 12-nation pact was a controversial multilateral trade deal orchestrated by the Obama administration and opposed by many Americans. Trump withdrew from the agreement.
The president also expressed a broader vision for a "free and open Indo-Pacific region," a plan which appears designed to curb China's growing clout. During the APEC meeting, Chinese President Xi Jinping also spoke, presenting an alternative vision emphasizing globalization and multilateral cooperation between Asian nations. Competing visions and opposing strategic interests are likely to continue to create friction between the U.S. and China.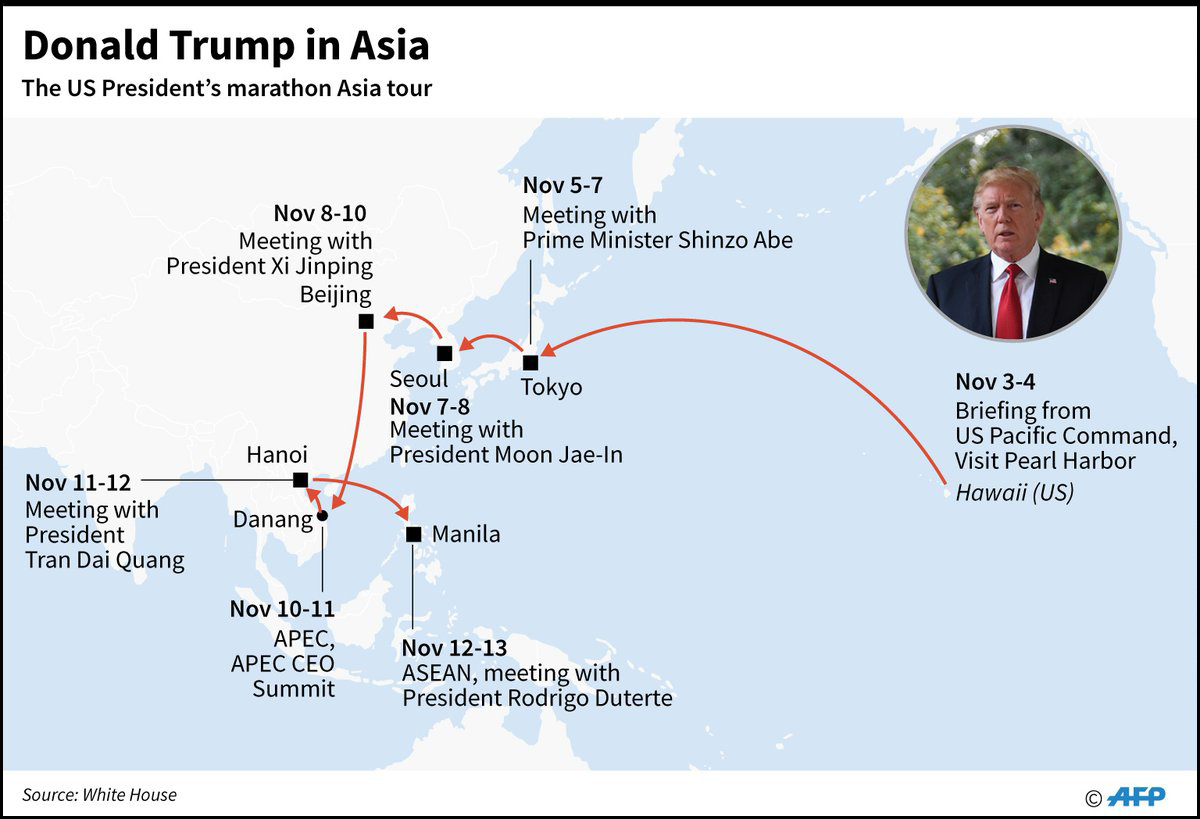 Questions
Find the answers  to #1 at the CIA World FactBook website. Answers can be found under the "Geography" "People" and "Government" headings.
1. For VIETNAM, give the following information:
a) capital
b) location/the countries that share its borders
c) the religious breakdown of the population
d) the type of government
e) the chief of state (and head of government if different) If monarch or dictator, since what date has he/she ruled? – include name of heir apparent for monarch
f) the population
NOTE: Before answering the questions below, read the info under "Background" and watch the video under "Resources."
2. a) list the who, what, where and when of the news item
b) What vision did President Trump share with the leaders of the APEC countries?
c) In his speech at the APEC summit, what did President Trump say the U.S. will no longer tolerate?
d) In a message he has emphasized before, President Trump also said, "We are not going to let the United States be taken advantage of anymore. I am always going to put America first, the same way I expect all of you in this room to put your countries first." Do you think this is a good policy for our country to have? Explain your answer.
(In addition to the news clips under "Resources," visit the White House YouTube page  for more videos from President Trump's Asia trip.)
(Read about President Trump's accomplishments in Vietnam)
(Read "Remarks by President Trump at APEC CEO Summit," Da Nang, Vietnam, Nov. 10)
Background
Asia-Pacific Economic Cooperation (APEC) is a forum that promotes free trade throughout the Asia-Pacific region. APEC currently has 21 members, including most countries with a coastline on the Pacific Ocean (the U.S., Philippines, Vietnam, China, Japan and South Korea, etc.) (from wikipedia)
Resources
Watch a clip of the president's speech:
---
Watch a news report:
---
Did you know President Trump marked Veterans Day during his time in Vietnam and met with seven Vietnam War veterans on Friday in Da Nang, Vietnam? He also signed a proclamation saluting Vietnam vets.
Watch an Associated Press clip from Nov. 10, 2017:
Read the "Presidential Proclamation Commemorating the 50th Anniversary of the Vietnam War," Nov. 10
Daily "Answers" emails are provided for Daily News Articles, Tuesday's World Events and Friday's News Quiz.