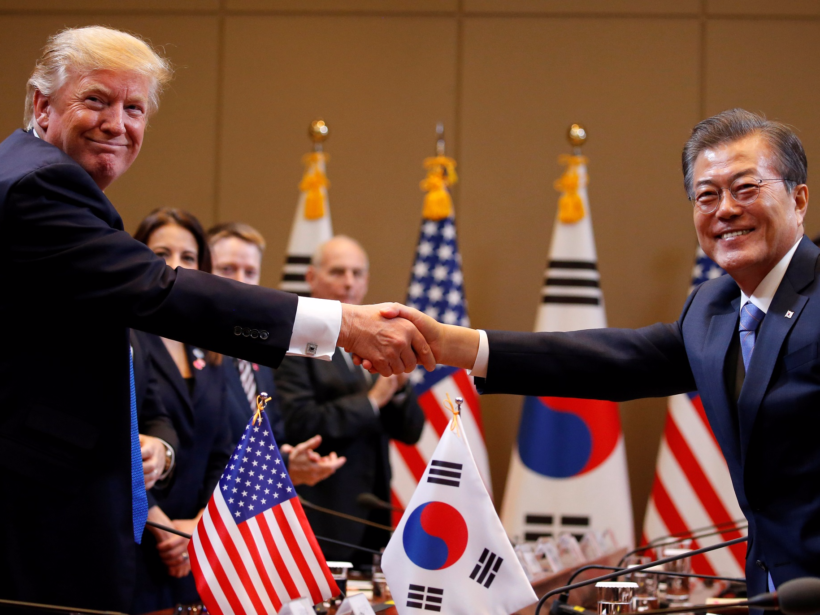 redo Jump to...
print Print...
(Alayna Treene, Axios .com, Nov. 3) – President Trump depart[ed] on the longest trip of his presidency [on Nov. 3]: a five-country, 12-day tour of Asia intended to strengthen international resolve to denuclearize North Korea, promote a free and open Indo-Pacific region, and advance economic partnerships through fair trade.
Why it matters: The stakes for this trip couldn't be higher. North Korea is more dangerous than ever, and China continues to steal U.S. intellectual property and demand that American investors hand over their technology to Chinese state entities. [Under its new president, South Korea, an ally of the U.S. was seen as moving away from U.S. and more toward China.]
President Trump's underlying goal is to publicly reaffirm his commitment to the region and flex America's muscles in regard to the country's global influence.
The following is the president's travel itinerary, provided by a senior administration official during a briefing: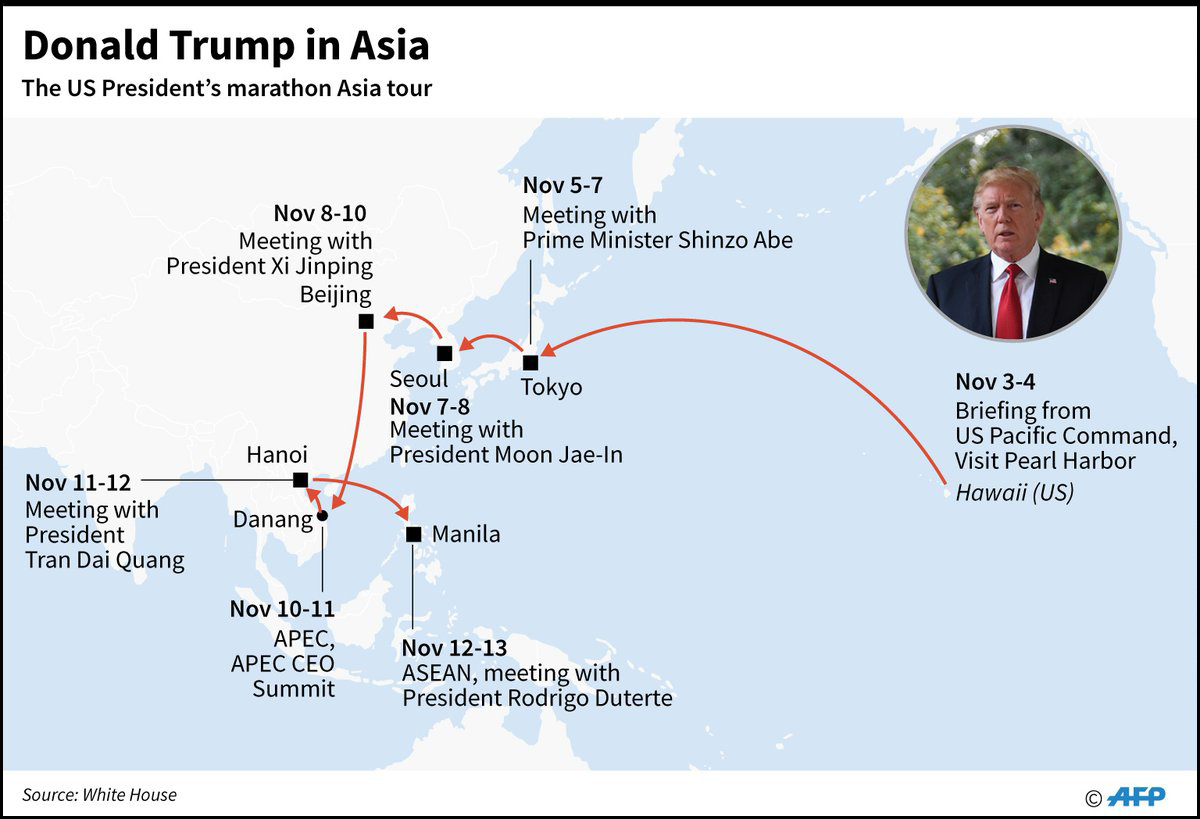 Stop 1: Hawaii
Nov. 3: In Hawaii, the president received a briefing from the U.S. Pacific Command, and visited Pearl Harbor and the USS Arizona Memorial.
Stop 2: Japan
President Trump arrived in Japan Nov. 5. where he had several meetings focused on promoting a free and open Indo-Pacific region.
The president later spoke to American and Japanese service members at Yokota Air Force Base, before joining Prime Minister Shinzo Abe for a round of afternoon golf.
President Trump also had a state call with the Japanese imperial family, and then participated in a day of bilateral meetings with Prime Minister Abe.
Abe then hosted a meeting for Mr. Trump with families of Japanese citizens abducted by the North Korea regime.
On the evening of November 6, Abe hosted a banquet for President Trump and the traveling delegation.
Stop 3: South Korea
On November 7, Mr. Trump traveled to South Korea (formally 'the Republic of Korea') on November 7, where he met with American and South Korean service members at Camp Humphreys before participating in bilateral meetings with President Moon Jae-In and attended a state dinner that evening.
On November 8, President Trump spoke at the South Korean National Assembly, where he celebrated the alliance between the U.S. and South Korea, and called on the international community to join in maximizing pressure on North Korea.
The president later visited the national cemetery in Seoul to pay his respects to fallen U.S. service members.
Stop 4: China
Mr. Trump traveled to Beijing for a state visit on Nov. 8 where he participated in series of bilateral commercial and cultural events, including meetings with President Xi Jinping. President Trump's aim was to secure China's commitments to exert more pressure on North Korea and to rebalance U.S.-China economic relations. A CEO delegation convened by Secretary of Commerce Wilbur Ross was present.
Overall goal: To send a clear message that for bilateral economic relations to be sustainable over the long-term, China must provide fair and reciprocal treatment to U.S. firms and cease predatory trade and investment practices.
Key quote, from a senior administration official: "China is now so large that its distortionary… the distortionary practices not only have effects within the U.S. market, but in markets around the world… The current trajectory is not sustainable."
Stop 5: Vietnam
On November 19, President Trump traveled to Da Nang, Vietnam, where he participated in the Asia-Pacific Economic Cooperation (APEC) meeting and delivered a speech at the APEC CEO summit. (Note: APEC is a free trade forum for 21 Pacific Rim economies).
Goal of APEC speech: Reinforce the U.S. commitment to an equitable, sustainable, and rules-based international economic system based on market principles.
On November 11, Mr. Trump traveled to Hanoi for a state visit and bilateral engagements with president Trần Đại Quang and other senior Vietnamese leaders. This was Trump's second meeting with Vietnamese leadership following Prime Minister Nguyễn Xuân Phúc's White House visit in May.
Stop 6: The Philippines
President Trump arrived in Manila on Nov. 12 to participate in the special gala celebration for the 50th anniversary of the Association of Southeast Asian Nations (ASEAN).
On November 13, he celebrated the 40th anniversary of U.S.-ASEAN relations at the association's summit, and participated in bilateral meetings with Philippine President Rodrigo Duterte.
Goal at ASEAN summit: Advance US leadership in promoting an Indo-Pacific trade and security architecture based on freedom, openness, and adherence to rule of law.
President Trump last-minute added an extra day onto his already long trip to attend the East Asia Summit, a major forum for political and economic cooperation among 18 member countries. His [decision to attend] signaled a high level of U.S. engagement in Asia-Pacific.
Questions
NOTE: Before answering the questions below, read the info under "Background" and watch the video under "Resources."
1. What is the population of ASIA?
2. a) list the who, what, where and when of the news item
b) Name the 5 countries President Trump visited on his trip to Asia.
c) What were the overall goals of the President's trip?
d) How did the leaders in each country treat President Trump? What is your impression?
---
(In addition to the news clips under "Resources," visit the White House YouTube page  for more videos from President Trump's Asia trip.)
(Read about what was accomplished during "President Donald J. Trump's Visit to China"
(Read "Remarks by President Trump to the National Assembly of the Republic of Korea," Seoul, National Assembly Building, Nov. 7)
)
Background
Chinese react to President Trump's talk on North Korea: (from a McClatchy news report by Anita Kumar, Nov. 10)
Interviews with a variety of Chinese throughout Beijing society showed a core or support for Donald Trump's style of confronting North Korea's leader, Kim Jong Un, who is known here [in China] as "Little Fatty."
Hu Xingdau, an economics professor in Beijing said, "If Donald Trump can solve this problem, it will be a big favor to China."
"Trump is right on what he has been doing," said Beijing financial analyst Ding Yongliang at China Investment Securities through a translator. "North Korea will only be submissive to power instead of peaceful negotiations."
Indeed, many Beijing residents told McClatchy that they hope Trump will persuade China President Xi Jinping to move more aggressively on the nuclear threat next-door and stop relying solely on negotiations.
Professor Hu even suggested the U.S. should abolish North Korea's nuclear missile facilities or launch a pre-emptive strike against the rogue nation.
"It's impossible to solve the problem with just peaceful negotiations," he said through a translator. "I want the issue solved as soon as possible."
Danny Yang, who is studying at Beijing Foreign Studies University, described Trump's language as dramatic but said she was more than comfortable with it. "It's necessary," she said.
Resources
Japan
Interviews following President Trump's visit to USAF Yakota Air Base, Tokyo:
---
South Korea
Watch a report from Arirang News:
---
China
Global News report:
.
Watch a clip from China's formal arrival ceremony for President Trump in Tiananmen Square, complete with a red carpet, a military parade and a 21-gun salute:
Daily "Answers" emails are provided for Daily News Articles, Tuesday's World Events and Friday's News Quiz.