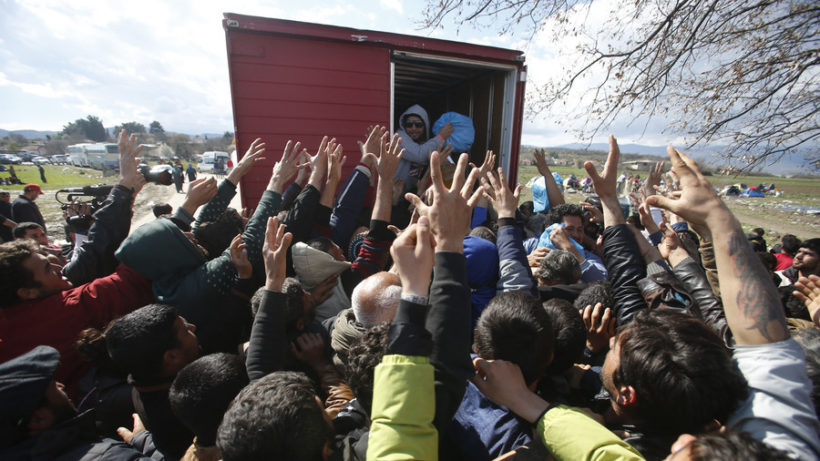 A non-profit group helping migrants making their way into Europe has been caught on video discussing coaching asylum-seekers to make misleading statements in order to pass "eligibility interviews" and obtain refugee status.
Ariel Ricker, executive director of Advocates Abroad, a non-profit NGO that provides legal aid and training to asylum seekers, describes in a video how her organization coaches migrants seeking entry into the European Union to put on a performance for European Asylum Support Office (EASO) agents, who are tasked with screening migrants.
"I tell them this is acting, all of this is acting as though this is theater," she says. "So for them to get through, they must act their part in the theater, and that is the [the role of the] refugee in trauma."
Ricker says in the recording that her organization teaches asylum seekers "how to tell their story, how to frame it, how to literally explain it," adding that "because these EASO officers are so [expletive] stupid, all they know is what's written on the paper. EASO says, 'This is a refugee in trauma, they have these characteristics,' so we coach people to have these characteristics."
The video was published on Nov. 12 by Canadian activist film-maker Lauren Southern. [Lauren Southern has said, "During our undercover investigation into NGOs working in the Greek Islands, we have come into possession of recordings of Ariel Ricker, Executive Director of Advocates Abroad admitting to unethical and illegal practices.]
"So there's a formula we came up with," Ricker can be heard saying in the recording. "The point is to answer all the questions the same way: 'In December 2017, in Izmir, Turkey, I was threatened for being a Christian because my boss and his friends jumped me when I was leaving my church. This is the Bible they tried to tear up, this is the crucifix I was wearing that they tried to tear, and it made me feel unsafe as a Christian in Turkey … Ba-boom!" …
The organization responded to the initial release of the video, tweeting "Advocates Abroad was made aware of a video that shows a heavily edited version of an informal conversation that was secretly filmed and without consent," adding, "The video is being used for political right wing effect."
Since then, however, the group's Twitter and Facebook page with over 140,000 followers have both been deleted.
The revelations in the recording appear to go beyond the contents of written instructions for asylum seekers published by Ricker in June this year, which are based on an analysis of transcripts from asylum interviews. The instructions demonstrate tactics most likely to ensure [the person is given asylum based on false claims].
In a section on questions on religious affiliation or persecution, the instructions suggest applicants "check on Google or elsewhere online beforehand to ensure your answers match what is generally known about your faith."
When asked by interviewers to supply a favorite passage from a religious book, the instructions offer, "Example: 'Jesus wept.' It is not hard to remember and it is relevant to this crisis on many levels for many individuals."
In the video, Southern [notes], "So the government has created a process to try and find real refugees amongst tons of people trying to illegally migrate to Europe and they're making it into a theater class, so everyone gets in." …
According to Eurostat, an EU statistical service, last year 650,000 first-time asylum seekers applied for international protection in the member states of the EU, and of these 538,000 were granted protection status.
In 2017, 46 percent of EU first instance asylum decisions resulted in positive outcomes.
Published at the Epoch Times on November 13, 2018.
Resources
EUROPEAN UNION:
---
Director of a major NGO in Europe tells an undercover reporter how she teaches migrants to lie & pretend to be persecuted Christians to border police. Last year they worked w/ 15,000 migrants. The UN has responded to the investigation calling it 'alarming':
Daily "Answers" emails are provided for Daily News Articles, Tuesday's World Events and Friday's News Quiz.