redo Jump to...
print Print...
EGYPT – 17 lost pyramids found by satellite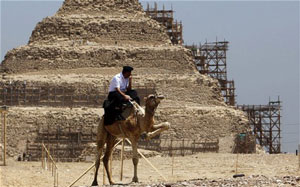 Seventeen lost pyramids and more than 1,000 tombs have been found in a new satellite survey of Egypt. [Photo: Two new finds are at Saqqara.]
Scientists at the University of Alabama also found 3,000 ancient settlements using a new technique of infra-red imaging.
The astonishing results have been confirmed by archaeologists with picks and shovels, who have located two of the pyramids found from space.
"I could see the data as it was emerging, but for me the 'aha' moment was when I could step back and look at everything that we'd found,' Dr. Sarah Parcak told the BBC. …
The team analyzed images from satellites orbiting 400 miles above the Earth, equipped with cameras so powerful they can pinpoint objects less than a yard in diameter.
Infra-red imaging was then used to highlight different materials under the surface.
Because the ancient Egyptians built houses from mud brick, which is must denser than surrounding soil, they left a clear fingerprint that the researchers could identify as tombs, pyramids or homes. …
And Dr. Parcak believes there are many more buildings buried deeper than those already spotted – even under the River Nile.
"These are just the sites close to the surface. There are many thousands of additional sites that the Nile has covered over with silt," she said. …..
BAHRAIN – Bahraini doctors who treated protesters face trial
Dozens of doctors and nurses who treated injured anti-government protesters during the months of unrest in Bahrain went on trial in a security court on Monday on allegations they participated in efforts to overthrow the Gulf country's monarchy. …
The 23 doctors and 24 nurses were arraigned on Monday during a closed hearing in a security court authorized under emergency rule that was imposed in mid-March to crush weeks of demonstrations by Bahrain's Shiite majority, which has campaigned for greater freedoms, equal rights and an elected government. The court has military prosecutors and military and civilian judges.
The medical workers were charged with participating in efforts to topple Bahrain's Sunni monarchy and taking part in illegal rallies. Other charges against the doctors and nurses, most of whom treated injured protesters in the state-run Salmaniya Medical Complex in the capital, Manama, include harming the public by spreading false news and denying medical attention to several Sunni patients.
During the unrest, medical staff in Bahrain repeatedly said they were under professional duty to treat all and strongly rejected claims by authorities that helping anti-government protesters was akin to supporting their cause. …..
International rights groups have criticized Bahrain's campaign against medical professionals, saying that authorities have deliberately targeted doctors and nurses who treated hundreds of injured demonstrators at the Salmaniya hospital during weeks of demonstrations against the 200-year rule of the Al Khalifa family. …..
Hundreds of protesters, opposition leaders, human rights activists, athletes and Shiite professionals have been detained during two and a half months of a harsh crackdown. Two protesters were sentenced to death. …..
Another hearing [for the doctors and nurses] in the case is set for June 13.
PHILIPPINES – Kids in Philippine village swim to school no more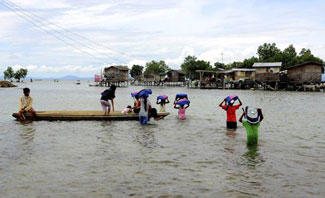 Manila – Dozens of dirt-poor children in a Philippine mangrove village no longer have to swim to school while straining to hold their books above the water.
A blogger who learned how children from Layag-layag village struggled to reach school raised money through Facebook to provide boats to the community in the southern Philippines. …..
Teacher Racquel Bangayan said the children arrived in her class with their clothes dripping wet in the past when they could not hitch a ride on fishing boats. Many often came late but a few excelled in school.
More than 220 families fish and seaweed-farm in Layag-layag, where they resettled starting in the 1980s due to fighting between government troops and Muslim separatist rebels in their towns on nearby Jolo island.
Government employee and blogger Jay Jaboneta said he learned of the childrens' plight last October and helped start fund-raising through his Facebook account. His tale was spotlighted in the Best of Facebook Stories.
"Some of these children came from families which were too poor to buy even small boats so they have to swim their way to school," Jaboneta told The Associated Press. "It's an inspiring story. They saw the school as the only way out of poverty."
Jaboneta raised enough money for one motorboat, named "New Hope," which was turned over to community leaders in March. Villagers can use the boat for fishing and seaweed farming but have to set aside money from their profits for gasoline and promise to ferry the children to and from school, charity worker Anton Lim said.
Two more boats were being built, and the charity group overseeing the donations also provided school bags, slippers and blankets to the children.
[Photo: March 27, 2011, school children of Layag-layag wade through waist-deep waters with new school bags.]
"The children were jumping with joy holding their new bags and slippers," Lim said. "They did not appear as excited with the new boat. They've been so used being in the water."
(The news briefs above are from wire reports and staff reports posted at Telegraph.co.uk on May 25th, and San Jose mercurynews.com and philly.com on June 6th.)
Questions
1. For each of the 3 countries, give the following information:
a) location/the countries that share its borders
b) the religious breakdown of the population
c) the type of government
d) the chief of state (and head of government if different) [If monarch or dictator, since what date has he/she ruled? – include name of heir apparent for monarch] e) the population
[Find the answers at the
CIA World FactBook website
. For each country, answers can be found under the "Geography" "People" and "Government" headings.  Go to
worldatlas.com
for a list of continents.]
2. For Egypt:
a) list the who, what, where and when of the news item
b) What made it possible for the AU scientists to see the ancient Egyptian houses using infra-red imaging?
3. For Bahrain:
a) list the who, what, where and when of the news item
b) Human rights groups say that Bahrain's government deliberately targeted doctors who treated hundreds of injured demonstrators during the weeks-long protests.  If true, what do you think the government's motive was for doing this?
4. For Philippines:
a) list the who, what, where and when of the news item
b) Are you surprised by the childrens' reaction to the donations, as related by charity worker Anton Lim?  Explain your answer.
Background
EGYPT:
Once possible sites were discovered via satellite by Dr. Parcak, a team of French excavators confirmed what she saw in the images from space.
"I couldn't believe we could locate so many sites all over Egypt," she told the BBC, in a documentary ["Egypt's Lost Cities"] which airs on the Discovery channel later this summer.
"To excavate a pyramid is the dream of every archaeologist."
At Tanis, for example, Parcak discovered an ancient network of streets and houses, which are completely invisible from the ground.
"This hints at the possibilities of discoveries to come," she said. "I am excited for my generation and the generations to come. There is enough to be excavated for 50 generations."
Parcak isn't the first archeologist to search for sites from the sky. Earlier this year, Australian professor David Kennedy claimed to have discovered nearly two thousand archaeological sites in Saudi Arabia, simply by using Google Earth. (from tgdaily.com)
In an interview with NPR explaining her research Dr. Parcak said:
We have been using a lot of NASA satellites in addition to high resolution images. And what these satellites do is they record light radiation that's reflected off the surface of the Earth in different parts of the light spectrum. And we use false color imaging to try to tease out these very subtle differences on the ground.
So, for example, if, you know, you're walking over, say, a floodplain in Egypt and you just see rice, or you're walking over a modern town and it's obscuring an ancient archeological site, then you just pull back for hundreds of miles using the satellite imagery, and all of a sudden this invisible world becomes visible, and you're actually able to see settlements and tombs, and even things like buried pyramids that you might not otherwise be able to see, just because they affect the soil and geology and vegetation that's above them.
Resources
EGYPT: Watch a clip from an interview with Dr. Sarah Parcak below:
PHILIPPINES:  Read Jay Jaboneta's blog about the children of Layag-layag at jayjaboneta.com.
Daily "Answers" emails are provided for Daily News Articles, Tuesday's World Events and Friday's News Quiz.