Jump to...
SAUDI ARABIA – Saudi authorities re-arrest woman for driving
RIYADH – Saudi authorities have re-arrested an activist who defied a ban on female drivers in the kingdom, a security official said Monday.
Manal al-Sherif was accused of "violating public order" and ordered held for five days while the case is investigated, the official said.
Al-Sherif launched a campaign against the longtime ban last week by posting a video clip on the Internet of herself behind the wheel in the eastern city of Khobar.
Through Facebook, the campaigners set June 17 as the day all women should drive their cars. The page, called "Teach me how to drive so I can protect myself," was removed after more than 12,000 people indicated their support for the call. The campaign's Twitter account also was deactivated.
Al-Sherif was detained for several hours on Saturday by the country's religious police and released after she signed a pledge agreeing not to drive.
A security official said al-Sherif was re-arrested Sunday at dawn. The official spoke on condition of anonymity because he was not authorized to speak to the media.
Khobar prison chief Ayoub ben Nahit was quoted as saying in the daily Al-Watan that al-Sherif faces accusations of "violating the rules and the system by driving her car, roaming the streets of the province." He also accused her of "inciting public opinion" by posting the video clip. …..
Saudi Arabia is the only country in the world that bans women – both Saudi and foreign – from driving. The prohibition forces families to hire live-in drivers, and those who cannot afford the $300 to $400 a month for a driver must rely on male relatives to drive them to work, school, shopping or the doctor.
Women are also barred from voting, except for chamber of commerce elections in two cities in recent years, and no woman can sit on the kingdom's Cabinet. Women also cannot travel without permission from a male guardian and shouldn't mingle with males who are not their husbands or brothers.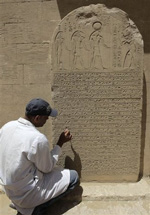 EGYPT – 7 tombs in New Kingdom Cemetery open
CAIRO – The tombs of seven men, including several who served King Tutankhamen and his father, the pharaoh Akhenaten, were opened to tourists on Monday after restoration.
Egypt's minister of antiquities, Zahi Hawass, told reporters that the tombs in the New Kingdom Cemetery could draw more visitors to the site in South Saqqara, which is better known for its pyramids, including the Step Pyramid of Djoser. [Photo: A laborer of Egypt's antiquities works at the site of the New Kingdom Cemetery.]
The area served as the necropolis [cemetery] for the ancient Egyptian capital at Memphis.
Hawass noted that two of the men who built tombs for themselves–Maya, the treasurer of King Tutankhamen, also known as King Tut–and Horemheb, a general under King Tut who later became king himself, "were very important men during one of Egypt's most tumultuous periods." …..
Under King Tut, "Maya was responsible for restoring order in Egypt, while his colleague Horemheb restored order abroad," the antiquities ministry said in a statement.
A tomb built for Meryneith, who was temple steward under Akhenaten, was of mudbrick encased in limestone blocks. A scene on a rear wall shows metal workers plying their trade.
Other tombs were built for Ptahemwia, who was the royal butler to both Akhenaten and King Tut; Tia, a top official under Ramses II who ruled from 1303-1213 B.C.; and Pay and his son, Raia. Pay was the overseer of the harem under King Tut, and Raia was a soldier who later took over his father's post.
Some of these tombs were first discovered in 1843 by German explorer Richard Lepsius, but were not fully excavated until an Anglo-Dutch mission began excavating there in 1975. Now a Dutch team from Leiden University excavates at the site and has been restoring the tombs.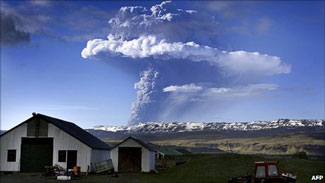 ICELAND – Volcano flings ash, shuts airport
REYKJAVIK – Iceland closed its main international airport and canceled all domestic flights Sunday as a powerful volcanic eruption sent a plume of ash, smoke and steam 12 miles into the air. [Photo: Grimsvotn – Iceland's most active volcano.]
The eruption of the Grimsvotn volcano was far larger than one a year ago at another Icelandic volcano that upended travel plans for 10 million people around the world, but scientists said it was unlikely to have the same widespread effect.
University of Iceland geophysicist Magnus Tumi Gudmundsson said this eruption, which began Saturday, was Grimsvotn's largest eruption for 100 years.
"[It was] much bigger and more intensive than Eyjafjallajokull," the volcano whose April 2010 eruption shut down airspace across Europe for five days, he said.
"There is a very large area in southeast Iceland where there is almost total darkness and heavy fall of ash," he said. "But it is not spreading nearly as much. The winds are not as strong as they were in Eyjafjallajokull."
He said this ash is coarser than last year's eruption, falling to the ground more quickly instead of floating vast distances.
The ash plunged areas near the volcano in southeast Iceland into darkness Sunday and covered buildings, cars and fields in a thick layer of gray soot. Civil protection workers urged residents to wear masks and stay indoors. …..
(The news briefs above are from wire reports and staff reports posted at BostonHerald.com and San Jose mercurynews.com on May 23rd and WashingtonTimes.com on May 22nd.)

Questions
1. For each of the 3 countries, give the following information:
a) location/the countries that share its borders
b) the religious breakdown of the population
c) the type of government
d) the chief of state (and head of government if different) [If monarch or dictator, since what date has he/she ruled? – include name of heir apparent for monarch]e) the population
[Find the answers at the
CIA World FactBook website
. For each country, answers can be found under the "Geography" "People" and "Government" headings. Go to
worldatlas.com
for a list of continents.]
2. For Saudi Arabia:
a) list the who, what, where and when of the news item
b) In addition to driving, what other activities are women prohibited from doing in Saudi Arabia?
3. For Egypt:
a) list the who, what, where and when of the news item
b) What group completed the excavation and restoration of the tombs at New Kingdom?
c) Why do you think the Egyptian government permits foreign archeologists to excavate/restore their historic sites?
4. For Iceland:
a) list the who, what, where and when of the news item
b) The eruption of Grimsvotn is much bigger and more intensive than the eruption of Eyjafjallajokull, the volcano whose April 2010 eruption shut down airspace across Europe for five days and affected travel plans of 10 million people around the world. Why then isn't Grimsvotn's eruption expected to cause nearly the same interruption to air travel across Europe?
Free Answers — Sign-up here to receive a weekly email with answers.
Background
SAUDI ARABIA:
Saudi Arabia is the only country in the world that bans women – both Saudi and foreign – from driving.
The prohibition forces families to hire live-in drivers, and those who cannot afford the $300 to $400 a month for a driver must rely on male relatives to drive them to work, school, shopping or the doctor.
Saudi clerics, from the hard-line Wahhabi school of Islam that is the official doctrine of the kingdom, insist the ban protects against the spread of vice and temptation because women drivers would be free to leave home alone and interact with male strangers.
King Abdullah has promised reforms in the past and has taken some tentative steps to ease restrictions on women. But the Saudi monarchy relies on Wahhabi clerics to give religious legitimacy to its rule and is deeply reluctant to defy their entrenched power.
There is no written Saudi law banning women from driving, only fatwas, or religious edicts, by senior clerics that are enforced by police. No major Islamic clerics outside the country call for such a ban.
One prominent Saudi cleric, Abdel-Rahman al-Barak, said in a fatwa posted on his website that women who violate the driving ban are "sinful and are opening (the doors) of evil."
Previous moves by women to overturn the driving ban have been met with swift reprisals by the authorities.
More than two decades ago, a group of women got into cars and drove the streets of Riyadh.
The protest cost the 47 female drivers and passengers dearly. They were arrested, lost their jobs for 2 1/2 years, were banned from travel for a year and were condemned by the powerful clergy as harlots.
On Monday, another woman was also reportedly arrested, along with two female relatives, after driving to a grocery store in a remote area of al-Ras province north of Riyadh, according to the website of the Al-Riyadh daily.
The paper quoted the woman as saying she doesn't have a male relative to take her shopping and has driven herself to the supermarket in the past.
Women in remote desert areas of Saudi Arabia can sometimes drive without authorities noticing. (from mercurynews.com)
————————————————-
ICELAND:
Iceland imposed a flight ban and closed its main airport after the country's most active volcano, Grimsvotn, erupted.
The volcano lies under the uninhabited Vatnajokull glacier in southeast Iceland and has been dormant for 7 years.
A large plume of smoke and ash is stretching 20 km into the air.
Iceland's Meteorological Office says that the eruption at the Grimsvotn volcano has been accompanied by a series of small earthquakes.
Scientists have been expecting a new eruption and have said previously that this volcano's eruption will likely be small and should not lead to the air travel chaos caused in April 2010 by ash from the Eyjafjallajokul volcano. (from rt.com, Russian TV)
Resources
EGYPT: Watch a news video on Manal al-Sherif:

ICELAND: Watch a video of the Grimsvotn volcano erupting: