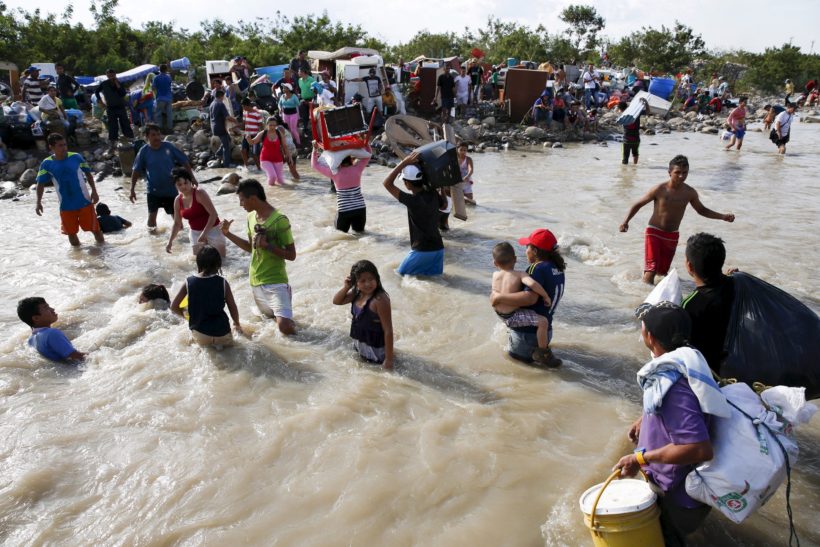 redo Jump to...
print Print...
VENEZUELA – Distraught Colombians flee Venezuela with all of their possessions
Hundreds of Colombians waded across a border river with fridges, chickens and mattresses on their backs as goats and children followed under the scorching tropical sun, victims of an escalating dispute with Venezuela's government.
Saying they were forced from their rickety wooden or corrugated metal homes and scared of what might happen next if they stayed inside Venezuela, they fled across the River Tachira and back into their homeland on August 25.
"I feel impotent. I want to cry. I lost everything overnight," Darwin Arenas, a 26-year-old Colombian, said as he and his Venezuelan wife dragged their possessions across the river in a wheelbarrow.
Most of the refugees have lived for years in Ernesto Guevara, an extremely poor Venezuelan border village, or other nearby settlements, but they were forced to leave after Venezuelan authorities marked their homes with a "D" for "demolition" over the weekend of Aug. 21.
Venezuela says it is cracking down on paramilitary and smuggling gangs active along the border but the families fleeing said they had nothing to do with crime.
Some like Arenas, a supermarket worker with two children, were formally deported by Venezuela. Others said that National Guard officers ordered them to get out, and others decided to leave before the border crisis gets worse.
Venezuela's socialist President Nicolas Maduro has blamed many of recession-hit Venezuela's problems on Colombians, sparking a spat between the two South American neighbors who share a long and porous border plagued by drug trafficking, paramilitaries, left-wing guerrillas and smugglers.
The week before the Columbians began leaving their homes in Venezuela, Maduro closed an official border crossing near here and suspended some constitutional guarantees along parts of the border, allowing authorities the right to search homes and businesses without a warrant, after Venezuelan soldiers were injured in a firefight with smugglers. …
Maduro says he is only interested in forcing out smugglers and paramilitaries and insists that human rights will be upheld. The Colombian government, however, says more than 1,000 people have been unfairly deported. …
Dozens of residents in Ernesto Guevara, named for the Argentine revolutionary better known as "Che" Guevara, said National Guard troops came over the weekend and went through every single home, looking for Colombians.
They labeled many houses with a giant "D" for "demolition," the residents said, adding that the National Guard proceeded to damage homes and steal some possessions. Videos posted online purported to show demolition equipment being used to flatten houses elsewhere along the border.
"The National Guard came and said we had 72 hours to get out and they would demolish our house," said Colombian Luz Nelsi, a 36-year-old single mother whose wooden house is painted with a giant "D."  "Do we look like paramilitaries?" said Nelsi as she and her three young daughters stood at the door.
Venezuela says it is acting only to protect Venezuela and that it has respected the Colombians' rights. "We haven't violated a single human right. We haven't flattened a single house" said Jose Vielma, the governor of Tachira state, during a special National Assembly session in the western part of Venezuela on Tuesday (Aug. 25). …
Many Venezuelans have coexisted with the country's large Colombian community for decades and are shocked by the border crisis. Housewife Maria Velazco, 47, helped Colombian friends living in Ernesto Guevara pack up their things.  "This is like…Germany [in WWII]," she said outside the friends' house as those around her frantically packed up what they could. (see news video under "Resources" below)
---
UNITED KINGDOM – Queen Elizabeth II to become Britain's longest reigning monarch
On September 9, Queen Elizabeth will officially become the longest-serving monarch in British history – breaking the record held for more than a century by her great-great grandmother Queen Victoria, who reigned for 63 years and seven months….
On the day Queen Elizabeth passes this milestone, royal aides have insisted that it will be "business as usual" with no celebrations currently planned for the occasion.  The Queen is set to spend the day on a traditional break to Balmoral Castle in Aberdeenshire, Scotland – just as Victoria did in 1896, when she passed King George III's record (who reigned for 60 years).  Much like Victoria, Queen Elizabeth has reportedly requested no fuss on the day she becomes the longest-serving monarch out of respect for her predecessor….
Her Majesty is said to hope that if the event is marked at all, it will be done so respectfully and with no suggestion that it is celebrating Victoria's death.
The Queen acceded to the throne, aged 25, on February 6, 1952, following the death of her father George VI.  Her official coronation then took place on June 2, 1953 – with her Diamond Jubilee being celebrated around the country in 2012.
Throughout her decades on the throne, the Queen has become accustomed to countless milestones.  In December 2007, she became the longest living British monarch – having overtaken Queen Victoria who died when she was 81 – and in May 2011, she became the second longest-reigning British monarch when she passed King George III.  [Queen Elizabeth comes second to King Bhumibol Adulyadej of Thailand as the world's longest reigning monarch – he rose to the throne in 1946.]  Queen Elizabeth is also the first British royal to have sent an email and to put a message on the moon.
Instead of celebrating on September 9, it is believed that Buckingham Palace officials will be focusing their efforts on the program for the Queen's 90th birthday next year.  A Buckingham Palace spokesman said: "The Royal Household will not be organizing any events to specifically mark Her Majesty surpassing Queen Victoria as Britain's longest reigning monarch.  "We have been clear that for The Queen's program, 9 September will be business as usual.  There has been no comment on this issue from here."
---
EUROPEAN UNION – Migrant crisis in the EU
Trainloads of migrants arrived in Austria and Germany from Hungary on Monday (Aug. 31) as European Union asylum rules collapsed under the strain of a wave of migration unprecedented in the EU.
As thousands of men, women and children – many fleeing Syria's civil war – continued to arrive from the east, authorities let thousands of undocumented people travel on towards Germany, the favored destination for many.
The influx is a crisis for the European Union, which has eliminated border controls between 26 "Schengen area" states but requires asylum seekers to apply in the first EU country they reach – something that is often ignored as migrants race from the fringes of the bloc to its more prosperous heart.
In line with EU rules, an Austrian police spokesman said only those who had not already requested asylum in Hungary would be allowed through – but the sheer pressure of numbers prevailed, and trains were allowed to move on.
"Thank God nobody asked for a passport … No police, no problem," said Khalil, 33, an English teacher from Kobani in Syria. His wife held their baby daughter…at the Vienna station where police stood by as hundred of migrants raced to board trains for Germany.
Khalil said he had bought train tickets in Budapest for Hamburg, northern Germany, where he felt sure of a better welcome after [traveling] across the Balkans and Hungary. …
Late on Monday, a train from Vienna, Austria to Hamburg, Germany, on which migrants were traveling was met in Passau, Germany, by police wearing bullet-proof vests, according to a Reuters witness.
Police entered the train and migrants were asked to accompany them to be registered. About 40 people were seen on the platform. Police said they would be taken to a police station for registration.
German Chancellor Angela Merkel, whose country expects some 800,000 migrants this year, said the crisis could destroy the Schengen open borders accord if other EU countries did not take a greater share.
"If we don't succeed in fairly distributing refugees then of course the Schengen question will be on the agenda for many," she told a news conference in Berlin. "We stand before a huge national challenge. That will be a central challenge not only for days or months but for a long period of time."
But it is far from certain her view will prevail when EU ministers hold a crisis meeting on Sept. 14. Britain, which is outside the Schengen zone, says the border-free system is part of the problem, and a bloc of central European countries plans to oppose any binding quotas. (see "Background" below for more)
(The news briefs above are from wire reports and staff reports posted at the (UK) Express and Reuters on August 26 and 27.)
Questions
1. For each of the 3 countries, give the following information:
a) capital
b) location/the countries that share its borders
c) the religious breakdown of the population
d) the type of government
e) the chief of state (and head of government if different) If monarch or dictator, since what date has he/she ruled? – include name of heir apparent for monarch
f) the population
[Find the answers at the CIA World FactBook website. For each country, answers can be found under the "Geography" "People" and "Government" headings. NOTE: If WorldFactBook appears outdated for any country, go to Wikipedia – search there for "Religion in ___" or "Politics of ____" for the leaders.  Or do an internet search for "Population of ___."]
NOTE to students: Before answering the questions below, read the info under "Background" and watch the videos under "Resources."
2. For VENEZUELA:
a) list the who, what, where and when of the news item
b) Why did many Colombians living in a Venezuelan border town leave their homes taking only the possessions they could carry and cross the river back into Colombia?
c) How did the Venezuelan government explain their actions in this area?
d) What is believed to be the real reason for President Maduro's actions?
3. For UNITED KINGDOM:
a) list the who, what, where and when of the news item
b) How will the Queen celebrate this milestone?
c) Why is she commemorating the day in this way?
d) Remember that the Queen's position today is mainly ceremonial. How do you think the country should celebrate the milestone of their Queen? Explain your answer.
4. For THE EUROPEAN UNION:
a) list the who, what, where and when of the news item
b) There is a migrant crisis in the EU. Read the "Background" and watch the videos under "Resources" Why are so many migrants making the journey to specific EU countries?
c) Why do you think the migrants cross over countries like Turkey to get to Western Europe (even though most of the migrants coming to traditionally Christian Western Europe are Muslim and Turkey is a Muslim country)?
d) What do you think the leaders of the EU need to do about this crisis? [open all borders, close all borders, give immediate asylum to all migrants, set up quotas for who will be taken in based on a person's reasons for coming to the EU without documentation, attempt to solve the problems of the countries of origin (Syria), hold a crisis meeting at the UN and demand the world leaders come up with a solution…?] Explain your answer.
e) Ask a parent to answer c) and d) and discuss your answers.
f) Most of the recent news articlles about the EU crisis refer to "migrants."  What is the difference between a migrant and a refugee? (Read an explanation: www.studentnewsdaily.com/migrant-vs-refugee)
Background
VENEZUELA
Venezuela and Colombia each recalled their ambassadors to the other country on Thursday (Aug. 27), amid a diplomatic crisis sparked when socialist-run Venezuela closed two border crossings and deported over a thousand Colombians.
Venezuelan President Nicolas Maduro shut the crossings last week after a shootout between smugglers and troops wounded three soldiers. He later extended the closing indefinitely and has characterized the deportations as a crackdown on paramilitary gangs.
"I have favored dialogue and diplomacy and I will keep doing so, but I cannot allow Venezuela to treat Colombia and Colombians this way," the center-right President Juan Manuel Santos said in Bogota.
"These families aren't paramilitaries, they are humble families," Santos said. "And they were thrown out, as they said to me, like dogs."
Shortly after Santos' announcement recalling Colombia's ambassador, Venezuelan Foreign Minister Delcy Rodriguez said on Twitter that Maduro had ordered the recall of Venezuela's ambassador to Bogota.
Nearly 1,100 Colombians living in Venezuela have been deported since the border closure, and Santos said between 5,000 and 6,000 more have fled voluntarily.
The spat recalls the frequent disputes between Venezuela and Colombia during the 14-year rule of Maduro's predecessor, Hugo Chavez. Critics say Maduro is copying his late mentor by stoking a crisis to distract Venezuelans from economic problems in the run-up to a parliamentary election in December.
Santos has also faced criticism for his handling of the crisis. Ex-president and current opposition Senator Alvaro Uribe visited the border this week and decried what he said was government inaction in the face of aggression by the Maduro "dictatorship."
Santos's ruling coalition will compete with Uribe's right-wing opposition party, among others, in local and regional elections on Oct. 25. (from a Reuters article on Aug. 27)
---
UNITED KINGDOM
Elizabeth II (born April 21, 1926) is the Queen of 16 of the 53 member states in the Commonwealth of Nations. She is Head of the Commonwealth and Supreme Governor of the Church of England.
Upon her accession on February 6, 1952, Elizabeth became Head of the Commonwealth and queen of seven independent Commonwealth countries: the United Kingdom, Canada, Australia, New Zealand, South Africa, Pakistan, and Ceylon.
Her coronation service the following year was the first to be televised.
From 1956 to 1992, the number of her realms varied as territories gained independence and some realms became republics.
Today, in addition to the first four of the aforementioned countries, Elizabeth is Queen of Jamaica, Barbados, the Bahamas, Grenada, Papua New Guinea, Solomon Islands, Tuvalu, Saint Lucia, Saint Vincent and the Grenadines, Belize, Antigua and Barbuda, and Saint Kitts and Nevis.
She is the world's oldest reigning monarch as well as Britain's longest-lived. If still reigning on September 10, 2015, she will have become the longest-reigning British head of state and the longest-reigning female monarch in history, surpassing Queen Victoria.
Elizabeth was born in London as the elder daughter of the Duke and Duchess of York, later King George VI and Queen Elizabeth.
Her father acceded to the throne on the abdication of his brother Edward VIII in 1936, from which time she was the heir presumptive. She began to undertake public duties during the Second World War.
In 1947, she married Philip, Duke of Edinburgh, with whom she has four children: Charles, Anne, Andrew, and Edward.
Elizabeth has seen major constitutional changes, such as devolution in the United Kingdom, Canadian patriation, and the decolonization of Africa. She has also reigned through various wars and conflicts involving many of her realms.
Elizabeth has occasionally faced republican sentiments and severe press criticism of the royal family, but support for the monarchy and her personal popularity remain high. (from wikipedia)
Visit the Queen's official website royal.gov.uk
---
EUROPEAN UNION (EU)
The latest migrant disaster, in which thousands are scrambling to reach the EU from Greece, Italy and Hungary, has brought more attention to the tragic issue of refugees trying to cross to Europe.
Now, migrants are increasingly using road and rail transport to access the EU. The deaths of 71 migrants who suffocated on board a truck abandoned in Austria is one of the most recent examples of the dangers they face from human traffickers.
It is estimated that since January 2015, 350,000 refugees have desperately packed onto overcrowded vessels to cross the Mediterranean to Italy after fleeing war-torn countries such as Iraq, Syria and Libya. According to the UN refugee agency, UNHCR, over 60 percent of those taking the journey come from Syria, Somalia, and Afghanistan, countries torn apart by war and …[Islamic terrorism from ISIS, al-Qaeda, the Taliban, al-Shabab, Boko Haram] , or from Eritrea, which is ruled by a highly repressive government.
Asylum seekers, including children, from Syria, Somalia, Afghanistan and Eritrea who arrived in Italy and Greece in May described to Human Rights Watch the indiscriminate fighting, threats from insurgent groups such as the Taliban, Al-Shabaab, and ISIS, forced conscription and recruitment by armed groups, attacks on schools, and other abuses that forced them to flee. 

(from London's Daily Telegraph and HRW)

Asked on BBC World Service radio last night why the Hungarian government suddenly closed the tap on migrants leaving on trains after allowing 3,650 to reach Vienna on Monday, Zoltan Kovacs, government spokesman claimed that there had been a "set of misunderstandings concerning German announcements on whether they would take anyone who says they come from Syria."  Mr. Kovacs also said that the idea of quotas to distribute refugees across Europe could not work as so many clearly want to go to certain countries. "How would someone who wants to go to Stuttgart be kept in Lithuania?" he asked by way of an example.
British Prime Minister David Cameron defends the UK's record on taking in Syrian refugees and says the answer to the migrant crisis is a political solution in Syria rather than simply taking in more people fleeing the country.
Jan Semmelroggen, expert on migration policy and management at Nottingham Trent University, said there was no easy solution to solve the large-scale migrant problem. "We have uncontrolled migration and no common refugee policy. All 28 nations have their own policies and it is not working. EU countries should get together and negotiate a burden-sharing mechanism. Right now, a handful of countries are carrying the burden – Greece and Italy and now Hungary are taking arrivals."
Nigel Farage, the UK Independent Party leader, told the Telegraph: "It is clear the Schengen Agreement is crumbling, as recent events are putting so much pressure on the political agreement. Schengen has now hit the buffers of the real world and is falling apart. In a crisis, national interests always prevail over European ideology."
Daniel Hannan, a British Conservative MEP, said: "The two pillars of European integration were Schengen and the euro. Both have now crumbled at the first crisis. I'm not asking the Euro-fanatics to apologize; I just want the rest of us to stop listening to them." (from a Daily Telegraph report)
Read about the EU migrant crisis at wikipedia
Read about the EU's open borders Schengen Agreement
Resources
VENEZUELA
---
EUROPEAN UNION (For previous 2015articles on the migrant crisis in the European Union, see Student News Daily's "World Events" for April 21 (EU) and April 28 (Eritrea) and earlier articles on Dec 2, 2014 (France) and  Aug. 27, 2013 (Italy).
In July 2015 BBC reporter Paul Adams spent one night with some of those who have been trying to gain access to the Channel Tunnel and then on to Britain:
Daily "Answers" emails are provided for Daily News Articles, Tuesday's World Events and Friday's News Quiz.