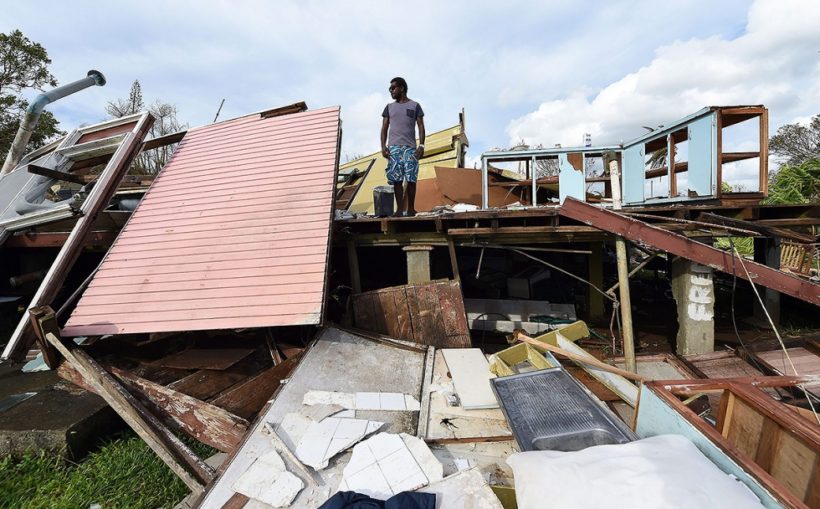 redo Jump to...
print Print...
VANUATU – 'More than 100,000' homeless in Vanuatu as president makes emotional plea for Cyclone Pam aid
Vanuatu's President Baldwin Lonsdale broke down yesterday as he made an emotional plea for international help for his cyclone-ravaged country, which aid agencies claimed had left more than 100,000 people homeless.
He feared that development in the island nation had been wiped out, adding: "It means that we will have to start anew again."
Speaking from the Japanese city of Sendai, where he had been attending a United Nations conference on disaster risk reduction, Mr. Lonsdale said: "As a nation, as the head of a nation, my heart is for the people.
"Everyone has that same feeling, because we don't know what happened to our family."
His voice quavering, he spoke of the particular difficulties faced by the impoverished nation of 267,000 people spread over scores of scattered islands.
"There's a breakdown of communications that we cannot reach our families and we do not know whether our families are safe or not. This is a very devastating cyclone that has crossed Vanuatu. I term it as a monster. It's a monster that has hit the republic of Vanuatu." …

As emergency relief flights from Australia and New Zealand arrived in the beleaguered capital Port Vila on Monday, aid workers described the conditions as among the worst they had faced.
Colin Collet van Rooyen, Oxfam country director in Port Vila, said more than 100,000 had been left homeless and added, "More than 90 percent of houses were damaged in Port Vila alone, nearly every school was destroyed, the evacuation centers are full and there is damage to health facilities and the morgue."
"Reports today of catastrophic devastation in Erromango and Tanna Islands in the south with non concrete buildings completely flattened and the few concrete buildings without roofs confirm that there are still many many people in need across the archipelago. …
Cyclone Pam, one of the most ferocious tropical storms in living memory, lined up the islands of Vanuatu for a direct hit as it ploughed southeast through the Pacific Ocean, packing gusts of up to 190 miles per hour.
Almost every building in Port Vila, the capital with a population of 47,000, has been either damaged or destroyed.
The southern island of Tanna was described by a Red Cross aid worker as being "in ruins".
Although the official death toll stands at eight, that was expected to rise once outlying islands with poor communication links could be reached.
Many people are thought to have been injured by roofing iron that was lifted off buildings and hurled around the streets by the gale-force winds. …
---
VENEZUELA – President says may go to U.S. to challenge Obama
CARACAS | Ridiculing the U.S. [classifying] Venezuela as a security threat, President Nicolas Maduro said on Thursday he may travel to Washington to challenge American counterpart Barack Obama.
"We demand, via all global diplomatic channels, that President Obama rectify and repeal the immoral decree declaring Venezuela a threat to the United States," Maduro said.
In the worst flare-up between the ideological enemies since Maduro took power in 2013, the Obama administration last week declared a "national emergency" over "the unusual and extraordinary threat" from Venezuela and sanctioned seven officials over allegations of rights abuses and corruption.
The Maduro government has demanded evidence of how it threatens U.S. security. Conversely, it accuses Washington of helping coup plotters and preparing a military invention.
U.S. officials say the Obama government's intention is to make Venezuela's government change its ways, not fall.
President Maduro, the 52-year-old successor of firebrand U.S. adversary Hugo Chavez, said Venezuela was preparing an event in Washington to press its case.
"Maybe I'll appear in Washington at that exhibition, to show my face for my country and tell the government in Washington they are committing grave mistakes," he said. No more details of the event were given.
With Venezuela also demanding that the United States slash its Caracas embassy from 100 to 17 staff, the dispute has dominated local headlines and overshadowed an economic crisis.
Opposition leader Henrique Capriles accused Maduro of using the spat as a smokescreen. "Inflation through the roof. Scarcities too. Murders and poverty up. And the shameless rulers talking to us of an invasion," he tweeted.
Venezuela's opposition coalition has sought to disassociate itself from any perception of supporting outside meddling, while supporting the allegations of repression and graft.
Allies from Russia to Argentina have sent messages of support to Venezuela, as has the South American regional bloc UNASUR. … Whipping up nationalist sentiment, Maduro addressed an "anti-imperialist" march on Thursday, while over the weekend the National Assembly granted him special decree powers he says are needed after the U.S. moves.
---
SYRIA – How the lights have gone out across Syria since 2011
The lights are going out all over Syria. Research published to mark the fourth anniversary of the Syrian uprising has shown the amount of light being released over the country has shrunk by 83 percent.
Satellite imagery taken at night was used to chart the progress of the war by researchers at Wuhan University in China.
They show the glow from major population centers like Aleppo and Homs gradually dim. Aleppo, which has been divided between pro- and anti-regime halves since July 2012, has lost 97 per cent of all its light.
Its biggest industrial zone has also been a battle-zone, with mainstream rebels, jihadists from Al-Qaeda and Islamic State of Iraq and the Levant, and regime forces controlling it by turns.
Damascus by contrast has suffered less, losing just 35 percent of its light – a sign of the firm grip on the city cenere still held by the regime of President Bashar al-Assad.
The researchers have also found that there is a direct correlation with the number of refugees from an area and the loss of light.
"Satellite imagery is the most objective source of data showing the devastation of Syria on a national scale," the lead researcher, Xi Li, said. "Taken from 500 miles above the earth, these images help us understand the suffering and fear experienced by ordinary Syrians every day, as their country is destroyed around them."
The research was commissioned by an alliance of non-governmental organizations to highlight the plight of civilians as the war rages around them.
More than 200,000 people have been killed during the war, and more than 3.5 million people have fled the country. Including those displaced internally, half the pre-war population of 22 million are refugees.
"Syria's people have been plunged into the dark: destitute, fearful, and grieving for the friends they have lost and the country they once knew," said David Miliband, the former Foreign Secretary who is now president of the International Rescue Committee.
"Four years since the crisis began, there is at present very little light in this tunnel."
(The news briefs above are from wire reports and staff reports posted at London's Daily Telegraph on March 16, Reuters on March 12 and the Telegraph on March 12.)
Questions
1. For each of the 3 countries, give the following information:
a) capital
b) location/the countries that share its borders:
c) the religious breakdown of the population:
d) the type of government:
e) the chief of state (and head of government if different) [If monarch or dictator, since what date has he/she ruled? – include name of heir apparent for monarch]:
f) the population:
[Find SOME of the answers at the
??
CIA World FactBook website (no longer appears to be updating some info!?) or from wikipedia
. For each country, answers can be found under the "Geography" "People" and "Government" headings.  Go to 
worldatlas.com
for a list of continents.]
NOTE: Before answering the questions below, read the info under "Background" and watch the video under "Resources."
2. For VANUATU:
a) list the who, what, where and when of the news item
b) Read the "Background" below and watch the news report under "Resources." What do you think will be the biggest problem the country faces in the aftermath of this devastating storm?
3. For VENEZUELA:
a) list the who, what, where and when of the news item
b) What does socialist President Maduro demand President Obama do regarding the sanctions?
c) President Obama imposed sanctions on Venezuela by executive action, not through Congress, which is most likely the more usual route. The Obama administration says that Venezuela threatens U.S. security. Regarding U.S. relations with Iran, President Obama wants to lift all sanctions against that country as it continues its nuclear weapons program. The Republican-led Congress wants to impose more sanctions on Iran (not lift any) to force them to end their nuclear program, which threatens U.S. security. What do you think of the President and of Congress' differing views on these two countries? Ask a parent to explain his/her perspective.
4. For SYRIA:
a) list the who, what, where and when of the news item
b) Ask a parent or a grandparent: Do you think the U.N. should do anything to stop this devastation?
Daily "Answers" emails are provided for Daily News Articles, Tuesday's World Events and Friday's News Quiz.
Background
VANUATU
Tom Skirrow of Save the Children said the logistical challenges were even worse than after Super Typhoon Haiyan, which struck the Philippines in November 2013, killing more than 7,350 people.
"I was present for the Haiyan response and I would 100 per cent tell you that this is a much more difficult logistical problem," he told the AFP news agency.
"The numbers are smaller but the percentage of the population that's been affected is much bigger."
Mr. Skirrow said 15,000 people were homeless in Port Vila alone and flights over remote islands had confirmed widespread destruction.
"I am absolutely sure that there will be at least 150,000 people significantly affected, most likely homeless, and about 75,000 of them will be children."
Chloe Morrison of World Vision said: "The place that was once a tropical paradise now looks like hell on earth."
As the first relief flights arrived from Australia and New Zealand, charity workers warned that diseases such as dengue fever and malaria were a concern because of widespread flooding and contaminated water supplies.
Britain and France, which jointly administered Vanuatu when it was known as the New Hebrides before independence in 1960, joined Australia and New Zealand in promising millions of pounds' worth of aid. (from the Telegraph article above)
VENEZUELA
Venezuelan President Nicolás Maduro on Sunday was given the right to rule by decree for nine months, as he continued to capitalize on the backlash created by recent U.S. sanctions.
In a raucous session full of chanting and blistering speeches, the National Assembly, which is controlled by Maduro's ruling party, passed the "Anti-Imperialist Enabling Law for Peace."
The law, which gives Maduro the ability to bypass congress in issuing security and defense legislation through December 2015, went into effect Monday when it was published in the official gazette.
As thousands of supporters waved Venezuelan flags and signs that read "Yankee Go Home," Maduro thanked congress for its support and said he was launching an international campaign to have the U.S. sanctions repealed. "This is a great victory for our country and our sovereignty," he said. "It will give me the power I need to preserve the peace."
Maduro didn't say how he will use his new powers, but the opposition worries that the socialist administration will continue to crack down on dissent in the run-up to legislative elections.
Maduro has managed to portray the U.S. sanctions against seven officials as a major threat to the South American nation.
In particular, Venezuela and other regional governments have been alarmed by the language in President Barack Obama's March 9 executive order. The document declared a "national emergency" – a prerequisite to enacting sanctions – and called Venezuela a threat to U.S. national and foreign interests.
On Saturday, the Union of South American Nations, or UNASUR, demanded that Washington retract the executive order because it represented a "threat" to sovereignty and to the "principal of non-intervention in the internal affairs of other states."
Bolivian President Evo Morales, a Caracas ally, said Washington needed to apologize for the affront or face a backlash during the Summit of the Americas, which will be held next month in Panama.
Building on that idea, Maduro on Sunday said the leaders of the nine-member ALBA group of nations, which includes Cuba and Nicaragua, will be meeting in Caracas on Tuesday to form a common front against the U.S. at the summit.
Venezuela has been mired in chaos as sinking crude prices and economic mismanagement have restricted access to the foreign currency needed to finance imports. As a result, basic items are often hard to come by and inflation is among the highest in the world. 
Earlier this month, the government began installing fingerprint scanners at state-run stores to try to crack down on hoarding. And last year, Maduro was given decree powers for six months to deal with the economy.
Also on Sunday, Venezuela continued military drills that the government says are in preparation for any acts of foreign aggression. Maduro, who has often accused Washington of being behind destabilization and coup plots, said the mass mobilization was necessary to guarantee that the "imperial boot of the United States does not touch us." (from miamiherald.com)
Resources
VANUATU
Watch a France 24/7 News report: