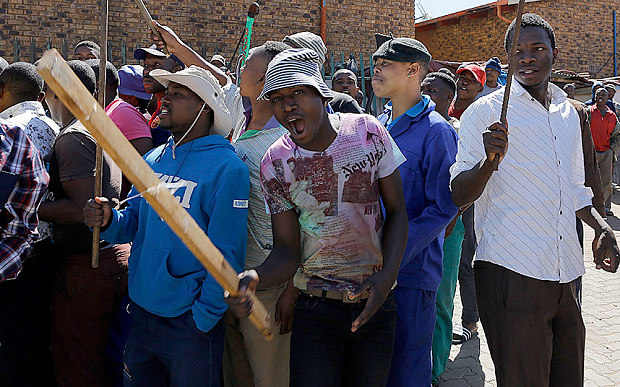 redo Jump to...
print Print...
SOUTH AFRICA – Fearful immigrants shut Johannesburg shops as anti-foreigner violence rages
JOHANNESBURG – Mobs in South Africa attacked shops owned by immigrants in a poor area of Johannesburg early Saturday following similar violence in another part of the country that killed six people, according to media reports.
There was a heavy police presence in Alexandra township after rioters looted some shops, burned tires and built street barricades overnight. The report says police fired rubber bullets in an attempt to stop the unrest, news outlet eNCA reported.
Several shops and cars owned by immigrants were torched in downtown Johannesburg in recent days.
Attacks on immigrants, many of them from other African countries, in and around the coastal city of Durban have subsided after the deaths of six people there, police said. Some 112 people were arrested in KwaZulu-Natal province, which includes Durban, during the riots there, according to authorities.

Some South Africans have accused immigrants of taking jobs and opportunities away from them in a country with high unemployment. The government has said it is addressing complaints about undocumented migrants, while noting that many foreign nationals are living legally in South Africa and contributing to economic development.

About 60 people died in similar unrest in South Africa in 2008. In January this year, four people died during a week of looting of foreign-owned shops and other violence in Soweto and other areas of Johannesburg.

South Africa, with a population of about 50 million, is home to an estimated 5 million immigrants. Unemployment is around 25 percent and youth joblessness is nearer to 40 percent.

[The focus of the attacks have been black Africans and in some cases Pakistanis, Indians and Bangladeshis. Apart from an instance in which a white South African woman's car was stoned as she drove through a violent area of Johannesburg last week, no whites have been targeted.

Commentators believe this is because black Africans are in competition with locals over menial jobs, whereas whites and others from wealthier nations are largely perceived as providing jobs. Whites also rarely live in the poorest areas where foreigners have been attacked.

Although there have been no local reports of the multitude of Chinese–owned shops in South Africa being affected, China's national news agency Xinhua reported that China's embassy had made a formal complaint to South Africa saying "scores of shops owned by Chinese nationals" had been ransacked.]

President Jacob Zuma on Saturday cancelled a state visit to Indonesia to deal with surge in violence, and pleaded with foreigners to stay in South Africa.

Mr. Zuma visited a transit camp in Chatsworth, Durban, which is housing 1,500 people who fled their homes amid threats of violence, and promised his government would "fix the situation." "It won't take long," he said, to some boos from the crowd. "We are doing all that we can to protect lives. That's why we have the police all over the place, if needs be we will bring out the army."
---
EUROPEAN UNION – EU promises to act over migrant crisis after Mediterranean disaster
EU foreign ministers promised on Monday during an emergency meeting in Luxembourg to do more to stop migrant deaths in the Mediterranean by increasing rescues and catching traffickers, stung by a weekend tragedy that killed up to 700 people off the Libyan coast.

Many European governments have long been reluctant to fund rescue operations in the Mediterranean for fear of encouraging more people to make the crossing in search of a better life in Europe, but they now face outrage over the refugee deaths.
"What's at stake is the reputation of the European Union," Italian Foreign Minister Paolo Gentiloni told reporters as he arrived for a meeting with EU peers in Luxembourg. "We can't have a European emergency and an Italian answer."
Northern European Union countries have so far largely left rescue operations to southern states such as Italy.
In the week prior to the weekend's tragedy, the Italian coast guard rescued almost 8,000 migrants in the Mediterranean, according to the European Commission, the EU's executive. At least 3,500 people, many of them fleeing poverty and fighting in Africa, died trying to cross the Mediterranean to reach Europe in 2014, according to the United Nations.

EU foreign policy chief Federica Mogherini, also an Italian, said she was determined to build a "common sense of responsibility" to tackle the crisis and that EU leaders are considering an emergency summit in Brussels this week.
It was the European Union's "moral duty to concentrate our responsibility as Europeans to prevent these kind of tragedies from happening again and again," Mogherini said. "We must build a common sense of European responsibility … knowing that there is no easy solution, no magic solution."
Solutions aired by ministers on their way into the Luxembourg conference center included a call by Britain to crack down on smugglers in North Africa who charge thousands of dollars to load people onto rubber dinghies and fishing boats.
Austria said it supported an Italian proposal to set up camps in the Middle East and Africa where people can request asylum on site without having to risk their lives crossing the Mediterranean to reach Europe.
Italy wants Egypt and Tunisia to play a role in rescuing stricken migrant vessels in the Mediterranean.
Once the migrants are taken out of the sea by the Egyptians or the Tunisians, they could be taken to North African ports.
---
COLOMBIA – Government lifts bombing truce after Farc attack kills 11 soldiers
BOGOTÁ—Colombia's military moved to restart aerial bombing raids on rebel camps after Marxist guerrillas killed 11 soldiers in a rural attack, threatening peace talks the government had recently said could be completed this year.

The government blamed the Revolutionary Armed Forces of Colombia, or FARC, for an attack with guns and grenades on an army platoon late Tuesday night (April 14). The rebels said government troops initiated the skirmish, which occurred in the Andean state of Cauca and injured at least 17 other soldiers.
The sudden escalation of hostilities seemed likely to undermine trust between negotiators who are now in Cuba trying to end a half century of conflict that has killed tens of thousands of people.
President Juan Manuel Santos staked much of his presidency on the promise of ending the insurgency and yielding the economic dividend that would result from peace. He has come under great political pressure to crush the guerrillas militarily rather than negotiate with them.
Since Mr. Santos launched the talks in late 2012, the two sides have agreed to three out of five major points, with Colombian officials late last year expressing optimism that a peace deal could be signed before the end of 2015.
The rebels pledged a unilateral cease-fire in December, and said they would remain in place unless they had to respond in self-defense. In response, the Colombian government last month pledged to halt all aerial bombing of FARC camps.

Initial public support for the talks had flagged last year amid their slow pace and after the FARC killed several policeman and kidnapped a general. But backing has crept up again, important because it is likely that any accord would have to be approved in a nationwide referendum.
The death toll "is very serious," said Camilo Gomez, the government's lead negotiator with the FARC during a past peace attempt that fell apart in 2002. "This is going to demoralize soldiers and really bother the public. We have seen this before, the FARC does things like this frequently."
Even amid the truce, Mr. Santos's government hadn't agreed to halt ground combat, fearing that the guerrillas would use the break in hostilities to replenish their forces.
General Mario Augusto Valencia, commander of the army's third division, said that troops from the Apollo Task Force were operating in a rugged, mountains area where the military knew there were guerrillas. "Our men were carrying out a territorial control operation, protecting civilians," he said.
General Valencia said in a statement that the soldiers were "attacked with explosives, grenades and firearms."
"This was a deliberate attack and shows a clear break of their promise for a unilateral cease-fire," Mr. Santos in a televised speech Wednesday. "We will take all necessary offensive action to protect the civilian population and, of course, our troops."
(The news briefs above are from wire reports and staff reports posted at WSJ on April 18, Reuters on April 20 and WSJ on April 15.)
Questions
1. For South Africa and Colombia, give the following information:
a) capital
b) location/the countries that share its borders
c) the religious breakdown of the population
d) the type of government
e) the chief of state (and head of government if different) If monarch or dictator, since what date has he/she ruled? – include name of heir apparent for monarch
f) the population
For the EU, answer: capital, member states, government and population
NOTE to students: Before answering the questions below, read the info under "Background" and watch the videos under "Resources."
2. For SOUTH AFRICA:
a) list the who, what, where and when of the news item
b) Why have African immigrants in South Africa been attacked recently?
c) What is the South African government doing to protect the victims?
d) Are you surprised by this violence against foreigners in South Africa? Explain your answer.
3. For EUROPEAN UNION:
a) list the who, what, where and when of the news item
b) Why haven't European governments assisted Italy thus far in launching rescue operations for migrants trying to cross from Africa to Europe?
c) What solutions did the EU ministers suggest at the emergency meeting?
d) Many of the 700 people believed to have drowned off the coast of Libya on Sunday were likely fleeing Eritrea and Somalia. Most of the 170,000 people who illegally reached the European Union's Mediterranean shores last year came from sub-Saharan Africa, according to the EU border agency. At least 3,200 perished on the journey between Libya and Italy, making it the deadliest migrant route in the world.
What do you think the EU should do about the tens of thousands of migrants risking their lives to reach Europe this way every month?
Ask a parent the same question.
4. For COLOMBIA:
a) list the who, what, where and when of the news item
b) There had been a truce between the FARC rebels and the government during on-going peace talks. Why hadn't President Santos, who believes FARC can be trusted to negotiate with for a lasting peace, agreed to halt ground combat during the truce?
Background
SOUTH AFRICA
Up to 10 per cent of South Africa's population is made up of immigrants from across the continent, including Zimbabwe, Somalia, Ethiopia and Malawi. The country has experienced outbreaks of violence against such immigrants before, amid perceptions that they are responsible for an increase in crime and are taking scarce jobs.
South Africa's economy grew by just 1.5 per cent last year and unemployment is at around 25 percent – soaring to over 50 per cent among young people.
The latest attacks have been blamed on comments by Goodwill Zwelithini, the Zulu king, who told a cheering audience on March 20 that foreigners were "lice" who should be "plucked out and left in the sun."
"I won't keep quiet when people who have no say are playing with this country," he said. "We ask that immigrants must pack their bags and go back where they came from."  Mr. Zwelithini has since said his words were misinterpreted. On Monday he was expected to host a meeting of senior tribal leaders, when he was expected to urge the violence to end.
Far from condemning the comments by the Zulu king, who holds sway in a province that President Zuma and his African National Congress allies rely on to stay in power, other influential figures added fuel to the flames.
President Zuma's son Edward claimed foreigners were "taking over the country" and raised the possibility of a coup. Gwede Mantashe, the ANC's Secretary General, suggested that all undocumented migrants would have to be moved to refugee camps.
This week, Mr. Zuma sought to dampen the ire by promising to crack down on unchecked immigration, while reminding his countrymen of the debt they owed their neighbors for sheltering exiles during apartheid. "The attacks violate all the values that South Africa embodies, especially the respect for human life, human rights, human dignity and Ubuntu (togetherness)," he said.
But the Economic Freedom Fighters, a political party run by Julius Malema, the firebrand former ANC youth leader who is now a fierce opponent of Mr. Zuma, blamed the ruling party for "failing dismally" to provide South Africans with "good quality lives."
"Condemned to chronic hunger, unemployment and misery, our people are directing their anger to wrong people," said Vukani Ndlovu, the EFF's chairman in KwaZulu Natal.  (from Telegraph reports on April 18 and 20)
---
COLOMBIA:  FARC (The Revolutionary Armed Forces of Colombia): President Santos has been in peace negotiations with the FARC; others oppose negotiations with FARC and say they should be held accountable for their terrorist/criminal activities.
The FARC is the oldest and largest group among Colombia's left-wing rebels and is one of the world's richest guerrilla armies.
Experts estimate that FARC takes in between $500 million and $600 million annually from the illegal drug trade.
The FARC also profits from kidnappings, extortion schemes, and an unofficial "tax" it levies in the countryside for "protection" and social services.
FARC is a guerrilla organization, self-proclaimed Marxist-Leninist.  The FARC is considered a terrorist group by the Colombian government, the United States, Canada, the Latin American Parliament, and the European Union.
The FARC claim to be an army of peasant Marxist-Leninists with a political platform of agrarianism and anti-imperialism inspired by Bolivarianism.
The operations of the FARC are funded by kidnap to ransom, illegal mining, extortion and the production and distribution of illegal drugs.
FARC is responsible for most of the ransom kidnappings in Colombia; the group targets wealthy landowners, foreign tourists, and prominent international and domestic officials. FARC stepped up terrorist activities against infrastructure in cities before Colombia's May 2002 presidential election.
The FARC's stated goal is to overthrow the current democratic government of Colombia and replace it with a Communist government.
(from wikipedia, unric.org, start.umd.edu and cfr.org.)
The FARC continues to wage a war of words devoted to Marxist principles, despite the fact that many of its battles are fought with the less idealistic motive of controlling the illicit drug (cocaine) industry.
Resources
SOUTH AFRICA
Watch a CNN report:
---
COLOMBIA
Watch a France24 news report:
---
EUROPEAN UNION:
Visit the European Union website with map: europa.eu
Daily "Answers" emails are provided for Daily News Articles, Tuesday's World Events and Friday's News Quiz.