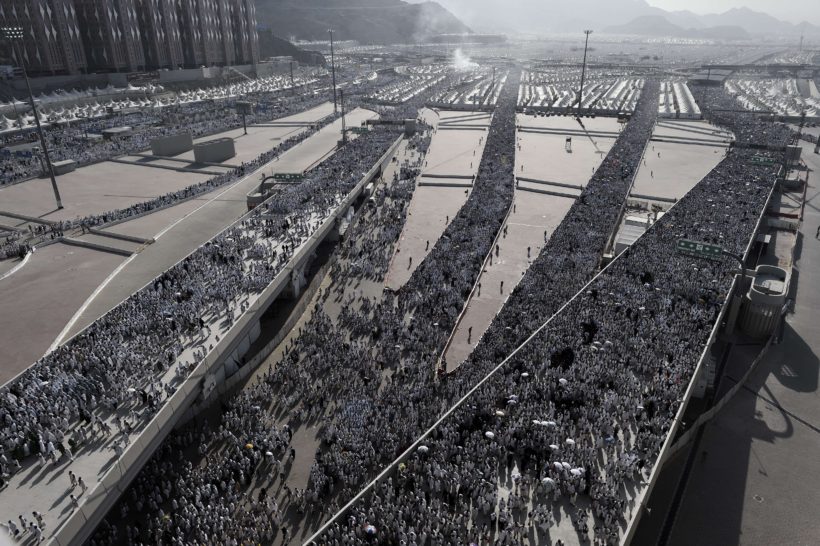 redo Jump to...
print Print...
SAUDI ARABIA – At least 717 killed and hundreds injured in crush during Muslim hajj
A stampede during one of the last rituals of the Hajj — the annual Islamic pilgrimage to Mecca — has killed more than 700 people and injured nearly 900 others in Saudi Arabia.  The stampede occurred Thursday morning during the ritual known as "stoning the devil" in a tent city in Mina, about two miles from the holy site in Mecca, Islam's holiest city.
While safety experts said that it was too early to identify the exact cause of the latest incident, it is likely to raise questions about the Saudi authorities' handling of the huge crowds of devout Muslims who visit Mecca every year. The pilgrimage – known as the hajj – is considered the duty of all observant Muslims.
The tragedy was the worst to befall the pilgrimage since July 1990, when 1,426 pilgrims perished in an overcrowded pedestrian tunnel leading to holy sites near Mecca and the ninth in a string of such incidents since then.
Both stampedes occurred on Eid al-Adha (Feast of the Sacrifice), Islam's most important feast and the day of the stoning ritual. Over the last 25 years, such incidents have claimed the lives of more than 3,000 pilgrims.
Prince Mohammed bin Nayef, Saudi Arabia's crown prince who chairs the Saudi hajj committee, ordered an investigation during a meeting with senior officials responsible for the pilgrimage in Mina, where the stampede took place, Saudi Press Agency reported.
According to the Saudi civil defense directorate, the crowd became dangerously congested at the intersection of two streets, known as 204 and 223, as the faithful were making way towards the Jamarat Bridge, which overlooks the stone columns where pebbles are cast.
The bridge's purpose is specifically to ease the pressure of the crowds, which can reach three million during the busiest times of year. …
Amateur video shared on social media showed corpses lying amid crushed wheelchairs used by some disabled pilgrims.
The tragedy comes despite the Saudi authorities installing sophisticated crowd analytics software which is linked to central control room where officials can analyse and predict where pinch-points and surges are likely to take place.
It was installed by a British company, CrowdVision, following the deaths of 346 pilgrims in 2006, but the firm said that their equipment did not cover the entire area. "Our company has an active involvement in the Hajj, and the Saudi government has invested significant resources in this area," said the company's co-founder. "But those resources have been invested mainly around the Jamarat Bridge area, where previous incidents have happened, rather than the scene where this latest incident took place."
She said she could not comment on why the technology had not been rolled out more extensively, and added that it was still too early to determine the exact cause of the accident.
The 2006 incident prompted a major safety overhaul, with the last nine years having been relatively trouble-free. Less than two weeks ago, a giant construction crane came crashing down on the Grand Mosque in Mecca, the focal point of the hajj. More than 100 people were killed.
Each year pilgrims pay hundreds of thousands of dollars to go on the religious trip, with people spending between $6,000-7,500 for a typical pilgrimage.
---
UKRAINE – Pro-Russia rebels order UN to leave east Ukraine stronghold
Pro-Russian rebels in east Ukraine have ordered UN agencies working in the separatist stronghold of Lugansk to leave the area by Saturday, UN aid chief Stephen O'Brien said.
Several international non-governmental organizations have separately been told to leave Lugansk by Saturday, Mr. O'Brien said in a statement Thursday.
O'Brien said he was "alarmed" by the decision and called on the separatists "in both Lugansk and Donetsk to ensure the immediate resumption of UN and international NGO [humanitarian aid] activities."
Pro-Russian leaders said earlier they had banned 10 Western relief groups including Doctors Without Borders (MSF) for "grave violations" of laws.
The Lugansk guerrillas have accused MSF of "illegally storing psychotropic medication" that lacked proper registration in either Russia or Ukraine. MSF strongly denies the allegations.
O'Brien, the UN under-secretary-general for humanitarian affairs and emergency relief coordinator, said some 16,000 tons of humanitarian aid had not been delivered and that local hospitals could not perform surgery because they lack anesthesia.
He said the suspension of shipments is putting lives at risk and is "having a serious impact on some 3 million people as winter approaches" and that currently "Some 150,000 people are not receiving monthly food distributions."
In an indirect appeal to Russia, O'Brien urged "everyone with influence over the de facto authorities to use that influence to ensure the immediate resumption of humanitarian aid by UN agencies and international NGOs."
The move came ahead of an October 2 meeting in Paris of Russian President Vladimir Putin with his Ukrainian counterpart Petro Poroshenko to try to advance peace prospects.
The United Nations estimates that the 17-month conflict in east Ukraine has claimed the lives of nearly 8,000 people and injured almost 18,000 — most of them civilians.
---
GERMANY – Nearly a third of migrants in Germany falsely claim to be Syrian, officials say
BERLIN – German officials said Friday that nearly a third of all asylum seekers arriving in the country appear to be falsely claiming to be Syrian, even as Interior Minister Thomas de Maizière called on European nations to take radical new steps to curb the region's refugee crisis.
So far this year, Germany has received 527,000 asylum seekers – more than any other nation in Europe. Tobias Plate, an interior ministry spokesman, acknowledged estimates Friday that roughly 30 percent of the asylum seekers are those hailing from other countries but claiming to be Syrian. Given the civil war raging in Syria, roughly 87 percent of Syrians are successfully winning asylum in Germany.
Plate said that rather than a "concrete statistic," the number was an estimate based on the perceptions of authorities on the ground, including the German Federal Police, the Federal Office for Migration and Refugees, and Frontex, Europe's border agency.
"It is an indication," he said during a news conference in Berlin, of how hard it is to know the true nationalities of asylum seekers, many of whom are arriving without passports.
In an interview with The Washington Post on Friday, de Maizière – a longtime ally of Chancellor Angela Merkel and one of the key figures dealing with the refugee crisis in Germany – said Europe needed to enact sweeping changes to its refugee system. He added that German attempts to aid refugees had been misinterpreted by migrants in far-flung nations such as Afghanistan as a green light to come to Europe.
That, he said, needs to change.
"We cannot close Europe," he said. But, he added, "we cannot open Europe totally for millions and millions of poor people in the world or even for all of those coming from conflict zones. Impossible."
Germany is moving to slash cash benefits for asylum seekers, instead offering in-kind assistance such as food. De Maizière also said it would take "years" before refugees currently in Germany would be able to bring close family members into the country.
"The number is too big," he said. "It has to be checked."
(The news briefs above are from wire reports and staff reports posted at London's Daily Telegraph on Sept. 20, France24 and The Washington Post on Sept. 25.)
Questions
1. For each of the 3 countries, give the following information:
a) capital
b) location/the countries that share its borders
c) the religious breakdown of the population
d) the type of government
e) the chief of state (and head of government if different) If monarch or dictator, since what date has he/she ruled? – include name of heir apparent for monarch
f) the population
[Find the answers for the Visegrad Group at: Wikipedia's Visegrad Group page
and the others at the CIA World FactBook website.
For each country, answers can be found under the "Geography" "People" and "Government" headings.
NOTE: If WorldFactBook appears outdated for any country, go to Wikipedia – search there for "Religion in ___" or "Politics of ____" for the leaders.  Or do an internet search for "Population of ___."]
NOTE to students: Before answering the questions below, read the info under "Background" and watch the videos under "Resources."
2. For SAUDI ARABIA:
a) list the who, what, where and when of the news item
b) Saudi King Salman has ordered "a revision" of how the Hajj is organized in the wake of the tragedy, which is the ninth major incident of its kind in Mecca in the past 25 years. While Saudi officials have tried to pin the blame on the pilgrims themselves, saying that they failed to follow strict timetables as to when and where to walk, witnesses say it was caused by poor crowd management and unexpected road closures.
The Saudi government has expanded the numbers of pilgrims in recent decades, from fewer than 100,000 in 1950 to around three million today, making religious tourism one of the kingdom's largest industries. But critics say the expansion has focused more on providing expensive hotels and shopping malls that benefit only the wealthiest visitors, rather than on ensuring safety procedures that benefit all.
What responsibility do you think the Saudi monarchy should take for so many tragic incidents?
3. For UKRAINE:
a) list the who, what, where and when of the news item
b) Why did the separatists order the humanitarian groups to leave?
c) What problems will this pose for Ukrainian civilians living in those areas?
4. For GERMANY:
a) list the who, what, where and when of the news item
b) What percent of migrants arriving in Germany are not Syrian refugees?
c) What is the cause of this problem?
d) What is the German government doing to address this problem and what actions do they want EU member states to take? (see also "Background" below the questions.
Germany is moving to slash cash benefits for asylum seekers, instead offering in-kind assistance such as food. Interior Minister Thomas de Maizière said, "We cannot close Europe.". But, he added, "we cannot open Europe totally for millions and millions of poor people in the world or even for all of those coming from conflict zones. Impossible. The number is too big," he said. "It has to be checked."
Germany's solution, according to De Maizière: "We have to find a common European solution. In the end, we [all EU countries] would need really nearly to have the same social benefits." To reduce the strain on Germany, de Maizière called for European Union countries to adopt minimum and maximum benefit standards so that no one country becomes an outsized draw.
e) Do you think that the other EU countries should fall in line with whatever amount of benefits Germany wants to give asylum seekers?
How should they solve the problem of all of the other migrants entering Europe?
CHALLENGE: Read the commentary "Germany: Migrants In, Germans Out." What is your reaction to the German government's actions?
http://www.gatestoneinstitute.org/6583/germany-migrants-housing
Background
SAUDI ARABIA
Hajj stampede: Saudis face growing criticism over deaths:
This is the deadliest incident to occur during the pilgrimage in 25 years.
It is also the second disaster to strike in two weeks, after a crane collapsed at the Grand Mosque in Mecca, killing 109 people.
Iran, Saudi Arabia's regional rival, has reported the greatest number of deaths among foreign nationals – 131 – and has reacted with the greatest anger. The spokesman for its Supreme National Security Council, Keyvan Khosravi, told the Isna news agency: "The unavoidable fact is that the Saudi government has been incompetent in this regard and with regard to the management of the Hajj pilgrimage, and Riyadh must accept responsibility for this."
And Iran's Supreme Leader Ayatollah Ali Khamenei who said that Saudi "mismanagement and improper actions have caused this catastrophe."
Iran has declared three days of national mourning. Protesters marched in Tehran shouting slogans against Saudi Arabia's ruling al-Saud family.
Alaeddin Boroujerdi, head of an Iranian parliamentary committee for national security, called on other Islamic countries to lodge protests with the Saudis.
The incident may worsen relations between the two countries, already strained by opposing stances on the conflicts in Syria and Yemen. (from bbc.co.uk)
---
UKRAINE
Ukraine gained independence after the collapse of the Soviet Union in 1991 and has since veered between seeking closer integration with Western Europe and reconciliation with Russia, which supplies most of the country's energy.
Europe's second largest country, Ukraine is a land of wide, fertile agricultural plains, with large pockets of heavy industry in the east.
While Ukraine and Russia share common historical origins, the west of the country has closer ties with its European neighbors, particularly Poland, and Ukrainian nationalist sentiment is strongest there.
A significant minority of the population of Ukraine use Russian as their first language, particularly in the industrialized east. In Crimea, an autonomous republic on the Black Sea that was part of Russia until 1954, ethnic Russians make up about 60% of the population.
Russia once again seized and annexed Crimea in March 2014, amid the chaos following the fall of pro-Russian Ukrainian President Viktor Yanukovych, plunging Europe into its worst diplomatic crisis since the Cold War. (from a Feb. 2015 BBC News report)
---
GERMANY 
To date, its welcoming policies and lucrative benefits have made Germany by far the single biggest destination for refugees coming to Europe, a situation some European leaders have said Berlin brought on itself by adopting such a generous stance. To reduce the strain on Germany, de Maizière called for European Union countries to adopt minimum and maximum benefit standards so that no one country becomes an outsized draw.
Such a plan, however, is certain to face resistance in nations such as Hungary and Slovakia that have taken a hard line against refugees.
"We have to find a common European solution," he said. "In the end, we [all EU countries] would need really nearly to have the same social benefits."
On Thursday, Germany's Interior Minister Thomas de Maizière made headlines by suggesting that the crisis had gotten "out of control" after Merkel's decision this month to allow in tens of thousands of refugees who had been barred by Hungary from going deeper into Europe. Leading German media outlets, including Spiegel Online and Frankfurter Allgemeine Zeitung, interpreted the statement as de Maizière indirectly criticizing Merkel's move.
On Friday, however, he insisted that Merkel had not made "a mistake" by opening Germany's border, and had simply made a humanitarian gesture in response to the "horrible pictures" emanating from Hungary. But he did say that her decision – as well his own statement in August that Germany would probably receive 800,000 asylum seekers this year – had had an "unintended side effect" of sending a message to migrants that "they can all come."
"There is a dilemma," he added. "There is a domestic public and an international public, and all domestic press conferences, speeches will be misused abroad."
He said, for instance, that his own estimate of 800,000 asylum seekers was wrongly interpreted as an invitation "to please hurry up because after the 800,000, then the door is closed. So it was a huge pull effect."
On Friday, de Maizière, a former top negotiator on German reunification, also reiterated a plan he fielded earlier this month that goes beyond the one approved this week to redistribute 120,000 asylum seekers arriving in Greece to nations in the EU (European Union).
De Maizière called for a "generous" new quota for the total number of refugees allowed into Europe, above which European nations would simply send refugees to secure camps in the Middle East and Africa.
He suggested that 500,000 to 1 million refugees could be safely airlifted to Europe directly from conflict zones. He said French officials had warmed to his idea.
Other nations, particularly Britain, have also endorsed the notion of bringing refugees directly from the Middle East. But the sheer numbers de Maizière is proposing – along with a plan to divvy them up between all EU nations – is likely to face strong opposition in several nations. (from The Washinton Post article above)
Resources
SAUDI ARABIA
Watch a BBC report:
---
UKRAINE
Watch a Ukraine Today report:
Daily "Answers" emails are provided for Daily News Articles, Tuesday's World Events and Friday's News Quiz.