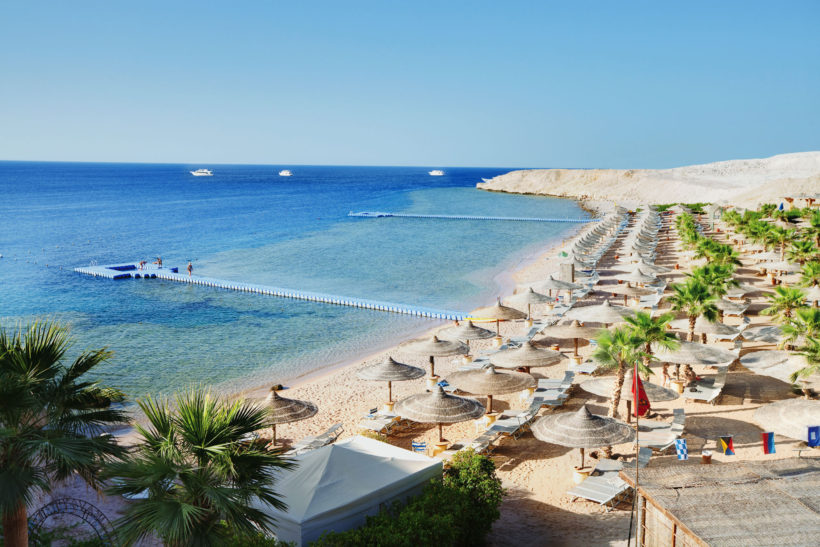 redo Jump to...
print Print...
RUSSIA – Russia sees possible 'terror' link in Egypt jet crash
Moscow acknowledged Monday for the first time a terrorist attack could have caused the October 31 Russian plane crash in Egypt, as thousands more tourists were evacuated from the country.
"The possibility of an act of terror is of course there as the reason for what happened," Russia's Prime Minister Dmitry Medvedev admitted in an interview with Rossiyskaya Gazeta state newspaper.
Britain and the United States, as well as international investigators, suspect a bomb exploded on board the Metrojet A-321 plane, but Egyptian officials insist there is no evidence yet of an attack on the aircraft which jihadists claim to have downed.
Russia had also refrained from blaming the crash, which killed all 224 people on board, on terrorists, although President Vladimir Putin on Friday suspended all flights to Egypt.
Israel, which has strong intelligence links to the neighbouring Sinai where the Airbus came down while en route from Egypt's resort of Sharm el-Sheikh to Saint Petersburg, also sided with the attack theory.

"There is a strong probability that this is an attack," Defence Minister Moshe Yaalon told Israeli reporters on Monday.
"From what we know and what we understand, I would be surprised if it turns out that it was not an attack."
And the head of Airbus said no technical fault has yet been detected for the crash of the A-321.
"I can say that so far, what we got from the investigation didn't trigger any action, technical action on our side, regarding the A-321 fleet," said Fabrice Bregier, the European manufacturer's chief executive officer. "But we need to wait for the conclusion of the investigations," Bregier said at the Dubai Airshow.
Amid the tourist exodus from Egypt, a senior operative of the Islamic State jihadist group, Ashraf Ali Ali Hassanein al-Gharabli, was shot dead in an exchange of fire in Cairo after police tried to arrest him, the interior ministry said.
The IS group's branch in the Sinai claimed responsibility after the Russian plane crash.
 Tens of thousands of foreign tourists, including some 80,000 Russians and 20,000 Britons, were stranded in the resort after flights were cancelled over security fears.
Moscow said Monday that about 25,000 Russian tourists had so far returned, on more than 100 flights, while Prime Minister David Cameron's office said some 5,000 Britons had returned home.
---
BARUNDI – President orders citizens to give up guns
President Pierre Nkurunziza set a Nov. 7 deadline on Monday, November 2 for Burundians to hand over illegal firearms or risk being "dealt with as enemies of the nation," after months of protests over his re-election in July and a failed coup.

Burundi, which emerged from civil war a decade ago, was thrown into turmoil over Nkurunziza's plan to seek a third term in office, which many of his critics said was unconstitutional. [Critics argued the move was illegal due to the two-term limit outlined in the country's constitution, which was established in 2005 after a decade-long civil war. The nation's high court ultimately cleared Nkruniziza to run again, determining that it was legal because he had been appointed to his first term rather than democratically elected.]
The bid, which Nkurunziza ultimately won by 70% in a disputed vote, plunged the country into crisis, including violent clashes between protesters and security forces in the capital Bujumbura and a series of targeted killings.
Experts say "tit-for-tat" assassinations of government officials and members of the opposition risk driving the nation back into another conflict and could reopen old ethnic wounds. Burundi lies next to Rwanda, scene of a 1994 genocide.
In last Monday's address to the nation, Nkurunziza said people had five days to voluntarily give up their guns.
"Those who will not do so… will be taken as criminals and be prosecuted according to the anti-terrorism law and be dealt with as enemies of the nation," Nkurunziza said. "This is the last call we make."
He said that individuals who comply will "be trained on patriotic education" and returned to their families.
Nkurunziza also called on police to restore peace and security across the capital Bujumbura within a month.
"In addition, you are allowed to use all the necessary means and authorized rules and regulations in security matters," he said.
---
Germany – Migration Crisis Becomes Public Health Crisis
The influx of more than one million asylum seekers from Africa, Asia and the Middle East is placing unprecedented strain on Germany's healthcare system.
Hospitals, clinics and emergency rooms across Germany are being filled to capacity with migrants suffering maladies of all kinds, and medical personnel, including thousands of volunteers, are increasingly complaining of burnout.
Diseases are also reappearing that have not been seen in Germany for years. German public health officials are now on the lookout for Crimean Congo hemorrhagic fever, diphtheria, Ebola, hepatitis, HIV/AIDS, malaria, measles, meningitis, mumps, polio, scabies, tetanus, tuberculosis, typhus and whooping cough. As refugee shelters fill to overflowing, doctors are also on high alert for mass outbreaks of influenza and Norovirus.
Compounding the challenge, tens of thousands of migrants arriving in Germany – particularly migrant children – have not been immunized, and German doctors are finding that needed vaccines are not readily available due to a lack of supply. …
Many migrants are also suffering from a host of traumas and mental illnesses. According to the Chamber of German Psychotherapists (Bundespsychotherapeutenkammer), at least half of all migrants arriving in Germany have…problems, including post-traumatic stress disorder and depression….
German hospitals are also being forced to hire a virtual army of interpreters so that doctors can communicate with asylum seekers, who speak dozens of languages, dialects and variants.
At the same time, German hospitals are increasing security to protect doctors and nurses from violent attacks by migrants who are unhappy with the medical treatment they are receiving.
Critics are warning that German taxpayers will end up paying billions of euros to provide healthcare for a never-ending wave of asylum seekers. This is in addition to the billions of euros already being spent to provide newcomers with food, clothing and shelter.
Many say the German government failed fully to consider the unforeseen consequences of opening the door to so many migrants. In addition to the massive economic and social costs, as well as the burden of increased crime…, Germans are now facing the risk of being exposed to exotic diseases.
German media outlets are downplaying the extent of the healthcare problem, apparently to avoid spreading fear or provoking anti-immigrant sentiments. But a growing number of German healthcare professionals are sounding the alarm.
…Max Kaplan, director of the Bavarian Medical Board (Bayerische Landesärztekammer), says that the challenges associated with medical treatment for migrants are exacerbated by language and cultural barriers, which are "tiresome, time consuming and sometimes impossible to overcome." He says many Muslim women refuse to be treated by male doctors, and many Muslim men refuse to be treated by females. … (SEE "Background" under questions for more.)
(The news briefs above are from wire reports and staff reports posted at Agence France-Presse (AFP) on Nov. 9, Reuters on Nov. 7 and Gatestone Institute on Nov. 8.)
Questions
1. For each of the 3 countries, give the following information:
capital
location/the countries that share its borders
the religious breakdown of the population
the type of government
the chief of state (and head of government if different) If monarch or dictator, since what date has he/she ruled? – include name of heir apparent for monarch
the population
Find the answers at the CIA World FactBook website.
For each country, answers can be found under the "Geography" "People" and "Government" headings.
NOTE: If WorldFactBook appears outdated for any country, go to Wikipedia – search there for "Religion in ___" or "Politics of ____" for the leaders.  Or do an internet search for "Population of ___."
NOTE to students: Before answering the questions below, read the information under "Background."
2. For RUSSIA:
a) list the who, what, where and when of the news item
b) AFP further reports:
The crash has raised fears for Egypt's vital tourism industry, which had already been suffering from years of unrest. Derek Moore, chairman of the Association of Independent Tour Operators, told AFP that concerns over a bomb could dissuade British tourists from visiting during the peak season. "Even offering rock-bottom prices will not achieve that if there is a feeling that a trip to Sharm might result in death," he said.
Local tourism chiefs say Sharm is secure. "Sharm is safe. There is no problem inside Sharm el-Sheikh," said Givara el-Gafy, head of the south Sinai tourism chamber.
With whom would you agree? Explain your answer.
c) If it is proved that Islamic terrorists did indeed plant the bomb that destroyed the Airbus, killing all 224 people aboard, how should Egypt respond? How should Russia respond? What reaction should the EU or U.S. have?
3. For BURUNDI:
a) list the who, what, where and when of the news item
b) What consequences do citizens face for not turning in their guns in Burundi?
c) What do you think will happen when a country's leader forces all citizens to "voluntarily" give up their guns?
4. For GERMANY:
a) list the who, what, where and when of the news item
b) List the problems German doctors and health officials say are occurring due to the huge influx of migrants.
c) This report from U.S. think tank Gatestone Institute relates: "German media outlets are downplaying the extent of the healthcare problem, apparently to avoid spreading fear or provoking anti-immigrant sentiments. But a growing number of German healthcare professionals are sounding the alarm."
What do you think is the role of the media: informing citizens in a responsible way to the impending healthcare crisis caused by the acceptance of millions of migrants, or keeping it quiet in an effort to prevent panic or anti-immigrant feelings? Explain your answer.
d) Do you think the German media's efforts to not report this growing health care crisis will succeed? Explain your answer.
e) It is right to have compassion fot others. Do you think the German government's handling of the "migrant" crisis is the most compassionate way to deal with the situation – for the migrants and for the German people? Explain your answer.
Background
RUSSIA
On October 31, an Airbus A321 flying to Russia crashed 23 minutes after taking off from Egypt's Sharm al-Sheikh tourist resort, killing all 224 passengers and crew. Islamic State militants fighting Egyptian security forces in Sinai said they brought it down.
"The indications and analysis so far of the sound on the black box indicate it was a bomb," said the Egyptian investigation team member, who asked not to be named due to sensitivities. "We are 90 percent sure it was a bomb."
Asked to explain the remaining 10 percent margin of doubt, the investigator declined to elaborate, but lead investigator Ayman al-Muqaddam cited other possibilities on Saturday including a fuel explosion, metal fatigue in the plane or lithium batteries overheating.
He said debris was scattered over an 8-mile area "which is consistent with an in-flight break-up."
Islamic State militants fighting security forces in Egypt's Sinai Peninsula have said they brought down the aircraft as revenge for Russian air strikes against Islamist fighters in Syria. They said they would eventually tell the world how they carried out the attack. (from Reuters)
---
BURUNDI – 
Burundi's first democratically elected president was assassinated in October 1993 after only 100 days in office, triggering widespread ethnic violence between Hutu and Tutsi factions. More than 200,000 Burundians perished during the conflict that spanned almost a dozen years. Hundreds of thousands of Burundians were internally displaced or became refugees in neighboring countries. An internationally brokered power-sharing agreement between the Tutsi-dominated government and the Hutu rebels in 2003 paved the way for a transition process that integrated defense forces, and established a new constitution and elected a majority Hutu government in 2005. (from CIA World FactBook)
Burundians Flee Homes Ahead of Deadline to Surrender Guns
Hundreds of people in Burundi's capital fled their homes Friday, one day ahead of a government deadline to turn in their firearms.
"We are fleeing because we've heard about the president's directive and I'm scared they are going to call us fighters," said one resident of Bujumbura, who asked not to be identified.
President Pierre Nkurunziza said Monday that Burundians had until November 7 to voluntarily give up their guns or risk being "dealt with as enemies of the nation." The decree followed a failed coup attempt in May and months of violent street protests over the president's controversial bid for a third term. More than 200,000 people have fled the Central African country.
On the eve of the deadline, hundreds of people in the capital's Mutakura neighborhood left their homes, on foot or on bicycles, with whatever belongings they could carry.
In an interview Friday with VOA, Thomas Perriello, the U.S. special envoy for the Great Lakes Region, said, "There are very few people in Burundi and probably in the government who wouldn't want to turn the clocks back one year to when Burundi was a success story, with talks on how to build on economic growth and see the first democratic transition under the constitution.
"But instead we have a country on a brink of civil war, under economic sanctions, and facing tremendous humanitarian and security difficulties."
The U.N. human rights chief has estimated that at least 198 people have been killed in Burundi since late April, when Nkurunziza announced his bid for re-election.
It appears Nkurunziza's supporters and opponents are killing each other, and his government security forces are killing opposition members. A former intelligence chief who was a staunch ally of Nkurunziza was among the victims, but many of those killed have been ordinary Burundians whose bodies were dumped far from where they lived.
Perriello said there was still a chance to restart peace talks between the rival factions in Burundi and regain the momentum the country has had since the end of its civil war in 2005. (from a Nov. 6 VOA News report)
---
GERMANY – Facts from Germany's medical community:
In an interview with Die Welt, Dr. Michael Melter, the chief physician at the University Hospital Regensburg, said that migrants are arriving at his hospital with illnesses that are hardly ever seen in Germany anymore. "Some of the ailments I have not seen for 20 or 25 years," he said, "and many of my younger colleagues have actually never seen them."
Marc Schreiner, director of international relations for the German Hospital Federation (Deutschen Krankenhausgesellschaft), has echoed Melter's concerns, saying, "In the clinics, it is becoming increasingly common to see patients with diseases that were considered to have been eradicated in Germany, such as scabies. These diseases must be reliably diagnosed, which is a challenge."
Schreiner said that in cases of highly contagious diseases, including tuberculosis, patients must be quarantined, an expensive procedure, the costs of which are paid for by German taxpayers.
According to Schreiner, about 15% of the newly arriving migrants require immediate medical treatment. With 1.5 million asylum seekers expected to arrive in Germany in 2015, this means that 225,000 migrants will have an urgent need for medical attention.
Siegfried Hasenbein, director of the Bavarian Hospital Association (Bayerische Krankenhausgesellschaft), estimates that in 2015, between 25,000 and 30,000 migrants will be treated in Bavarian hospitals alone. In addition, this year between 75,000 and 90,000 migrants will receive ambulatory or outpatient care.
According to Hasenbein, these numbers appear insignificant when compared to the three million hospital visits that normally occur in Bavaria every year. The problem arises in that the migration crisis is straining the Bavarian healthcare system unevenly, with hospitals in migrant "hotspots" such as Deggendorf, Ingolstadt and Passau bearing the brunt of medical care.
Markus Beier, director of the Bavarian Association of Family Physicians (Bayerischer Hausärzteverband), says that doctors in areas with large concentrations of asylum seekers are being called upon all hours of the night and day, making it impossible for them to provide anyone with superior levels of care.
…In an effort to prevent diseases from spreading, Max Kaplan, director of the Bavarian Medical Board, has called on German public health officials to order medical exams for all asylum seekers at the initial point of entry into Germany, before they are sent to different parts of the country. "This is in the best interest of the refugees, and also of the native population," he said.
In a November 2 interview with Spiegel TV, Dr. Ralf Mütterlein, director of the Pulmonary Clinic (Klinik für Lungen- und Bronchialheilkunde) in Parsberg, estimated that between 8,000 and 10,000 asylum seekers in Germany have tuberculosis, but only a small fraction these are currently in quarantine.
Migrants who are taken to Mütterlein's clinic are held in quarantine for up to 18 months at a time to prevent the disease from spreading to the population at large. The costs to German taxpayers are astronomical: Between 10,000 and 12,000 euros per migrant per month. Over 18 months, the total cost often exceeds 200,000 euros per migrant.
Dr. Jan-Thorsten Gräsner, director of the Institute for Rescue and Emergency Medicine (Institut für Rettungs- und Notfallmedizin), estimates that roughly 5% of asylum seekers are carrying resistant germs. In real numbers, this works out to around 75,000 newcomers with highly infectious diseases.
…The Federal Institute for Vaccines and Biomedicines (Paul-Ehrlich-Institut), an agency of the Federal Ministry of Health, has warned that 20 types of vaccines are now in short supply, and 16 others are no longer available at all. Because of production bottlenecks, some vaccines will not become available until 2017.
Stefan Derix, director of the Chamber of Pharmacists North Rhine (Apothekerkammer Nordrhein), said the shortage of vaccines is due to the massive influx of asylum seekers. He said the Ministry of Health normally orders vaccine supplies one year in advance, and that no one in the government had anticipated that Germany would be taking in so many migrants this year.
Dr. Wolfram Hartmann, president of the Cologne-based Professional Association of Pediatricians (Berufsverband der Kinder- und Jugendärzte), has warned that many of the vaccines needed to immunize both native German children and migrant children for diphtheria, polio, tetanus and whooping cough are not available, neither in Germany nor in any other European country. He also said that basic vaccines against measles, mumps, rubella and varicella are in short supply. (read the full report at GatestoneInstitute)
Resources
RUSSIA
Watch an NBC report:
Daily "Answers" emails are provided for Daily News Articles, Tuesday's World Events and Friday's News Quiz.