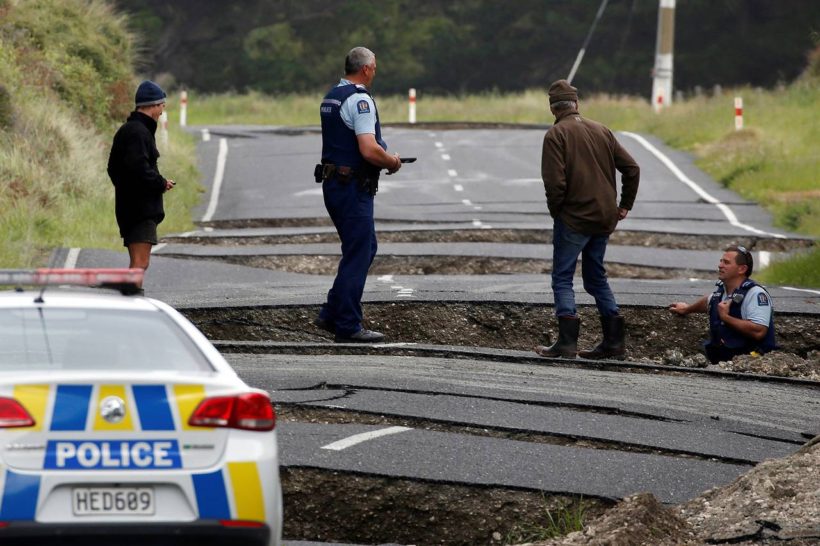 redo Jump to...
print Print...
NEW ZEALAND – 'Utter devastation' after major quake, aftershocks hit New Zealand
(Reuters) WELLINGTON – A powerful 7.8 magnitude earthquake hit central New Zealand early on Monday, killing at least two people, damaging roads and buildings and setting off hundreds of strong aftershocks.
Emergency response teams flew by helicopter to the region at the epicenter of the tremor, which struck just after midnight some 57 miles northeast of Christchurch in the South Island, amid reports of injuries and collapsed buildings.
"It's just utter devastation, I just don't know … that's months of work," New Zealand Prime Minister John Key told Civil Defense Minister Gerry Brownlee after flying over the coastal town of Kaikoura.
He described landslides in the area as "just horrendous." In a statement seen by Reuters, Key said of the likely damage bill: "You've got to believe it's in the billions of dollars to resolve."
Powerlines and telecommunications were down, with huge cracks in roads, landslides and other damage to infrastructure making it hard to reach the worst-affected areas.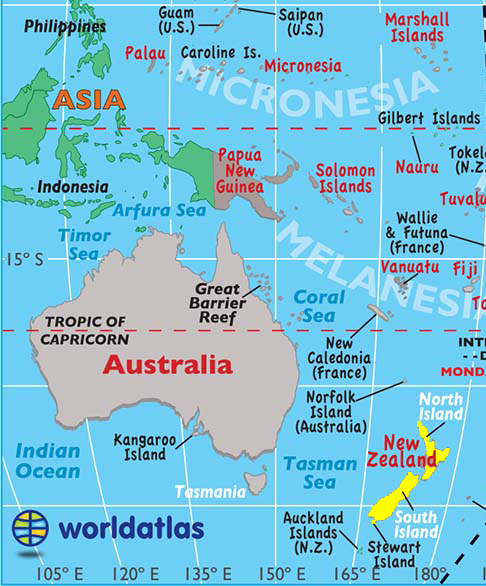 A tsunami warning that led to mass evacuations after the original quake was downgraded after large swells hit New Zealand's capital Wellington, in the North Island, and Christchurch.
Wellington was a virtual ghost town with workers ordered to stay away while the city council assessed the risk to buildings, several of which were damaged by the tremor. There were concerns that loose glass and masonry could be dislodged by severe weather hitting the capital, with 85 mph winds forecast.
Hundreds of aftershocks, the strongest a 6.2 quake at about 1.45 p.m. local time (0045 GMT), rattled the South Pacific country, fraying nerves in an area where memories of a deadly 2011 quake are still fresh.
Christchurch, the largest city on New Zealand's ruggedly beautiful South Island, is still recovering from the 6.3 quake in 2011 that killed 185 people.
New Zealand's Civil Defense declared a state of emergency for the Kaikoura region, centered on a tourist town about 90 miles northeast of Christchurch, soon after Monday's large aftershock.
Kaikoura, a popular spot for whale watching, appeared to have borne the brunt of the quake.
"Our immediate priority is ensuring delivery of clean water, food and other essentials to the residents of Kaikoura and the estimated 1,000 tourists in the town," Brownlee said.
The Navy's multi-role vessel HMNZS Canterbury was heading to the area, he said.
Urban Search and Rescue (USAR) said a 20-person rescue team and two sniffer dogs had arrived in the town. A second team was on standby in Christchurch, USAR said in a statement. …
Hours after the quake, officials said a slip dam caused by the quakes that had blocked the Clarence River north of the town had breached, sending a wall of water downstream. …
New Zealand lies in the seismically active "Ring of Fire," a 40,000 km arc of volcanoes and oceanic trenches that partly encircles the Pacific Ocean. Around 90 percent of the world's earthquakes occur within this region. …
---
FINLAND – Nordic country is first to lobby to have a national symbol added to smartphones
(The Wall Street Journal) – Finland would like to be known as either sauna, socks, heavy-metal headbanger or "girl power."
The Nordic country of 5.5 million people has distilled its cultural heritage into four symbols and has been on a quest to get them recognized by the secretive Silicon Valley group that decides which characters are included in the emoji keyboards of the world's smartphones.
"Finland is not known for many things. We don't have the Eiffel Tower. But we do have the sauna," says Petra Theman, director of public diplomacy for Finland's Ministry of Foreign Affairs, which developed the emoji. "Sauna would be ours even more if we got an emoji."
The Unicode Consortium, which met to decide the fate of Finland's offerings Thursday, is no bunch of smiley-faced pushovers. The group, which standardizes computer coding for characters in different languages, wants emojis to be popular, easily recognizable with just a few thousand pixels, and open to interpretation. Its guidance is followed by Apple Inc., Google parent Alphabet Inc. and many other big tech companies.
"We take a conservative approach to adding these," says Mark Davis, Google's chief internationalization architect, who is president of the consortium and co-chair of its Emoji Subcommittee.
Ms. Theman, who leads Finland's emoji lobbying, worried conservative American cultural values would prevail. The cartoon people in Finland's sauna emoji are naked, but don't show any private parts. If the symbol were rejected for its nudity, Ms. Theman said Finnish people would be hurt.
There are currently nearly 2,000 emojis on a standard smartphone keyboard, ranging from dozens of variants of the familiar yellow, circular faces to a variety of hats to the flags of 247 countries. Last year Unicode added a generic taco emoji after a petition led by Yum Brands Inc.'s Taco Bell won 33,000 signatures. Mr. Davis says Unicode doesn't consider petitions and it had privately already decided to approve the taco emoji. In 2014, a general manager of Superdawg Drive-In lobbied for a hot dog emoji. Unicode doesn't allow corporate logos.
Unicode says no country before Finland had officially applied to add its own designated emojis. …
Emojis convey a country's digital savvy and sense of humor, says Ms. Theman. She thinks having a national emoji will help raise people's awareness of Finland and may lead them to visit or learn more about businesses there. Other countries including Israel and South Korea have approached Finland to learn about making national emojis, she says. Representatives for the South Korean and Israeli governments say they aren't currently planning to create any. …
For the Unicode application, the foreign ministry narrowed the set of emojis to four, including a woman flexing her arm in celebration of "girl power," and a heavy-metal music fan symbolizing Finland's favored music genre.
The sauna symbol is especially important. The word comes from ancient Finnish and the sweat rooms are central to Finnish culture. Finland's embassies abroad include saunas, and their peacekeeping forces build saunas when they set up new bases.
Ms. Theman hired lawyers, who studied previous emoji applications, to create Finland's June submission to Unicode's Subcommittee of about 20 members, which evaluates hundreds of emoji proposals each year. The committee quickly eliminated the headbanger because it wasn't different enough from the existing rock 'n' roll hand-gesture emoji, it wrote in an email to Ms. Theman.
In August, the Emoji Subcommittee floated the idea of removing people from the sauna emoji to only show the building. That would ruin it, since the emoji is about the activity, Ms. Theman replied. She briefly considered covering the cartoon people with towels or bikinis but decided against it. "For a Finn, that would be weird," Ms. Theman says.
Finland's three remaining emojis were on the shortlist of over 150 emojis that the Unicode Subcommittee sent to the 18-person Unicode Technical Committee last week. Emojis that received a majority of raised hands at the committee quarterly meeting Thursday were approved. Unicode emailed the Journal after the meeting to say that the socks and a modified version of Finland's sauna emoji had been approved. That image, which Unicode calls "person in steamy room" will depict a figure with a towel, with steam rising in the background.
When informed of the decision, Ms. Theman said that while she is happy about the emoji approval, "the added towel makes it a bit more difficult for Finns to relate to it."
---
POLAND – Marchers take to streets for Polish Independence Day
(from Radio Poland) WARSAW – An Independence Day march in the capital, organized by Polish nationalists under the slogan "Poland the Bastion* of Europe," drew 75,000 people, according to police estimates cited by Interior Minister Mariusz Błaszczak.
The march organizers had said they expected 50,000, he added.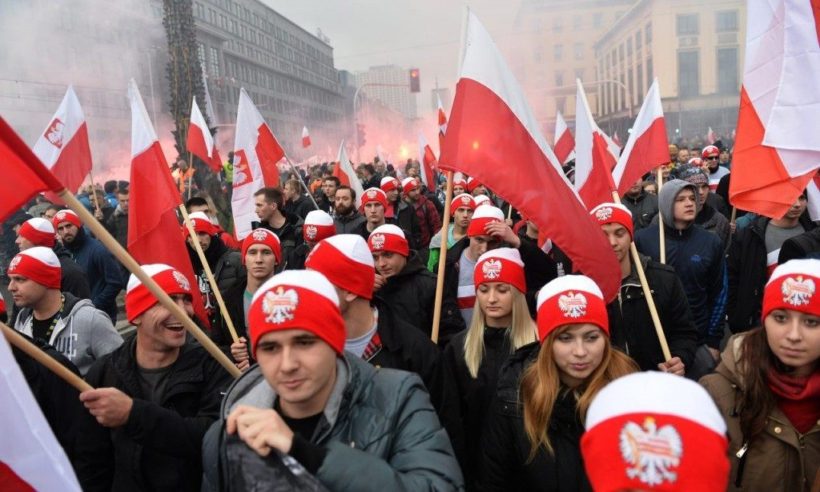 In recent years, the march on Independence Day, November 11, has ended with outbreaks of violence and clashes with the police.
This time 7,000 police officers, some pulled in from other regions, were deployed in the capital. But there were no reports of serious unrest.
The marchers, including many young people but also families with children, waved flags in Poland's national colours, red and white.
Some displayed the emblems of Polish football [soccer] clubs. Others lit off fireworks or carried lit flares.
One banner read: "To be a Pole, to be a Catholic, is an privilege and an honour." Another: "God, Honor, Fatherland," a patriotic slogan. Another proclaimed: "Death to enemies of the Fatherland!"
At one point shouts of "Poles against immigrants!" broke out among the crowd, the PAP news agency reported.
Marchers burned three flags with a Facebook logo, Polish Radio reported. (The social media giant recently blocked a number of profiles belonging to groups linked to the Independence March, including those of the organizers, claiming the pages did not meet its standards.)
Ahead of Independence Day, Polish President Andrzej Duda called for harmony. "Harmonious celebrations will be a sign that we as a nation can rise above unnecessary divides and disputes," he said.
Last year, about 70,000 people took part in the nationalist rally in Warsaw, which was held under the slogan of "Poland for the Poles, Poles for Poland," in reference to the refugee crisis.
On Friday, a separate march was organized on a different route by the Committee for the Defense of Democracy, which has held a string of anti-government protests over the last year.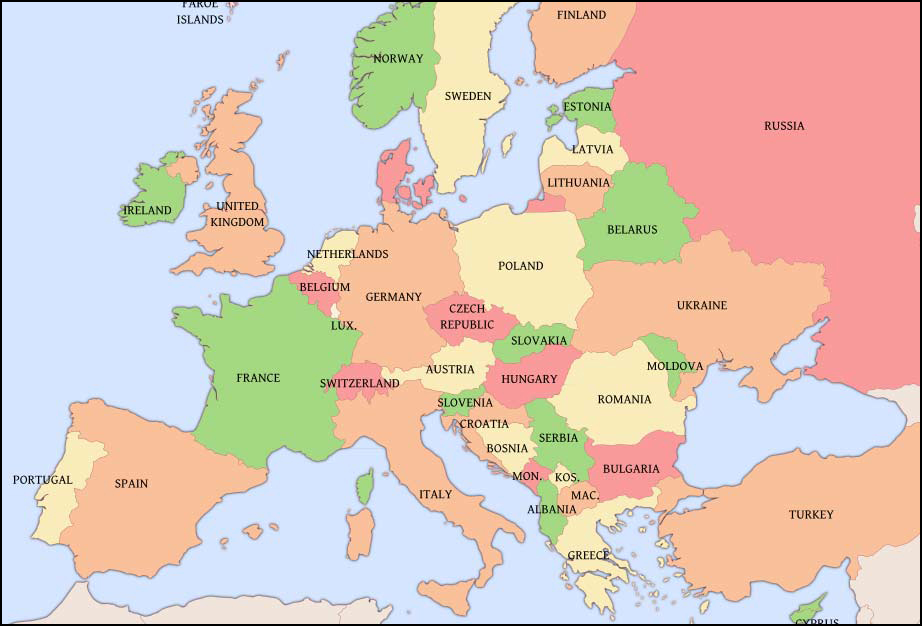 Presumably referring to the larger group, some of the marchers carried signs reading: "Nationalism springs from hate." Among those making speeches at the rally were the leaders of the opposition Civic Platform and Nowoczesna parties.
They appealed for an end to divisions in Poland, where politics have been marked by vitriolic disputes in recent years.
The march drew 10,000 people, said Interior Minister Błaszczak, citing police estimates. He added that march organizers had been prepared for a turnout ten times larger.
The third of the main marches was a smaller rally organized by the Anti-Fascist Coalition, including the left-wing Razem (Together) party.
Meanwhile, in other events on Friday, some 12,000 runners took part in the 28th Independence Run in Warsaw. The Polish History Museum showcased historical artifacts and held outdoor games for children and adults. A concert of Polish patriotic songs was held at the Warsaw Uprising Museum in the evening.
(The news briefs above are from wire reports and staff reports posted at Reuters on November 14, The Wall Street Journal on November 10 and Radio Poland on November 11.)
Questions
1. For each of the 3 countries, give the following information:
capital

location/the countries that share its borders

the religious breakdown of the population

the type of government

the chief of state (and head of government if different) If monarch or dictator, since what date has he/she ruled? – include name of heir apparent for monarch

the population
Find the answers at the CIA World FactBook website. For each country, answers can be found under the "Geography" "People" and "Government" headings.
NOTE to students: Before answering the questions below, read the information under "Background" and watch the videos under "Resources."
2. For NEW ZEALAND:
a) list the who, what, where and when of the news item
b) What type of damage did the earthquake cause?
c) How is the government responding in the aftermath of the quake?
3. For FINLAND:
a) list the who, what, where and when of the news item
b) What is the Unicode Consortium? What is its goal?
c) Which of the four Finnish submissions, if any, do you think Unicode should have accepted? Explain your answer.
d) Finland is the first country to apply to add its own designated emojis. Currently, there are emojis that represent the flags of every country. Do you think the U.S. should apply for emojis that represent our culture? If so, what design do you suggest? If no, why not? Explain your answer.
4. For POLAND:
a) list the who, what, where and when of the news item
b) How many people marched under the nationalist organized banner?
c) Consider the following:
Nationalist is defined as a feeling that people have of being loyal to and proud of their country–often with the belief that it is better and more important than other countries.
Nationalism involves national identity.
The term "nationalist" is generally used today in a negative connotation, with the implication that people who express these feelings are racist and xenophobic.
The people who marched on Poland's Independence Day say they are opposed to European Union "elites" demands for Catholic Poland to take in Muslim migrants – they say Islam is not compatible with Christianity, and when they grow in number, will demand the implementation of Sharia (Islamic) law. The marchers say they want to keep Polish culture Polish.
They marched under the slogan "Poland the Bastion of Europe." Bastion is defined as something that keeps or defends a belief or a way of life that is disappearing or threatened.
The marchers expressed their beliefs peacefully. What do you think: are these Polish nationalists racist and/or xenophobe, or simply proud of their country and culture? Explain your answer.
Background
NEW ZEALAND 
New Zealand's Geonet measured Monday's first quake at magnitude 7.5, while the U.S. Geological Survey put it at 7.8. The quakes and aftershocks rattled buildings and woke residents across the country, hundreds of kilometers from the epicenter.
Geonet said four faults had ruptured, with one at the coast appearing to have slipped as much as 10 meters (33 feet).
Government research unit GNS Science said the overnight tremor appeared to have been two simultaneous quakes which together lasted more than two minutes.
Prime Minister Key postponed a trip to Argentina, where he had planned to hold a series of trade meetings ahead of the Asia-Pacific Economic Cooperation (APEC) leaders' summit in Peru this week, as he met disaster officials.
At least one of those killed was found in a house in Kaikoura that "collapsed like a stack of cards," Kaikoura Hospital's Dr. Christopher Henry told Fairfax media. Two other people were pulled alive from the same building.
New Zealand media reported one of the pilots taking rescuers to the area was Richie McCaw, the recently retired captain of New Zealand's world champion All Blacks rugby team.
"At one point, the railway was way out over the sea – it had been pushed out by landslides. It would not have been a nice place to be at midnight last night," McCaw told the New Zealand Herald after helping fly the USAR team to Kaikoura. (from the Reuters article above)
---
POLAND 
National Independence Day is celebrated in Poland on November 11, marking the country regaining independence in 1918 after 123 years of partition by the Russian empire, the kingdom of Prussia and the Habsburg empire.
Daily "Answers" emails are provided for Daily News Articles, Tuesday's World Events and Friday's News Quiz.