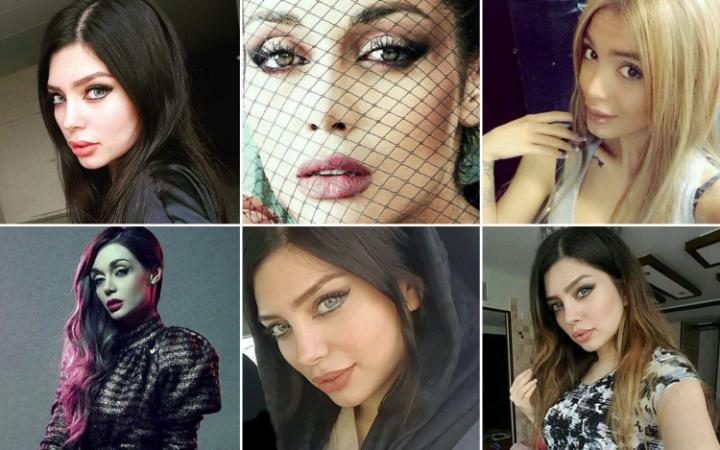 redo Jump to...
print Print...
IRAN – Iranian models arrested for posting pictures without headscarves
(London's Daily Telegraph) – Eight Iranian models have been arrested for appearing online for an "un-Islamic" network, the country's judicial system confirmed yesterday.
The announcement, by Tehran's cyber-crimes court, confirms reports of disappearances of faces that had become well-known on social media feeds like Instagram.
The Islamic Republic has begun cracking down on liberalizing trends particularly related to proper "hijab" – the covering of women's hair for what Islamists say is a sign of modesty.
The court said a "sting" operation code-named "Spider 2" had been set up to trawl through social media feeds and find Iranian women posting pictures of themselves without hijab.
It said it had identified 170 accounts on Instagram, including 59 photographers and make-up artists, 58 individual models, 51 "fashion salon managers," and others, that were responsible.
It said that one in five of all Instagram feeds in Iran were run by this "circle" that spread "immoral and un-Islamic culture and promiscuity."
The court accused the models of making money from appearing online. One woman, named as Elham Arab by the judiciary-linked website Mizan Online, has already given evidence in a court case.
Unlike Facebook, Twitter and Youtube, Instagram has not yet been blocked in Iran.
The models are believed to be on bail, but facing heavy charges including "spreading prostitution" and "promoting corruption."
Those arrested according to earlier reports include the models Melikaa Zamani, Niloofar Behboudi, Donya Moghadam, Dana Nik, Shabnam Molavi, Elnaz Golrokh and Hamid Fadaei.
The last two are said to be married, and to have subsequently left Iran. Ms. Golrokh issued a statement at the time saying: "Unfortunately for the moment I will not be active in Iran, but I will continue my work outside Iran. Thanks for your support and your positive energy. I love you."
---
INDIA – Hindu nationalists rally for Donald Trump in India
(The Guardian) – On a hot afternoon in Delhi, a group of men sat around a fire chanting Hindu mantras. Idols of Shiva and Hanuman watched on as the group performed a havan puja, a ceremony of worship which they hoped would bring good fortune for the subject of their prayers.
Someone had printed out a picture of his face and thumbed vermillion on his forehead, in a sign of reverence.
Alongside the incense, offerings and Hindu gods, he looked somewhat out of place, but the photograph was instantly recognizable: it was Donald Trump.
Vishnu Gupta, leader of the Hindu Sena, the organization that arranged the ceremony, said that the puja was one of many events the group was organizing to gather support for Trump in India, and – he hoped – help the Republican candidate win the presidency.
A rally would soon follow, and demonstrations outside the US embassy in Delhi urging Indian-origin Americans to vote for Trump will be on the menu for coming months, Gupta said. "He's our hero," he said. "We are praying for Trump because he is the only one who can help mankind."
Gupta's motives for supporting Trump were simple: "He's the only man who can put an end to Islamic terrorism."
Trump's hardline stance on Muslim immigration to the US and his rhetoric against Isis and other terror organizations seem to have caught the imagination of the young Hindu leader, who has grown up in a political climate where communal strife between Hindus and the Muslim minority has led to violent clashes on both sides.
Shourya Sharma, a 27-year old software developer who is a supporter of the incumbent Hindu nationalist BJP party in India, agreed. "Politicians in India don't want to go hard on Muslims because they need the Muslim vote," he says, asserting that India's neighboring Pakistan had fueled terrorist activity by Indian Muslims.
"The Obama administration emboldened Pakistan to trespass into Indian territory. The threat of Isis is also looming over India. We need support from an ally like the USA," Sharma said.
Trump's promise to revise US immigration policy and take outsourced "American" jobs back from India have raised anxiety in the country, especially among the middle classes, who often aspire to study or work in the US or have relatives in the country. … On the other hand, earlier this year, in an interview with CNN, he said: "By the way, India is doing great. Nobody talks about it. I have big jobs going up in India." …
Not all of Trump's Indian supporters come from a Hindu background. Abhijit Iyer-Mitra, a foreign policy analyst and magazine columnist, says that he just didn't want to see Hillary Clinton in power. "I'm a Bernie turned Trump supporter," he said. "[Clinton] is a walking, talking foreign policy disaster."
Iyer-Mitra argued that Clinton's fumbles in Libya have left 6,000 Indian families who were working there displaced, and that her approach to the Syrian conflict would lead to more conflict than peace. "Hillary has a track record of failure," he said. …
---
CHINA – China media silent 50 years after Cultural Revolution
(Agence France-Presse at YahooNews) Beijing – Official Chinese media stayed largely silent about Monday's 50th anniversary of the start of the bloody Cultural Revolution, with discussion of the tumultuous decade still controlled on the mainland.
May 16 marked half a century since the 1966 declaration of the movement, which left mayhem in its wake and transformed the political landscape.
But the People's Daily, mouthpiece of the ruling Communist Party, carried no articles about the anniversary in either Chinese or English.
The communist state-run Global Times ran just five paragraphs of an AFP story about the popularity of Cultural Revolution memorabilia but without including any political context.
In 1981 the Communist Party officially pronounced the Cultural Revolution a grave error that "led to domestic turmoil and brought catastrophe to the Party, the state and the whole people."
It ascribed chief responsibility to Communist Chairman Mao Zedong, avoiding the question of the party's own culpability [responsibility]. Now it restricts discussion of the period to prevent undermining the legitimacy of its rule.
Asked about the anniversary at a regular press briefing Monday, foreign ministry spokesman Hong Lei offered only a single sentence in response: "The Chinese government already made the correct verdict on it long ago."
Users who sought to discuss the campaign on China's Twitter-like Weibo were censored.
The sin of the Cultural Revolution was that "it inspired as far as possible the evil in human nature, severed our national culture, destroyed our moral beliefs", said one deleted comment, according to archival site freeweibo .com.
"What's unbelievable is that there still remain doubts in our understanding of such a grave catastrophe, that its pernicious [extremely harmful] influence has failed to be eliminated, and that the culprits have yet to be investigated," the commentator added.
Another censored commentator had written: "Without thoroughly revisiting [studying/learning about] the Cultural Revolution, there will be people who want to bring it back."
In an editorial last week the Global Times admitted: "Despite the government's acknowledgement, the Cultural Revolution remains divisive."
(The news briefs above are from wire reports and staff reports posted at London's Daily Telegraph on May 16, The Guardian on May 13 and YahooNews on May 15.)
Questions
PLEASE NOTE: Daily posting and "Answers" emails will end for the school year on Friday, May 27th.
1. For each of the 3 countries, give the following information:
capital

location/the countries that share its borders

the religious breakdown of the population

the type of government

the chief of state (and head of government if different) If monarch or dictator, since what date has he/she ruled? – include name of heir apparent for monarch

the population
Find the answers at the CIA World FactBook website. For each country, answers can be found under the "Geography" "People" and "Government" headings.
NOTE to students: Before answering the questions below, read the information under "Background."
2. For IRAN:
a) list the who, what, where and when of the news item
b) What is Spider 2?
c) What did Iran's cyber-crimes court accuse those arrested of doing? What charges were brought against them?
d) What social media sites are currently blocked in Iran?
3. For INDIA:
a) list the who, what, where and when of the news item
b) Who is Vishna Gupta? How did he explain his group's fervent support for Donald Trump?
c) How did software developer Shourya Sharma explain his support for Trump?
d) What is your reaction to these assertions?
4. For CHINA:
a) list the who, what, where and when of the news item
b) How long did Communist China's Cultural Revolution last?
c) What admission did China's Communist rulers make in 1981 about Communist ruler Mao Tse Dung's Cultural Revolution?
d) What do the Communist rulers today say about the Cultural Revolution?
CHALLENGE:
Read the "Background" below and visit the link to the wikipedia page on the Cultural Revolution. How many of the following terms can you define? Re-education through labor, Mao's Little Red Book, bourgeois, public humiliation, the Great Leap Forward
Background
IRAN
From a Sept. 2015 Guardian interview of Iranian Photographer Hengameh Golestan:
On March 7, 1979, the hijab law was brought in by the Islamic revolutionary leaders who had taken over, decreeing that women in Iran would have to wear scarves to leave the house. Many people in Tehran went on strike and took to the streets. It was a huge demonstration with women – and men – from all professions there, students, doctors, lawyers. We were fighting for freedom: political and religious, but also individual.

At the beginning of the demonstration, I was walking beside this group of women, who were talking and joking. Everyone was happy for me to take their picture. You can see in their faces they felt joyful and powerful. The Iranian revolution had taught us that if we wanted something, we should go out into the street and demand it. People were so happy – I remember a group of nurses stopping some men in a car and telling them: "We want equality, so put on some scarves, too!" Everyone laughed.

This turned out to be the last day women walked the streets of Tehran uncovered.
---
CHINA
The 50th anniversary of the start of the Cultural Revolution, which plunged China into a decade of chaos, has been met with silence in state media.
On May 16, 1966, Communist leader Mao Zedong began a campaign to eliminate his rivals. At the same time he called on Chinese youth to "purge" society.
Years of bloodshed and turmoil ensued, ending with Mao's death in 1976.
On Monday, the main state media outlets made virtually no mention of the anniversary, focusing on coverage of the South China Sea and other domestic issues. No official events were planned by the authorities to mark the 50-year milestone.
One blogger "Media Lao Wang" posted a picture on micro-blogging site Weibo that showed the front pages of five major Chinese newspapers on Monday and none of them mentioned the Cultural Revolution. (from a May 16 BBC News report)
Chinese people aged over 50 experienced the Cultural Revolution first hand.
If you were born in 1966, you were 10 when it finished.
If your parents were teachers or professors, artists, or government officials, you may have seen them dragged into the street by a mob of youths, tied up, humiliated and possibly beaten to death.
For a decade, nearly all university education was put on hold, institutions like hospitals could barely function, and chaos reigned, as Mao Zedong took back the reins of the Communist Party and tried to thrust the entire country into a heightened state of revolutionary awareness.
Death toll estimates vary but millions are thought to have died.  (from a May 16 BBC News report)
From Wikipedia: The Cultural Revolution was a sociopolitical movement that took place in the People's Republic of China from 1966 until 1976:
Set into motion by Mao Zedong, then Chairman of the Communist Party of China, its stated goal was to preserve 'true' Communist ideology in the country by purging remnants of capitalist and traditional elements from Chinese society, and to re-impose Maoist thought as the dominant ideology within the Party.
The Revolution marked the return of Mao Zedong to a position of power after the Great Leap Forward. [The Great Leap Forward of the People's Republic of China (PRC) was an economic and social campaign by the Communist Party of China (CPC) from 1958 to 1961. The campaign was led by Mao Zedong and aimed to rapidly transform the country from an agrarian economy into a socialist society through rapid industrialization and collectivization. However, it is widely considered to have caused the Great Chinese Famine.]
The movement paralyzed China politically and significantly negatively affected the country's economy and society.
The Revolution was launched in May 1966, after Mao alleged that bourgeois elements had infiltrated the government and society at large, aiming to restore capitalism.
He insisted that these "revisionists" be removed through violent class struggle.
China's youth responded to Mao's appeal by forming Red Guard groups around the country.
The movement spread into the military, urban workers, and the Communist Party leadership itself.
It resulted in widespread factional struggles in all walks of life. In the top leadership, it led to a mass purge of senior officials.
During the same period Mao's personality cult grew to immense proportions.
Millions of people were persecuted in the violent struggles that ensued across the country, and suffered a wide range of abuses including public humiliation, arbitrary imprisonment, torture, sustained harassment, and seizure of property.
A large segment of the population was forcibly displaced, most notably the transfer of urban youth to rural regions during the Down to the Countryside Movement.
Historical relics and artifacts were destroyed.
Cultural and religious sites were ransacked.
Resources
CHINA
Watch a video explaining the Cultural Revolution:
---
Watch a May 15, 2016 news report from Connecticut's WFSB – "China barely notes start of Cultural Revolution 50 years ago"
Daily "Answers" emails are provided for Daily News Articles, Tuesday's World Events and Friday's News Quiz.