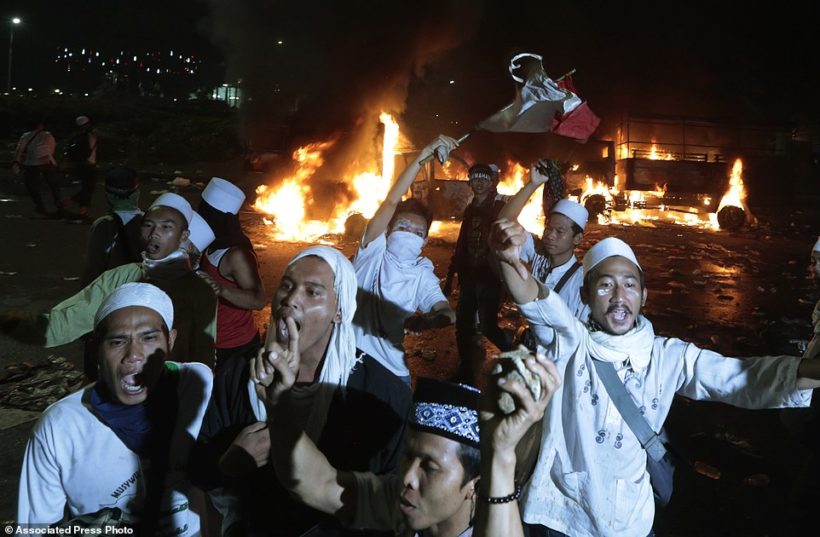 redo Jump to...
print Print...
INDONESIA – In world's largest Muslim country, rally against Christian governor draws estimated 100,000 Islamists calling for his arrest
JAKARTA, Indonesia—The biggest street protest in years shook this sprawling capital on Friday in a stark display of the more hard-line, militant strain of Islam taking hold in the world's largest Muslim country.
Police said an estimated 200,000 people turned out for a rally called by hard-line Muslim groups against the capital's Christian governor, Basuki Tjahaha Purnama, demanding that he be jailed for blasphemy. Turnout was actually lower than some organizers had predicted, after the nation's largest Muslim organizations this week discouraged their members from attending.
Security forces took up positions behind barbed wire around nearby government offices. Authorities said around 20,000 police and military personnel were on duty.
Streets in the famously congested city of 10 million people were relatively devoid of traffic as many workers stayed home. Many shops and offices closed.
The protest was peaceful during the day but scuffles broke out after nightfall. Younger protesters threw plastic bottles and rocks at police and struck their riot shields with sticks. Police fired tear gas and water cannon to disperse them. A local news portal said that two police trucks were set afire near the presidential palace. Late on Friday, dozens of protesters attacked police near the Presidential Palace as officers shot tear gas and water cannons overhead. The protesters called for Ahok's death, shouting "kill Ahok" and "kill Ahok for insulting Islam." Some also carried placards demanding his execution.
President Joko Widodo had met with other political leaders amid calls for calm, but critics say he has been too slow since taking office in 2014 to respond to worsening tension for fear of being labeled anti-Muslim [although he is a Muslim].
In a recent interview, Mr. Widodo said religious and political leaders had a responsibility to "cool temperatures down," and he vowed to protect minorities. "We are one of the most tolerant countries in the world,'' Mr. Widodo told The Wall Street Journal. "My government won't tolerate any discrimination."
The Jakarta governor's election in February is building into a test.
"Religiosity [Islamization] is rising, especially among the middle class," said Yon Machmudi, an Islamic politics expert at the University of Indonesia. "A sense of identification is increasing.''
Protesters were taking aim at Basuki Tjahaha Purnama, known as Ahok, who is the most prominent politician among the country's often-persecuted, ethnic Chinese minority. He was elected deputy governor in 2012 and elevated to the top job in 2014 after his boss, Mr. Widodo, was elected president.
Some hard-liners had tried to block his ascent then, saying Muslims shouldn't be ruled by a "kafir," or nonbeliever.
The blunt-spoken Mr. Purnama, 50 years old, also has irritated many with a brash, get-things-done manner that has conflicts with Javanese traditions of polite compromise.
Vice President Jusuf Kalla met a group of protest leaders and said afterward that police would pursue a blasphemy case against Mr. Purnama. The maximum penalty for blasphemy is five years imprisonment.
Mr. Purnama, who is from Indonesia's ethnic Chinese minority, now running for re-election with high approval ratings, is being investigated for comments made in September about a verse of the Quran that says Muslims shouldn't be led by non-Muslims.
Mr. Purnama had made light of the verse, telling constituents it was fine if they felt they had to vote against him because of it. He also indirectly suggested that people could be fooled by the verse.
Weeks later, some hard-line Muslim groups accused him of blasphemy for, they said, calling the Quranic verse a lie. An influential council of Islamic scholars and leaders concluded that he had committed blasphemy.
Mr. Purnama has apologized for his comments and said he would cooperate with police.
Hours after the protest ended, President Joko Widodo appeared on television promising legal proceedings regarding Mr. Purnama—his former deputy—would be swift and transparent.
Police questioned Mr. Purnama, various experts and a complainant Monday and said they would hear other witnesses this week. Next week, they plan to discuss—in unprecedented televised hearings—whether to mount a case.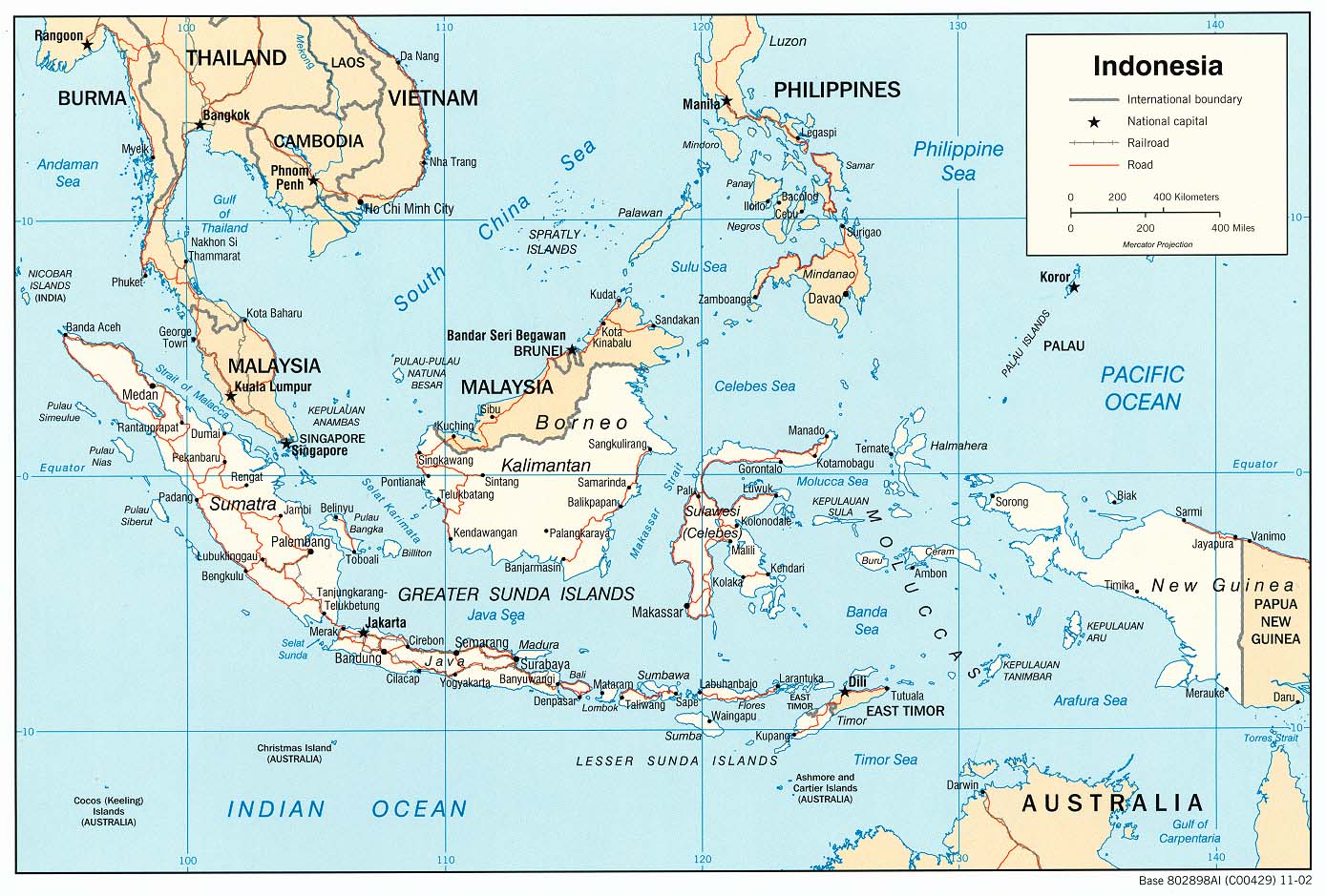 ---
NICARAGUA – Nicaraguan leftist Daniel Ortega wins fourth term
(Compiled from reports at CNN/Reuters/AFP) – Leftist President Daniel Ortega won his third consecutive (and fourth term overall) presidential election, following elections on Sunday — this time with his wife as his vice-presidential running-mate. First lady Rosario Murillo has long been the country's unofficial co-president, effectively running the government, analysts of Nicaraguan politics say.
The unprecedented move by Ortega, a socialist and former Marxist guerrilla leader, to choose his wife as his running-mate is not without controversy as critics have accused the couple of skirting laws while building a political dynasty.
Nicaragua's Constitution bars candidates who are relatives of the current President from running, however the Supreme Court of Nicaragua [which favors Ortega and his political party] has said there was no legal impediment for the Ortega-Murillo ticket.
Ortega came to power as part of the Sandinista rebels who overthrew the Somoza dynasty in 1979. He fought against the U.S.-backed Contras [who opposed the left-wing, socialist Sandinistas] during the 1980s and has remained a key ally to the socialist government in Venezuela.
He was first elected as President in 1985, and ran unsuccessfully in 1990, 1996 and 2001 before being elected again in 2006 and 2011.
Before Ortega's term, Presidents in Nicaragua were not allowed to serve consecutive terms, but that didn't stop him in 2011.  Then in 2014, he used his power to pressure lawmakers to do away with term limits, allowing him to run in Sunday's election.
For Ortega, a win would cement his firm hold over a country that is one of the poorest in the Americas, though untroubled by the gang violence riddling nations to the north.
Ortega has won broad popularity with social programs for the poor, and kept powerful business leaders on side with policies protecting their interests and promoting solid economic growth.
A husband-wife team running the country would be unprecedented in this nation of six million people. And some in political circles, especially in the opposition, see it as an intention by Ortega to set up a dynasty — similar to the Somoza one he and the Sandinistas ousted in the 1970s.
The couple's children also occupy important positions in politics, the economy and the media.
Murillo is next-in-line to take charge if Ortega has to step down for some reason. The problem is "she is very ambitious and with few ethics," according to one observer.
The two "have deformed all the democratic institutions," including their party, the Sandinista National Liberation Front, said Carlos Tunnermann, a writer and academic.
The couple closely manage their public image, largely excluding foreign media from covering their appearances or government activities.
Ortega has barred foreign observers from monitoring the elections, which will also choose lawmakers for the next congress. And [pro-Ortega] judges have booted out opposition deputies.
A Western diplomat in Central America, speaking on condition of anonymity, said that the reason many ordinary Nicaraguans were not alarmed was "because maybe they prefer to put public safety before democracy."
In September, a bill in the US Congress dubbed the Nica Act was introduced that would block American loans to Nicaragua unless it took "effective steps to hold free, fair, and transparent elections, and for other purposes."
---
INDIA – Delhi smog: Schools closed for three days as pollution worsens
(BBC News) – Delhi's chief minister has shut all schools in the Indian capital for three days as its citizens struggle with choking smog.
After an emergency cabinet meeting, Arvind Kejriwal promised a raft of measures to combat the extreme air pollution.
All construction and demolition work has been banned for five days in the city. Water will also be sprinkled on main roads to help suppress dust.
Mr. Kejriwal advised Delhi-ites to stay indoors as much as possible and work from home if they can. About 1,800 municipal schools had already been shut in the capital on Saturday because of pollution.
India's NDTV quoted an official of the India Meteorological Department, who said visibility in Delhi was just 200m (656ft) at 8:30am local time, "caused by the heavy fog and smoke".
Mr. Kejriwal called on India's national government to help control the smog which has enveloped the city since Diwali. The Hindu Festival of Lights is widely celebrated with fireworks, which release soot and dust into the air.
During the winter months, Delhi's pollution is aggravated by many of the city's poor burning rubbish at night to stay warm.
Agricultural waste is also set on fire around Delhi to clear cropland, and burns for days on end. Technically such fires are banned, but attempts to impose cash fines on farmers who break the law have done little to stop them.
Delhi's air pollution levels have been a concern for some time, and the Indian capital has vied with Beijing, China for the unwanted title of "world's most polluted city."
The Delhi government has tried various plans to contain the problem, including a crackdown on diesel vehicles, and a car rationing scheme where those with odd and even registration numbers were banned from the roads on alternate days.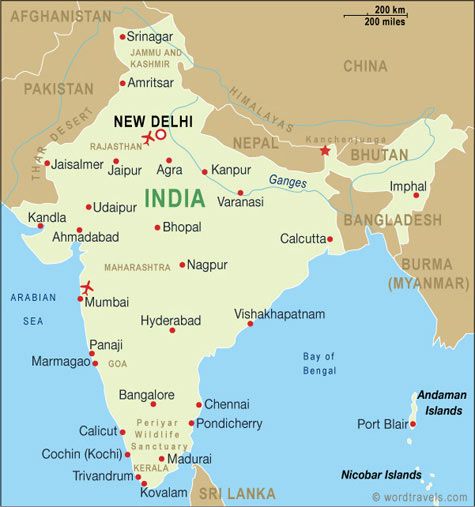 (The news briefs above are from wire reports and staff reports posted at The Wall Street Journal on November 4, CNN/Reuters/AFP on Nov 7 and BBC News on November 6.)
Questions
1. For each of the 3 countries, give the following information:
capital

location/the countries that share its borders

the religious breakdown of the population

the type of government

the chief of state (and head of government if different) If monarch or dictator, since what date has he/she ruled? – include name of heir apparent for monarch

the population
Find the answers at the CIA World FactBook website. For each country, answers can be found under the "Geography" "People" and "Government" headings.
NOTE to students: Before answering the questions below, read the information under "Background" and watch the videos under "Resources."
2. For INDONESIA:
a) list the who, what, where and when of the news item
b) Why was turnout lower than expected for the protest calling for the Christian governor's arrest?
c) Blasphemy is defined as something said or done that is disrespectful to God (in this case Allah) or to something holy. What specifically did Governor Purnam (known as Ahok) do to offend the protesters?
d) What are the protesters calling on the government to do about Governor Purnam's perceived blasphemy?
e) Several news reports have downplayed the "small" number turning out for the protests. Though only a fraction of a percent of the Muslim population in Indonesia, what effect could this small number have on the safety of non-Muslims and even moderate Muslims as well as the stability of this stable, moderate-Muslim country? List 2-3.
3. For NICARAGUA:
a) list the who, what, where and when of the news item
b) According to the constitution, presidents in Nicaragua have not been allowed to serve consecutive terms, but that didn't stop Ortega in 2011. How ran and won anyway. How was he able to run for yet a third consecutive term in 2016?
c) How has the U.S. responded to Ortega's hold on power?
4. For INDIA:
a) list the who, what, where and when of the news item
b) List the causes for Delhi's extreme smog.
c) What steps has the Indian government taken to combat this problem?
d) What steps do you think the government and citizens should take to try to reduce the smog while longer-term solutions are being developed?
Background
INDONESIA – Hard-line Islamists gain ground in Indonesia, world's largest Muslim country
Nearly 90% of Indonesia's 250 million people are Muslim. The Southeast Asian nation – some 18,000 islands straddling the Pacific and Indian oceans – has a long tradition of moderate Islam in a culture influenced earlier by Hinduism and Buddhism.
But the tenor has changed in recent years. Head scarves for women, once rare, are now widely worn and Islamic schools are expanding.
An effort to outlaw cohabitation and sex between unmarried people fizzled in 2013 but has returned this year, with proponents asking the Supreme Court for a constitutional prohibition.
Religious hard-liners staged antigay rallies early this year, and the government threatened to block websites it says promote lesbian, gay, bisexual and transgender lifestyles. Netflix ran into trouble with Indonesia's state-owned telecom provider in part because of complaints over some content.
A movement to ban alcohol is gaining steam and sales have been banned from convenience stores. Travel to Mecca for the minor pilgrimage of umrah, once a relatively uncommon undertaking for middle-class Indonesians, is newly popular.
Security experts say the rising conservatism paves the way for potential violence, pointing to some religious hard-liners who have rebranded themselves as cells of Islamic State.
About a quarter of the world's countries have anti-blasphemy laws or policies, with punishments ranging from fines to death, according to the Pew Research Center. Such policies are most common in the Middle East and North Africa, where 18 of 20 countries criminalize blasphemy, Pew said.
In Southeast Asia, Singapore, Malaysia, Myanmar and Brunei also have anti-blasphemy policies.
(from the WSJ article above)
Daily "Answers" emails are provided for Daily News Articles, Tuesday's World Events and Friday's News Quiz.