redo Jump to...
print Print...
FRANCE – Rebels want Gadhafi ousted, not dead

PARIS – Libya's rebels want to drive Moammar Gadhafi from power and see him tried, not have him killed, Ali Zeidan, a European representative for the leading opposition group Libyan National Transitional Council told the AP on Monday.

[Mr. Zeidan's] comments suggested that rebels were considering a peaceful exit route for Gadhafi, whose autocratic 42-year reign in Libya has been marked by bloody battles between loyalist forces and rebels in recent weeks.

"You see, Gadhafi himself, we are able to target him, and we would like to have him alive to face the international or the Libyan court for his crime," Zeidan said. "We don't like to kill anybody … even Gadhafi himself."

Western leaders have said allied missile strikes from air and sea since Saturday aimed at stopping Gadhafi's forces from harming civilians under a U.N. Security Council resolution have neutralized the government's air defenses. …

Even as combat continued, Zeidan said rebel fighters were only firing in self-defense-and were seeking to honor the ceasefire called for under the Security Council resolution.

"We have respected that, we are going to respect that, but if Gadhafi should shoot us, we will have to defend ourselves. He does not respect that," he said. "(If) somebody starts to shoot, what? Are we going to kiss him?"

Zeidan suggested the air strikes could be pivotal in bringing down the regime: "If Gadhafi has no more of this heavy military machine, then the job will be done by the people in very short time."

The opposition hopes that international forces will wrap up their campaign "as soon as possible," so that protesters can return safely into the streets to demand – peacefully – for change in the government, Zeidan said. …..

"Gadhafi must disappear. He should leave as soon as possible," Zeidan said. "We would like to establish a new state on the basis of democracy … we do not want an Islamist government."

He said his movement's long-term goal is to improve education, health care and bring back 50,000 educated Libyans living in the U.S and Europe to Libya to restore the country's intellectual fabric and economy.

Zeidan, who is based in Munich and has been traveling to European capitals to press the rebels' cause, spoke to the AP ahead of meetings with French officials.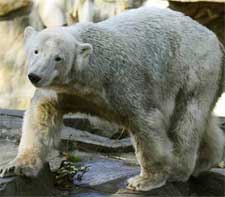 GERMANY – Celebrity polar bear dies
BERLIN – Veterinary experts performed an [examination] Monday on Berlin zoo's celebrity polar bear Knut to try to determine why he died suddenly over the weekend.
The four-year-old polar bear died Saturday afternoon in front of visitors, turning around several times and then dropping to the ground, and falling into the water in his enclosure.
Polar bears usually live 15 to 20 years in the wild, and even longer in captivity, and the zoo is hoping the investigation may help clarify what happened.
Results were expected later Monday or on Tuesday, the zoo said.
In the meantime, people continued to flock to the zoo to sign their name in a condolence book in tribute to Knut.
"Every visit to the Zoo brought happiness, because he was such a warmhearted animal and he brought us all so much fun," visitor Eveline Plat told AP Television News. …..
Soon after Knut and [his trainer's] first public appearance in early 2007, fan clubs sprang up across the globe. "Knutmania" [spread].
Zoo spokeswoman Claudia Beinek said that they had to set up another condolence book online to accommodate the outpouring of sympathy from around the world for the polar bear.
In addition, the zoo said it was starting a special account to accept donations on Knut's behalf, which will be used for polar bear research and the preservation of their habitat.
"He has brought joy to us, the Berliners and many others around the world," the zoo said in a statement.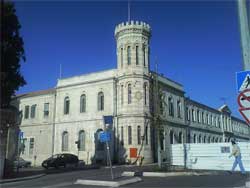 ISRAEL – Israel hands Russia ownership of Jerusalem site

JERUSALEM – Israel is handing back ownership of a czarist-era landmark in the heart of Jerusalem to Russia, defusing a long-simmering dispute between the two countries right before Israel's leader visits Moscow.
Prime Minister Benjamin Netanyahu's office has not disclosed the agenda for Thursday's visit but he is expected to urge Moscow not to sell sophisticated missiles to Syria and to support efforts to keep Iran's nuclear ambitions in check.
The return of ownership of the property known as Sergei's Courtyard, approved in 2008, appeared to be a goodwill gesture ahead of the visit. ……
In 2005, then-Prime Minister Ariel Sharon promised former Russian President Vladimir Putin the land would be returned. Three years later, the Israeli Cabinet formally agreed to hand over the courtyard, which now houses offices of Israel's Agriculture Ministry and the Society for the Protection of Nature in Israel.
The property has generated controversy in Israel, with hardline groups opposing any transfer of control in the holy city. They see it as a worrisome precedent, given Palestinian claims to the city's eastern sector, which Israel captured in the 1967 war.
The nationalistic Legal Forum for the Land of Israel unsuccessfully appealed the 2008 Cabinet decision, calling it a "breach of Israeli sovereignty."
Russian officials were not immediately available for comment but Moscow has said in the past the building would be used as a Russian cultural center to "promote bilateral relations" between the two countries.
(The news briefs above are from wire reports and staff reports posted at: the San Jose mercurynews.com here here and here on March 21st.)
Questions
A large majority of responses to our question about whether we should reduce the number of Tuesday News Briefs from 5 countries to 3 countries were in favor of three. We'll try this out for a few weeks. Let us know how this works for you. Send your thoughts to editor@StudentNewsDaily.com.
1. For each of the 3 countries, give the following information:
a) the continent on which it is located
b) the name of the capital city
c) the type of government
d) the chief of state (and head of government if different) [If monarch, since what date has he/she ruled? – include name of heir apparent]e) the population
[Find the answers at the
CIA World FactBook website
. For each country: type of government, capital and executive branch (chief of state/head of government) can be found under the "Government" heading; population is listed under the "People" heading. Go to
worldatlas.com
for a list of continents.]
2. For France:
a) list the who, what, where and when of the news item
b) What type of government does the opposition want, according to Ali Zeidan?
c) Visit the website for Libya's leading opposition group Libyan National Transitional Council. Read the post under "About the Council" on the homepage. What does the Council say is its aim?
3. For Germany:
a) list the who, what, where and when of the news item
b) What has the zoo done for people who want to acknowledge Knut's death?
c) Knut fan Eveline Litowski, who came to the zoo to find out more about Knut's death said "I can't comprehend what happened there. He was happy before, there were no signs of anything – it's so shocking." Ms. Litowski was among those who crowded around Knut's empty compound Sunday, laying down red roses and white stuffed polar bears, lighting candles or putting up pictures of Knut with personal messages for him. Many children had drawn pictures of Knut or written farewell poems for their beloved bear. What do you think about a society/people (Knut had fans worldwide) who has this type of reaction to an animal's death?
4. For Israel:
a) list the who, what, where and when of the news item
b) What appears to be the motive for Israel's action?
c) Read about the Russian Compound and Sergei's Courtyard at the link under "Resources" below. How was Sergei's Courtyard/The Russian Compound used by Russia?
Background
ISRAEL: The Russian Compound:
Sergei's Courtyard, a hewn stone building built in 1890 to accommodate Russian pilgrims to the Holy Land, is a prominent edifice on the Jerusalem landscape with its soaring turret and lush garden. About a dozen workers were moving crates out of the building Monday and loading them into trucks.
"Israel is vacating Sergei's Courtyard in accordance with the understandings reached between Israel and the Russian Federation," an Israeli official said, speaking on condition of anonymity because he was not authorized to discuss the matter with the media.
The site was named for Grand Duke Sergei Alexandrovich, a son of Czar Alexander III, and is part of a complex known as the Russian Compound. Israel bought most of it from the Soviet Union in the early 1960s, paying with oranges because it didn't have hard currency.
Israel seized control of it after the Soviet Union severed tieswith the Jewish state following the 1967 Mideast war. The two countries restored ties in 1991 and negotiations to return the courtyard ownership to Russia began in the 1990s. (from the Mercury News post)
Resources
FRANCE: Visit the website for the Libyan National Transitional Council at ntclibya.org/english.
—————————————————————————————————-
GERMANY: Watch a news report on Knut below:
——————————————————————————————————–
ISRAEL: Read more about Sergei's Courtyard in the Russian Compound in Jerusalem at wikipedia.org.
Daily "Answers" emails are provided for Daily News Articles, Tuesday's World Events and Friday's News Quiz.