redo Jump to...
print Print...
CHINA – Thousands of cameras turned on restive city
Beijing | Officials plan to put the city of Urumqi under full surveillance with tens of thousands of cameras, the Xinhua News Agency reported Tuesday.
The state media said almost 17,000 cameras were installed in the western city last year, and the coverage will grow this year.
Long-running tensions between the region's minority Uighurs and majority Han Chinese migrants turned violent in July 2009. The government says 197 people were killed.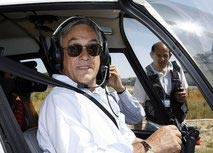 CHILE – Daredevil president says he won't change his ways
Santiago | President Sebastian Pinera said Tuesday that he's not about to give up his passion for adventure sports such as skydiving, scuba diving, mountain climbing and piloting his helicopter just because some think he should play it safe.
He promised to be responsible about his activity, but maintained that "one can't change his way of being."
The billionaire president has been criticized for making an emergency helicopter landing when it ran low on fuel on his way to a family getaway. Authorities are investigating.
Pinera asked that "critics not worry so much about what the president does" in his leisure time.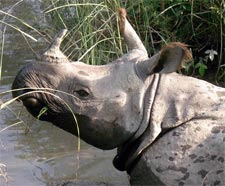 ZIMBABWE – Rhino horn poachers striking from planes
Harare | Poachers are using aircraft to hunt and kill rhinoceros, Zimbabwe's wildlife chief said Tuesday, amid growing demand in Asia for their horns' supposed medicinal benefits.
Seven endangered rhinos were killed from early December to Jan. 19 in southern Zimbabwe, representing about one-third of all 22 rhinos poached throughout 2010, Parks and Wildlife Director General Vitalis Chidenga said.
RUSSIA – Airport bomber targeting foreigners, Russians say
Moscow | The suicide bomber who killed 35 people at Moscow's busiest airport was deliberately targeting foreigners, investigators said Saturday, which would mark an ominous new tactic by separatist militants in southern Russia if he was recruited by an Islamist terror cell.
Investigators know the identity of the bomber, a 20-year-old native of the volatile Caucausus region, where Islamist insurgents have been battling for years for a breakaway state.
But the country's top investigative body stopped short of naming him, fearing that it would compromise ongoing attempts to identify and arrest the masterminds of the Domodedovo Airport attack on Jan. 24. The blast also wounded 180 people.
The violence stemming from the predominantly Muslim Caucasus region began with two bloody separatist wars in Chechnya in the past 15 years. The rebels seek an independent Caucasus emirate that adheres to Shariah law.
PAKISTAN – Islamic leaders demand detention of U.S. official
Lahore | Hard-line Islamic leaders Sunday rallied at least 15,000 people against an American official arrested in the shooting deaths of two Pakistanis and warned the government not to cave in to U.S. pressure to release the man.
The protest in the eastern city of Lahore, where the shootings took place, came as the U.S. Embassy once again insisted that the American has diplomatic immunity and was being detained illegally by Pakistan. But Pakistan has refused to budge, saying the matter must be decided by the courts.
The U.S. has said the American, who has not been named, acted in self-defense when he shot two armed men who approached his car in Lahore.
(The news briefs above are from wire reports and staff reports posted at: tulsaworld.com on Jan. 26, 30 and 31, 2011.)
Questions
1. For each of the 5 countries, give the following information:
a) the continent on which it is located
b) the name of the capital city
c) the type of government
d) the chief of state (and head of government if different)
e) the population
[Find the answers at the
CIA World FactBook website
. For each country: type of government, capital and executive branch (chief of state/head of government) can be found under the "Government" heading; population is listed under the "People" heading. Go to
worldatlas.com
for a list of continents.]
2. For China:
a) list the who, what, where and when of the news item
b) Why is the Chinese government installing so many cameras in this one city?
3. For Chile:
a) list the who, what, where and when of the news item
b) President Pinera was responding to calls from some that he "play it safe" while in office as president of Chile. What responsibility do you think any president has with the type of activities he participates in during his leisure time? Explain your answer.
4. For Zimbabwe:
a) list the who, what, where and when of the news item
b) Define poacher.
c) Why are the rhino horns in demand?
5. For Russia:
a) list the who, what, where and when of the news item
b) The Muslim rebels in the Caucasus region of Russia want to become independent of Russia and establish a Caucasus emirate that adheres to Sharia law. What is an emirate?
c) What is Sharia law?
6. For Pakistan:
a) list the who, what, where and when of the news item
b) Why did the American official kill the two Pakistani men?
c) What do you think of the Pakistan government's refusal to release him?
Background
NOTE: GO TO WORLDATLAS.COM FOR MAPS OF ALL COUNTRIES.
CHINA's Uighurs:
The Xinjiang Uighur Autonomous Region (XUAR), a territory in western China, accounts for one-sixth of China's land and is home to about 20 million people from thirteen major ethnic groups.
The largest of these groups is the Uighurs [PRON: WEE-gurs], a predominantly Muslim community with ties to Central Asia.
Some Uighurs call China's presence in Xinjiang a form of imperialism, and they stepped up calls for independence – sometimes violently – in the 1990s through separatist groups…
The Chinese government has reacted by promoting the migration of China's ethnic majority, the Han, to Xinjiang.
Beijing has also strengthened economic ties with the area and tried to cut off potential sources of separatist support from neighboring states that are linguistically and ethnically linked with the Uighurs.
Xinjiang's influx of migrants has fueled Uighur discontent as Han and Uighurs compete over limited jobs and natural resources.
As Han migrants pour into Xinjiang, many Uighurs resent the strain they place on limited resources like land and water.
Ethnic tension is fanned by economic disparity: the Han tend to be wealthier than the Uighurs in Xinjiang. (from cfr.org/publication/16870/uighurs_and_chinas_xinjiang_region.html)
CHILE:
Sebastián Piñera is the current President of Chile. He took office on March 11, 2010.
President Pinera is a well-known economist, investor, businessperson, philanthropist, politician, former Senator, and leader of the presidential and parliamentary electoral coalition Coalition for Change.
Piñera ranks among Chile's richest persons. (from wikipedia)
ZIMBABWE:
Rhino horns are used in the traditional medicine systems of many Asian countries, from Malaysia and South Korea to India and China, to cure a variety of ailments.
In Traditional Chinese Medicine, the horn, which is shaved or ground into a powder and dissolved in boiling water, is used to treat fever, rheumatism, gout, and other disorders.
According to the 16th century Chinese pharmacist Li Shi Chen, the horn could also cure snakebites, hallucinations, typhoid, headaches, carbuncles, vomiting, food poisoning… (from pbs.org)
The rhino horn was once believed to contain medicinal properties…however, studies by Swiss pharmaceutical firm Hoffmann-La Roche and the Zoological Society of London dispelled claims that rhino keratin bears any effect on the human body. (from ehow.com)
RUSSIA:
After the dissolution of the Soviet Union in 1991, the Chechen-Ingush ASSR was split into two: the Republic of Ingushetia and Republic of Chechnya.
The latter proclaimed the Chechen Republic of Ichkeria, which sought independence.
Following the First Chechen War with Russia [1994-96], Chechnya gained de facto independence as the Chechen Republic of Ichkeria.
Russian federal control was restored during the Second Chechen War [1999].
Since then there has been a systematic reconstruction and rebuilding process, though sporadic fighting continues in the mountains and southern regions of the republic.
Chechnya is predominantly Muslim. (from wikipedia)
Chechnya's long and violent guerrilla war has attracted a small number of Islamist militants from outside of Chechnya–some of whom are Arab fighters with possible links to al-Qaeda. (from cfr.org)
Resources
CHINA: Read a more detailed news article on the security camers in Urumqi at taipeitimes.com.
CHILE: Read a news article on President Pinera's unplanned helicopter landing at signonsandiego.com.
RUSSIA: Read about the terrorist attacks Chechen groups are responsible for at cfr.org.
PAKISTAN: Watch a news report on the American arrested for shooting two armed robbers in self-defense:
Daily "Answers" emails are provided for Daily News Articles, Tuesday's World Events and Friday's News Quiz.