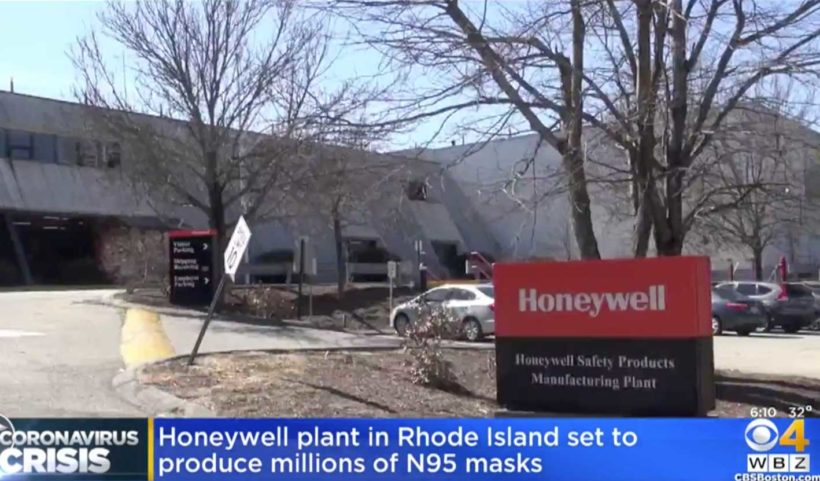 redo Jump to...
print Print...
During Monday's Coronavirus Taskforce Press briefing at the White House, President Trump asked several business leaders to speak about the work their companies were doing to produce medical supplies and equipment in the fight againsy the coronavirus.
President Trump introduced the following leaders by saying, "Joining us this afternoon are CEOs of the great American companies that are fulfilling their patriotic duty by producing or donating medical equipment to help meet our most urgent needs.  What they're doing is incredible.  And these are great companies."
Darius Adamczyk of Honeywell
Debra Waller of Jockey International
Mike Lindell of MyPillow
David Taylor of Procter & Gamble
Greg Hayes of United Technologies Corporation
The following is excerpted text from the briefing:
PRESIDENT TRUMP:  And I just want to tell all of you that America is very grateful to you and what you've done.  An amazing job you've done, and we thank you very much.
I'd like you to come up and say a couple of words, if you might, about your companies.  Mike, come on up.  Come on up, fellas, please.  Come on up.  You have to say what you're doing because it's been really incredible.
Go ahead, Mike.
---
MIKE LINDELL, MY PILLOW:  …What MyPillow has done — we've established an internal task force, which is monitoring future needs of companies across the country as a result of this pandemic.  And given our position, we've begun to research and develop new protocols to address the current and future needs of U.S. businesses across multiple sectors, how companies are going to prepare themselves when they once again open up, and changes to their current operations in order to adjust to future threats and pandemics.
MyPillow has designated some of its call centers to help U.S. companies navigate the many issues that resulted from this pandemic.  We've dedicated 75 percent of my manufacturing to produce cotton facemasks.  In three days, I was up to 10,000 a day.  By Friday, I want to be up to 50,000 a day.
I proud to manufacture our products in the United States, and I'm even more proud to be able to serve our nation in this great time of need.  Thank you, Mr. President, for your call to action when — which has empowered companies like MyPillow to help our nation win this invisible war. …
---
DARIUS ADAMCZYK, HONEYWELL:  First of all, Mr. President, Mr. Vice President, the entire administration, and all the agencies, thank you for your strong leadership during this time of crisis.  It is noticed and it's making a difference.
Second of all, I'd like to say a big thank you to all the healthcare workers out there.  You're putting yourself in harm's way every day, and we really respect what you're doing, and we couldn't be thankful enough for it.  And I can tell you that more help is on the way.
We, as Honeywell, we're an industrial technology company.  And one of the businesses that we're in: We protect the industrial worker.  But what we're doing today is we're repurposing a lot of that equipment to serve the healthcare worker.
A few days ago, we announced the start-up of a new manufacturing facility in Rhode Island.  We're going to be hiring 500 employees.  We have already 200 onboard.  And we're going to be starting the production of N95 masks within the next two weeks.
Furthermore, today we're announcing the start-up of another manufacturing facility in Arizona.  We're going to be hiring another 500 people.  And we're going to be starting up production in that facility by the middle of May.  So, in total, we've doubled our production of N95 masks already.  It's going to double again within the next 60 days.  And then within the next 90 days, we're going to have 5x the capacity we do today.
Furthermore, we're going to be providing other safety equipment to support all the efforts going out.
Lastly, I'll say a big thank you to all the Honeywell employees, and also announce a $10 million fund for them, for all the hourly and administrative employees who are having a hard time during this time of crisis.
Thank you, Mr. President.
THE PRESIDENT:  Thank you very much.  Fantastic.  Thank you.  Normally, I'd shake his hand, but we're not supposed to do that anymore.  So, that's okay.  Great job.  Thank you to Honeywell.
---
Please, go ahead.  Debra, please.
DEBRA WALLER, JOCKEY:  Thank you, Mr. President and Mr.  Vice President, on your guidance during this unprecedented time.  And I'm very honored to be here today.  Founded by a minister 144 years ago, Jockey International is a family-owned company headquartered in Kenosha, Wisconsin.  Since 1876, we have been providing socks and underwear for generations of families.
It is part of our DNA to roll up our sleeves and help our country in her time of need.  During World War Two, we made parachutes for the military.  And today, we are eager to serve this great country by providing support for the healthcare workers on the frontlines of this fight.  As the President and Vice President have said, it's a whole-of-America approach and we are committed.
Jockey has had a longstanding partnership with Encompass Group, headquartered in Georgia, serving the healthcare community.  When we learned of the critical need for PPE [Personal Protective Equipment], we knew we had to help.  That meant restarting production on tier three isolation gowns.  Monumental lifting by Jockey, Encompass, FEMA, and the FDA was done in just a few days to be production ready.  As a result, we expect to begin delivering 30- to 50,000 gowns per week, helping those that need it the most right now.
In addition, this week we are also donating 10,000 units of scrubs to the frontline doctors and nurses at the Javits Convention Center in New York City.  We would not have been able to do this without the collaboration of the administration, representatives from the federal agencies, and Congressman Bryan Steil.
Thank you very much, Mr. President and Mr. Vice — Mr. Vice President.
THE PRESIDENT:  Thank you very much.
MS. WALLER:  Thank you.
THE PRESIDENT:  Fantastic job.  Thank you very much.
---
DAVID TAYLOR, PROCTER & GAMBLE:  Thank you, Mr. President and Mr. Vice President, for bringing us together today.  I'm proud to be able to represent the men and women of Procter & Gamble, who every day, 24 hours a day, are working to build and make essential cleaning products, hygiene products, and healthcare products for families everywhere.  These include healthcare workers and for institutions that are serving those on the frontline.
P&G people are the faces of brands you know and trust — brands like Tide, Pampers, Bounty, Charmin, Mr. Clean, and Vicks.  In addition to making, packing, and shipping these essential items, they've worked together to transform our plants to make things we've never made before, like hand sanitizers and facial masks.  Some of these are already getting to national, state, and local agencies.  Some of them are in the hospitals already.
Everywhere around the world, P&G people are working every day to serve everybody — consumers.  And they're working together to bring together the full capability of our research and development, our engineering, our manufacturing, and our communications capability to make sure we make a difference to the consumers we serve and to all the audience that we can make a difference to.  I want to thank them and I'm very grateful for what they do every day in service to others.
Thank you, Mr. President, Mr. Vice President for bringing us together today.
THE PRESIDENT:  Thank you.
Please.
---
GREG HAYES, UNITED TECHNOLOGIES:  Mr. President.  Good afternoon.  I'm Greg Hayes from United Technologies, and on behalf of the 240,000 employees of United Technologies and the 70,000 employees at Raytheon, which will join together with UTC this Friday, I want to first of all say thank you to the President and the Vice President for your leadership during what is really a war.  It is a different war than anybody has ever fought before, but it's a war that we're uniquely qualified to help.
As one of the world's largest defense contractors and some of the best technology, we're using that technology to try and solve some real-world problems.  Today, we're working with the Air Force to try and help pilots as they're moving medical evacuees with the COVID-19 virus, such that they can be protected and that the patients can be protected.
Again, we're working also with logistics.  And if you think about a war, strategy is important, but logistics wins war.  It's — it's imperative, I think, with FEMA, along with the Mr. Navarro's office, that we coordinate all of these activities.  Last week, we donated about 90,000 pieces of personal protective equipment to FEMA.  Next week, we'll have another almost million.  Again, working through our supply chain partners around the world.
We're also today — this week, beginning the manufacture of face shields.  Using the additive technologies that we have and the machines that we have available within UTC, we'll be able to produce approximately 10,000 shields in the next four weeks — again, all needed equipment.  We stand ready to help in any way we can.  We don't need the Defense Production Act to ask us to act.  All of the people at UTC and Raytheon are focused on this war and winning it.
Again, I also want to say thank you to all of our employees for their work during this crisis, as well as to the frontline medical and other first responders.  Thank you very much.
THE PRESIDENT:  Thank you very much.  Thank you.  Fantastic.  Great company.  Those are great companies.  Thank you very much.   …..
(See entire video at the White House youtube page.)
Questions
1. What is MyPillow doing to produce equipment needed in the fight against the coronavirus? (And what number is being produced?)
2. a) What type of company is Honeywell? What do they do?
b) What is Honeywell doing to help healthcare workers? Be specific.
c) What is Honeywell doing to help its own employees?
3. a) Jockey is a family owned company that makes socks and underwear. What equipment is Jockey producing?
b) What did Jockey CEO Debra Waller note about the time it took to be able to restart this production?
c) What is Jockey donating to NYC medical workers?
4. a) In addition to making, packing and shipping existing products, what have Proctor & Gamble employees done to produce new needed items in the fight against the coronavirus?
b) What products are Proctor & Gamble producing that they have never made before?
5. a) What is United Technologies? How are they helping pilots?
b) What equipment is United Technologies donating?
c) What equipment is United beginning to manufacture this week?
6. We have read news reports on the shortage of PPE (Personal protective equipment) during the coronavirus crisis. The companies listed are just a few of the many who are repurposing their factories to produce these needed items. (Many of these and others are also donating equipment that they use in their own businesses.) Also, doing this type of large-scale production and distribution would usually take a lot of time and red-tape. Many company leaders have noted that President Trump has been working with the federal agencies (FDA, FEMA, etc.) to get them to cut through the red-tape to allow business to be as efficient as possible.
How do these stories encourage and inspire you?
CHALLENGE: Create a list of ways businesses are helping in the fight against the coronavirus. (Watch your local news report right at the beginning of the hour. They will generally feature a few stories of how local businesses are helping.) OR, do an internet search to discover what is being reported on how private companies, large and small, are stepping up to help in the fight.
Background
During Monday's coronavirus task force press briefing at the White House, President Trump said the following about some of the progress being made on equipment needed:
In addition to the 8,100 ventilators that we've already delivered over the next 48 hours, we're delivering more than 1,000.  We're going — 400 ventilators are going to Michigan very shortly, 300 going to New Jersey, 150 ventilators to Illinois, 150 to Louisiana, and 50 to Connecticut.

FEMA and HHS already delivered:

11.6 million N95 respirators
26 million surgical masks
5.3 million face shields
4.4 million surgical gowns
and 22 million gloves.

And I don't know if you just saw it.  It just came over the wires that Ford just announced, just a little while ago, that they will produce, along with General Electric Healthcare, 50,000 ventilators, and they're going to be doing it in less than 100 days.

On top of that, we have other companies that are doing ventilators, including General Motors.  But we have nine other companies doing ventilators.  As we outpace what we need, we're going to be sending them to Italy.  We're going to be sending them to France.  We're going to be sending them to Spain, where they have tremendous problems, and other countries as we — as we can.  But the fact that we're doing so many so quickly is a tribute to our great companies. …
---
Also during the press briefing, HHS Secretary Alex Azar noted,
"We would not be where we are today without the many American companies, entrepreneurs, and scientists who have worked day and night to develop, as of today, 20 different emergency testing options [See World #1].  With the FDA responding to request for authorization typically within 24 hours, the number of options is growing nearly every day.  FDA has also opened up new options for using the available tests, like self-swabbing and new options for reagents.

[The] FDA and other components of HHS [demonstrated] incredibly rapid action on other tools that we need.  This weekend, we actually worked to secure 30 million tablets from Sandoz and 1 million tablets from Bayer of hydroxychloroquine and chloroquine, which are potential COVID-19 treatments [see World #2].  And we authorized Battelle's new decontamination machines, which can each sterilize thousands of essential N95 masks for reuse every day."
(See entire video at the White House youtube page. Read the text in full at whitehouse.gov.)
Daily "Answers" emails are provided for Daily News Articles, Tuesday's World Events and Friday's News Quiz.