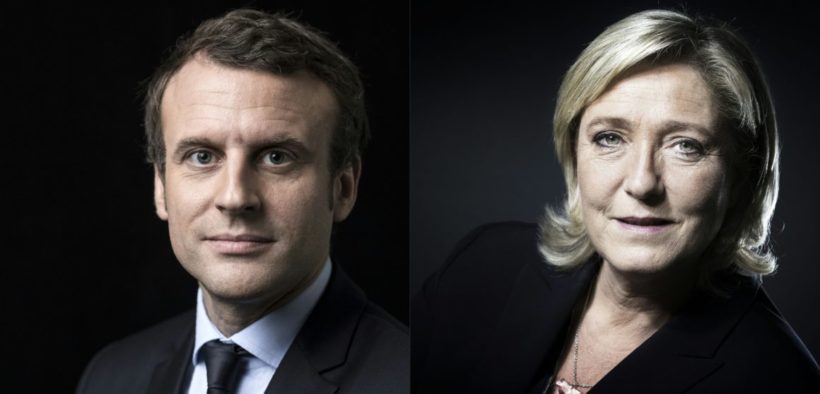 redo Jump to...
print Print...
(by Quentin Ariès, Politico) PARIS — (Making history in France's two-step presidential election, Sunday's vote was the first time that non-establishment candidates won the two spots for May's runoff election.) [Left-leaning] Emmanuel Macron and far-right leader Marine Le Pen will contest a runoff vote for the French presidency on May 7 after coming first and second respectively in the election's first round on Sunday.
The duel will present France with a stark choice — between Macron's liberal, pro-EU platform and Le Pen's nationalist vision, which would include a crackdown on immigration and a rejection of European integration. Macron is the clear favorite to clinch the presidency in the runoff — an opinion poll on Sunday night predicted he would win by 62 to 38 percent.
"I want to be your president in two weeks' time — the president of all the people of France, the president of the patriots against the threat of the nationalists," Macron, 39, told supporters at a rally in Paris after the results became clear. "In your name, I will take into the second round the optimism that we need and follow the path of hope that we want for our country and for Europe."
At a rally in northern France, Le Pen, 48, told supporters:
"The choice now is between wild globalization, a world in which terrorists can travel freely, and a France with strong borders." She said: "It is time to free the French people from the arrogant elite. I am the candidate of the people. I call all patriots wherever they come from, whatever their origin, to join me. What's at stake is France's survival."
The first-round result represented a huge failure for France's traditional major parties, the Socialists [liberals; progressives] and the conservative Les Républicains, as neither of their candidates qualified for the second round. Senior figures from both big parties [left and right] called on their supporters to unite behind [the left-leaning] Macron [who calls himself a centrist] to ensure Le Pen's National Front party is defeated.
With all votes now counted, Macron — a former economy minister who formed his own independent political movement last year — won 24.01 percent. Le Pen had 21.30 percent, with conservative former Prime Minister François Fillon on 20.01 percent and far-left candidate Jean-Luc Mélenchon on 19.58 percent. Socialist Party candidate Benoît Hamon came a distant fifth on 6.36 percent.
Fillon had been favorite to be France's next president before he was hit by allegations he funneled public cash to his wife and children by hiring them for parliamentary work they did not do. At a gathering of his supporters in Paris, he assumed responsibility for his defeat and called on them to support Macron.
"There is no other choice but to vote against the National Front," he said. "I will vote in favor of Emmanuel Macron."
Not surprisingly, Socialist Hamon issued a similar appeal. "I call for a fight against the National Front and call for a vote for Emanuel Macron," he said.
Either Macron or Le Pen will succeed deeply unpopular socialist President François Hollande, who [in a first for an incumbant president] decided not to run for a second term.
…The end of the election campaign was overshadowed by the fatal shooting of a police officer on the famous Champs Elysées on Thursday night which appeared to be the latest in a string of attacks by Islamic terrorists in France in recent years.
Sunday's result was a stunning achievement for Macron, a former civil servant and investment banker who was virtually unknown to the public until he was appointed economy minister by socialist president François Hollande in 2014.  He quit the post last August after forming his political movement, En Marche.
Macron has pledged to give new energy to the European project following Britain's vote last year to leave the bloc [the European Union]. His has also promised fiscal discipline in line with Eurozone rules, partly in the hope of convincing Germany to agree to a common investment budget and joint finance minister for the zone. …
Le Pen's score is the best ever result for her National Front party in a presidential election, beating the 17.9 percent of the vote she won in 2012. This will be the second time the National Front has made it to a presidential runoff; Le Pen's father, Jean-Marie Le Pen, staged an upset in the first round in 2002 but was heavily defeated by Jacques Chirac in the runoff.
Le Pen proposes renegotiating France's relationship with the EU to give Paris far greater control over borders and economic policy. Le Pen would call a referendum on France's membership of the EU after concluding talks with Brussels and would back withdrawal from the bloc if — as seems almost certain — she did not get the changes she wanted.
Marion Solletty and Carmen Paun in Brussels contributed to this article, which has been updated with final results.
Reprinted here for educational purposes only. May not be reproduced on other websites without permission from Politico.
Questions
NOTE: Read "Background" and watch video under "Resources" below.
1. List the following information for France: (see the CIA World FactBook website for answers)
a) capital:
b) location/the countries that share its borders:
c) the religious breakdown of the population:
d) the type of government:
e) the chief of state (and head of government if different):
f) the population:
2. The first paragraph of a news article should answer the questions who, what, where and when. List the who, what, where and when of this news item. (NOTE: The remainder of a news article provides details on the why and/or how.)
3. a) Why was this first round of presidential elections in France historic?
b) Read "Background" below the questions. What would be historic about a Marine Le Pen win?
4. Watch the video under "Resources" below. Nigel Farage is a British politician and political analyst who led the UK Independence Party (UKIP) from 2006-2009 and again from 2010-2016. What do you think of Mr. Farage's take on the election?
5. Media Research Center reported:
The networks and cable channels on Sunday and Monday called Marine Le Pen: "Far-right," "xenophobic," "racist." But the one description that came, over and over, on ABC, CBS, NBC, PBS and MSNBC, is "far-right," "far-right," "far-right," "far-right" and, also, "far-right."

NBC's Today, Richard Engel said, "From the far-right, anti-immigration, she's considered xenophobic, many have accused her of being racistly nationalistic." In another segment, Engel underlined that Le Pen is "from the far right" and has "taken a page from the strategy book of Donald Trump."

Good Morning America's Alex Marquardt repeated the same: "You have Marine Le Pen, the far-right candidate who has been compared to President Donald Trump, vowing to crack down on illegal immigration."

MSNBC reporter Matt Bradley offered this contrast between Emmanuel Macron and Le Pen: "She's a far-right populist who championed Trump's victory as an inspiration…. He's a pro-EU centrist." Bradley added that "the far-right has been quick to take advantage of the backlash against politics as usual."

On CBS This Morning, Elizabeth Palmer warned, "In second place, the far-right candidate Marine Le Pen."
But, the report concluded, "Le Pen is hardly 'far-right' in American terms. She's pro-abortion rights and her economic policies lean left."
Are you surprised by this report? Explain your answer.
Background
Emmanuel Macron
Macron, 39, was a member of the Socialist Party from 2006 to 2009.
He was was appointed as deputy secretary-general under Socialist President François Hollande's first government in 2012.
He was appointed Minister of Economy, Industry and Digital Affairs in 2014 under the Second Valls Government, where he pushed through business-friendly reforms.
He resigned in August 2016 to launch a bid in the 2017 presidential election.
In November 2016, Macron declared that he would run in the election under the banner of En Marche!, a so-called centrist political movement he founded in April 2016. (from the wikipedia page for Emmanuel Macron)
Marine Le Pen
Le Pen, 48, is a French lawyer and politician.
She is the youngest daughter of long-time National Front leader Jean-Marie Le Pen.
In 2011 she was elected leader of the National Front party, a position she resigned from upon winning second place in France's two-step presidential election.
She has been a Member of European Parliament from 2004 to the present.
Le Pen was ranked among the most influential people in 2011 and 2015 by the Time 100. In 2016, she was ranked as second-most influential MEP in the European Parliament by Politico, just behind the President of the European Parliament.
(from the wikipedia page for Marine Le Pen)
If elected, Le Pen would become France's first woman president
For any students studying French, visit the Twitter pages for Marine Le Pen and Emmanuel Macron
Resources
Watch an April 24 interview with Nigel Farage, Member of the European Parliament (MEP) for the South East of England:
Daily "Answers" emails are provided for Daily News Articles, Tuesday's World Events and Friday's News Quiz.