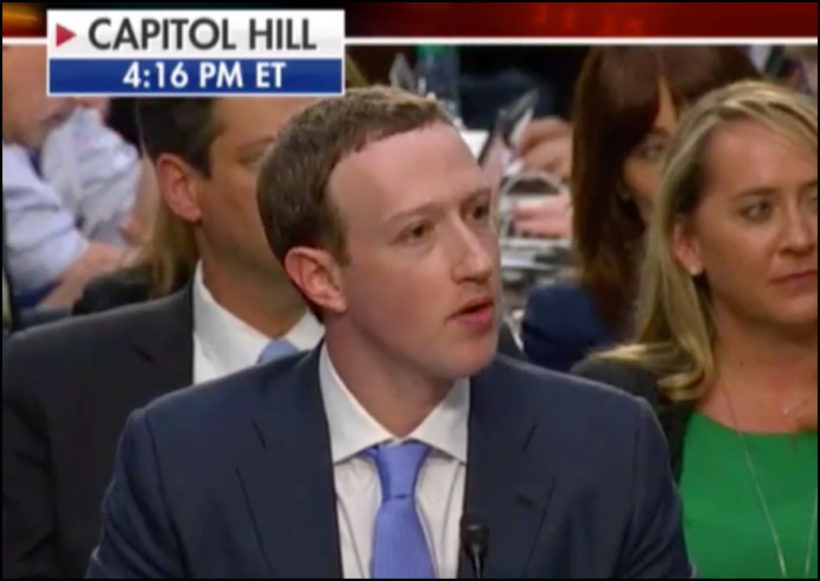 redo Jump to...
print Print...
Example of Media Bias:
When Republican Senator Ted Cruz addressed Mark Zuckerberg he said: "There are a great many Americans who I think are deeply concerned that Facebook and other tech companies are engaged in a pervasive pattern of bias and political censorship. There have been numerous instances with Facebook. In May of 2016, Gizmodo reported Facebook had purposely and routinely suppressed conservative stories from trending news…. most recently blocked Trump supporters Diamond and Silk's page with 1.2 million Facebook followers after determining their content and brand were 'unsafe to the community.'"
"To a great many Americans, that appears to be a pervasive pattern of political bias. Do you agree with that assessment?"
Mark Zuckerberg: "I understand where that concern is coming from, because Facebook and the tech industry are located in Silicon Valley, which is an extremely left-leaning place."
Sen. Cruz: "In your testimony you say you have 15,000 to 20,000 people working on security and content review. Do you know the political orientation of those 15,000 to 20,000 people engaged in content review?"
Zuckerberg: "No, we do not generally ask people about their political orientation when they're joining the company."
Watch the exchange between Senator Cruz and Mark Zuckerberg:
During the hearing in Congress on Tuesday, Mr. Zuckerberg said that he would like to use artificial intelligence tools to monitor and ban hate speech on the platform. But when asked by Sen. Sasse "How does Facebook define hate speech?" Zuckerberg can't explain what it is. Watch the clip below:
During a separate Congressional meeting, Republican Senator Tim Scott discusses Facebook's treatment of Diamond and Silk. He says in part,  "Facebook support of freedom of speech seems to only include liberal speech. … Now, some people might say that Facebook is a private company and that's true but Facebook is no ordinary tech company. In fact, it's not ordinary company regardless of the industry." Watch the clip below:
Identifying Media Bias
To accurately identify different types of bias, you should be aware of the issues of the day, and the liberal and conservative perspectives on each issue.
Types of Media Bias:
Questions
According to a 2017 Pew Research Center poll, approximately two-thirds of Americans (66%) use Facebook, and a majority of those users get news on the site. Looked at as a portion of all U.S. adults, this translates into just under half (45%) of Americans getting news on Facebook.
1. Consider the Senator's various questions and Facebook CEO Mark Zuckerberg's responses.  Is Facebook biased? Would it matter if it wasn't  biased against your point of view on the issues? Would it matter if it was biased against your beliefs? What responsibility does Facebook have to be unbiased?
2. Responding to Sen. Cruz, Mr. Zuckerberg said, "Facebook and the tech industry are located in Silicon Valley, which is an extremely left-leaning place." The Pew poll explains: overall, Facebook outstrips all other social media sites as a source of news; YouTube now reaches second highest percentage, with Twitter, Snapchat, Reddit and Tumblr following. Many Americans (and more young people than older) get their news solely from social media. How might this affect their outlook on the issues?

Scroll down to the bottom of the page for the answers.
Answers
1. and 2. Discussion questions. Answers vary.