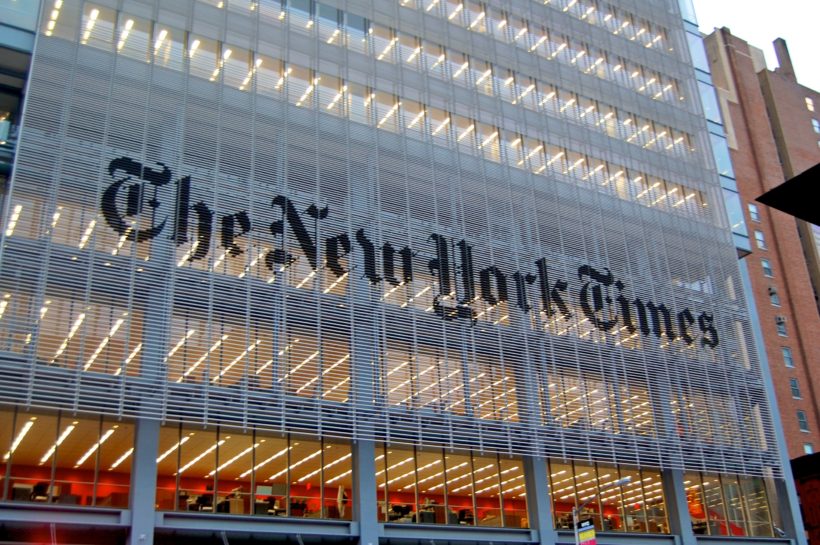 redo Jump to...
print Print...
Example of Media Bias:
The New York Times had an important scoop over the weekend:
Tashfeen Malik, who with her husband carried out the massacre in San Bernardino, Calif., passed three background checks by American immigration officials as she moved to the United States from Pakistan. None uncovered what Ms. Malik had made little effort to hide—that she talked openly on social media about her views on violent jihad.

She said she supported it. And she said she wanted to be a part of it. . . .

Had the authorities found the posts years ago, they might have kept her out of the country. But immigration officials do not routinely review social media as part of their background checks, and there is a debate inside the Department of Homeland Security over whether it is even appropriate to do so.
That is a dramatic understatement, a whistleblower later told ABC News. The DHS's ignorance of Malik's social-media policies was the result of a strict policy:
Fearing a civil liberties backlash and "bad public relations" for the Obama administration, Homeland Security Secretary Jeh Johnson refused in early 2014 to end the secret U.S. policy that prohibited immigration officials from reviewing the social media messages of all foreign citizens applying for U.S. visas, according to a former senior department official.

"During that time period immigration officials were not allowed to use or review social media as part of the screening process," John Cohen, a former acting under-secretary at DHS for intelligence and analysis.
In the fall of 2014, the department began a few "pilot programs" to screen social-media postings, "but current officials say that it is still not a widespread policy. A review of the broader policy is already underway, the DHS said."
"Already." After one attack on America and 14 American civilians killed.
DHS appears to operate under the assumption that nonresident aliens applying for admission to the U.S. enjoy the full range of civil liberties under the U.S. Constitution. That New York Times report ends with an odd observation that points in the same direction.
On social media, Fehda Malik [the dead terrorist's sister] has made provocative comments of her own. In 2011, on the 10th anniversary of the Sept. 11 attacks, she posted a remark on Facebook beside a photo of a plane crashing into the World Trade Center that could be interpreted as anti-American.

Social media comments, by themselves, however, are not always definitive evidence. In [Malik's native] Pakistan—as in the United States—there is no shortage of crass and inflammatory language. And it is often difficult to distinguish Islamist sentiments and those driven by political hostility toward the United States. At the time Fehda Malik's comment was posted, anti-American sentiment in Pakistan was particularly high; four months earlier, American commandos had secretly entered Pakistan and killed Osama bin Laden.
The first sentence of the second paragraph verges on tautology. When Malik entered the U.S. last year, it would have been impossible to find "definitive evidence" that she was a violent jihadi—because she had not yet committed acts of violent jihad. Although the Times report avoids overt editorializing, it seems to imply that it would be wrong to exclude aliens who merely express "anti-American sentiment."
But why? Such expression would be protected under the First Amendment if made by a U.S. citizen. But then so would speech advocating violent jihad, assuming it did not rise to the level of incitement or true threat. Tolerating citizens who hold such views is a reasonable price to pay for freedom. Inviting in aliens who do is not. …
(The excerpt above is by James Taranto in his "Best of the Web" post Dec. 15 at The Wall Street Journal)
Identifying Media Bias
To accurately identify different types of bias, you should be aware of the issues of the day, and the liberal and conservative perspectives on each issue.
Types of Media Bias:
Questions
Mr. Taranto writes: "Although the Times report avoids overt editorializing, it seems to imply that it would be wrong to exclude aliens who merely express 'anti-American sentiment.'" Do you agree with his analysis?  Explain your answer.

Scroll down to the bottom of the page for the answers.
Answers
Opinion question. Answers vary.