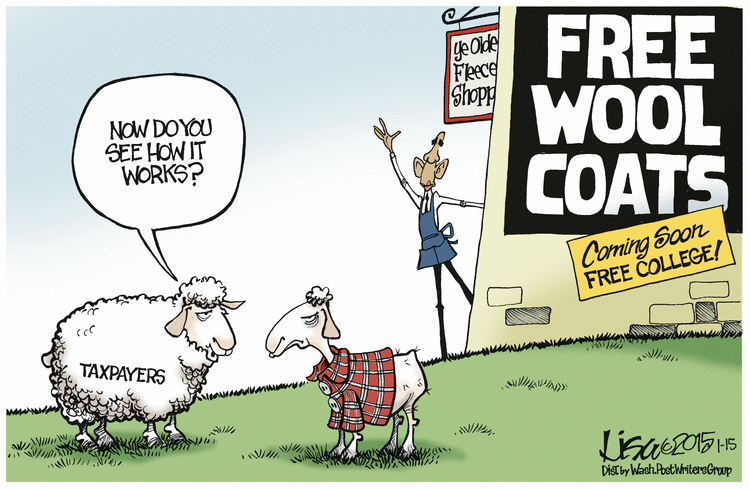 redo Jump to...
print Print...
Example of Media Bias:
From an MRC Business post by Sam Dorman on Feb. 25:
On Jan. 31, USA Today reported that some states were considering "free" tuition policies in 2016 saying, "Free college is not just a pipe dream in this country."
In 2015, Democratic politicians including President Obama promised "free" tuition that the White House [said] would cost

$80 billion over a decade

.

Senator and presidential candidate Bernie Sanders had a tuition proposal that would cost $700 billion over a decade.

The media…repeatedly described proposals for government-provided tuition as "free" and rarely mentioned the billions it would cost taxpayers.
ABC, NBC, and CBS morning and evening news shows promoted the Democrat push for "free" tuition and mostly left viewers in the dark on how much it would cost. Viewers heard government-provided tuition described as "free" in most stories and more than 8 times as often as they heard any cost estimates (17 to 2). ….
Before he started his campaign, Sen. Bernie Sanders, Vt., proposed spending hundreds of billions of dollars to make four years of tuition free at public colleges. According to USA Today, that would cost taxpayers the outrageous sum of $700 billion over a decade. That would translate into approximately $2,195 per American, but the networks didn't tell their viewers that.
Instead, ABC's George Stephanopoulos suggested during the Oct. 18, 2015 broadcast of Good Morning America, that Sanders' promise of free tuition made socialism more appealing to the electorate. He cited a Gallup poll showing half the country opposed electing a socialist president, but then claimed Sanders is "redefining it." …
Sanders also touted "free" tuition on NBC's and CBS's morning shows, but was not asked about the actual cost.
And rather than a critical examination of the president's plan, NBC practically jumped on the bandwagon. Nightly News reported on Jan. 9, 2015, Obama was rolling out his plan to provide community college tuition "free" of charge. "Two years of college will become as free and universal as high school is today," Obama claimed, in video NBC included that night. …
Although the media reported on the president's grand promise, the majority of those stories failed to [even mention] that The White House itself said Obama's tuition plan would cost taxpayers $80 billion over a decade.
In fact, viewers didn't hear that $80 billion figure at all from the networks. Instead, the networks downplayed the cost to taxpayers by citing just a portion — the federal cost of $60 billion —  knocking 25 percent off the cost. The network stories, including Jansing's Jan. 9, report completely ignored the additional $20 billion state cost. All of which would fall on taxpayers.
NBC Today co-anchor Matt Lauer also missed opportunities to ask key members of the Obama administration about the cost of his…"free" tuition policy. Lauer interviewed both White House Chief of Staff Denis McDonough and Vice President Joe Biden after stories mentioning the plan for government-provided tuition.
Lauer … [did not mention] the multi-billion dollar price tag. Lauer should have [questioned the assertion] of "free" tuition.
White House Chief of Staff  McDonough complained on Jan. 20, 2015, about the rising cost of college which was ironic considering that the president's plan to boost federal aid would likely inflate [increase excessively] the cost of tuition, not relieve it. In a 2015 study, the Federal Reserve Bank of New York found a positive relationship between higher student aid and the cost of tuition, suggesting that aid led to higher costs.
According to Forbes, the Federal Reserve "found that for every dollar that Pell Grants are increased, college tuition goes up by 55 cents. In other words, the students pay an extra 55 cents in tuition for every dollar of Pell Grant they receive, meaning they only save 45 cents in terms of out-of-pocket costs."
Methodology: MRC Business analyzed Nexis transcripts from ABC, CBS and NBC morning and evening news programs (This Morning, Good Morning America, Today, World News, Evening News and Nightly News) that contained the word "tuition" between Jan. 1, 2015, and Feb. 13, 2016, to find the news reports about proposed tuition policies. If someone described the "tuition" as free, MRC counted that as a mention of free tuition. In total, 17 of the 19 stories or news briefs about tuition described it as free. Only two stories included cost estimates.
From an MRC Business post by Sam Dorman on Feb. 25.
Identifying Media Bias
To accurately identify different types of bias, you should be aware of the issues of the day, and the liberal and conservative perspectives on each issue.
Types of Media Bias:
Questions
1. A reporter's job is to present a balanced story. What types of bias do the networks exhibit by leaving out the cost to taxpayers of free college tuition for all?
2. In his report, Sam Dorman also states, "In a 2015 study, the Federal Reserve Bank of New York found a positive relationship between higher student aid and the cost of tuition, suggesting that aid led to higher costs."  Why is it important for the media to report on the cost to taxpayers?

Scroll down to the bottom of the page for the answers.
Answers
1. The post illustrates bias by omission and spin.
2. The networks misrepresent the program. It is not "free" as taxpayers will have to absorb the cost.  If it really is a good plan, the reporter should present all of the facts to the viewers and allow them to decide for themselves if they want to support candidates who are promoting this program.
See Lisa Benson's tuition cartoon from a 2015 post.