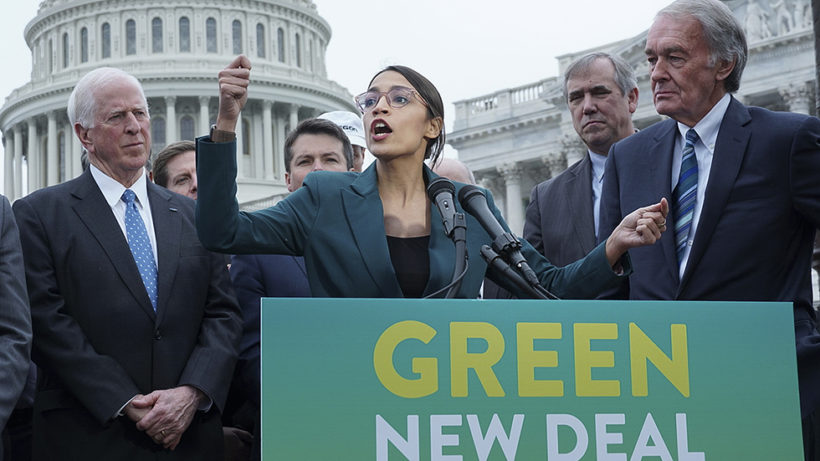 redo Jump to...
print Print...
Example of Media Bias:
The Green New Deal is Democratic-Socialist Rep. Alexandria Ocasio-Cortez's plan to fight climate change. Seven Democratic senators either running for the 2020 Democratic presidential nomination or considering it have signed on as co-sponsors to the Green New Deal.
The central goal of the Green New Deal is to achieve "a greenhouse gas neutral society" in 10 years and includes such measures as:
upgrading or replacing all buildings in the United States to be energy efficient in 10 years
substituting air travel with high-speed rail in 10 years
phasing out the use of fossil fuels* entirely in 10 years (*coal, oil, gas used to generate electricity and power our vehicles)
The resolution itself, released by Rep. Ocasio-Cortez (N.Y.) and Sen. Ed Markey (D-Mass.) on February 7, uses a report on global warming released by the United Nations last October on catastrophic climate change, claiming it will occur unless we do something about it in the next 12 years.
In an interview in January, Rep. Ocasio-Cortez said, "Millennials and Gen Z and all these folks that come after us are looking up, and we're like, 'The world is going to end in 12 years if we don't address climate change, and your biggest issue is how are we gonna pay for it?' "
Although Ocasio-Cortez's public announcement about the Green New Deal was widely reported on, some specific details were not reported.
Following concerns over the details of the plan, which Rep. Ocasio-Cortez listed in a fact sheet, the fact sheet was removed from Rep. Ocasio-Cortez's website, and she and her team claimed the fact sheet had been doctored with false/inaccurate points. They had to backtrack on that claim as the original factsheet is available in numerous locations. (Including here and here.) 
One criticism was of a guarantee of "economic security for all who are unable or 'unwilling' to work."  (See the "Overview" section.) Green New Deal advisor Robert C. Hockett stated that this line was present only in "doctored" versions of the FAQ, but later said he had been "mistaken" [because it really is part of the Green New Deal].
Daniel Turner at The Daily Signal notes:
The Green New Deal calls for moving to 100 percent renewable or net zero-emission energy sources within 10 years. According to a fact sheet distributed by Ocasio-Cortez's office, the goal is to "decommission every nuclear plant in 10 years" while not creating any new nuclear plants. (The Green New Deal also opposes hydropower [electricity generated by water].)

…Despite billions of dollars in federal subsidies [taxpayers' money] to incentivize the [advancement of wind and solar technologies], fossil fuels and nuclear power remain the foundation of our energy.
Rep. Ocasio-Cortez and Sen. Markey's introduction of the Green New Deal on Feb. 7 was widely reported on. However, the extreme details were left out in every news report. See a few examples below of how the story was reported:
CNN: "Ocasio-Cortez and Markey unveil Green New Deal resolution" – by Devan Cole and Sunlen Serfaty (this link Updated 9:32 PM ET, Thu February 7, 2019)
No mention of controversial points of the plan
CBS News: "Green New Deal: Alexandria Ocasio-Cortez introduces economic plan" – by Rachel Layne (this link Updated on: February 7, 2019 / 9:03 AM)
No mention of controversial points of the plan
The Hill: "Ocasio-Cortez unveils Green New Deal climate resolution" – by Miranda Green, 02/07/19 09:23 AM EST
No mention of controversial points of the plan
*NOTE: Note: Ocasio-Cortez's office has taken down their page describing the Green New Deal. It is saved here and here.
Identifying Media Bias
To accurately identify different types of bias, you should be aware of the issues of the day, and the liberal and conservative perspectives on each issue.
Types of Media Bias:
Questions
1. The Green New Deal, if passed, would cause a radical transformation of the U.S. economy which would affect every American. This is why it is important for voters to understand what is in it. Why do you think reports overall did not report on how it would transform our economy or question the trillions of dollars it would cost taxpayers?
2. What type of bias is displayed in reporting on the Green New Deal?
3. After some conservatives questioned the provisions in this proposed legislation, Rep. Ocasio-Cortez claimed there were "multiple doctored (fake) versions" of her plan – which was actually not true.  Why do you think she and other backers would make this claim?
4. Spanish language networks Telemundo and Univision did not report on Rep. Ocasio-Cortez's announcement. How will people who get their news from those outlets be informed voters? What type of bias do these news outlets display?
CHALLENGE:
The reason why this Democratic-Socialist proposal is important for every voter to understand, especially 18-24 year olds, is that Rep. Ocasio-Cortez has widespread support in that voter age group.  In polls, a majority of young people support Socialism – without understanding what it is.
(Note: the plan claims 92% of Democrats and 64% of Republicans support it. It is unclear where these numbers came from or if they are accurate.)
Consider the provisions of the proposal, as well as the explanation of how it will all be paid for. Do you support this plan? Ask a parent the same question and discuss your answers.

Scroll down to the bottom of the page for the answers.
Answers
1. Opinion question. Answers vary.
2. Bias by omission and spin.
3. Opinion question. Answers vary.
4. Bias by story selection and omission.