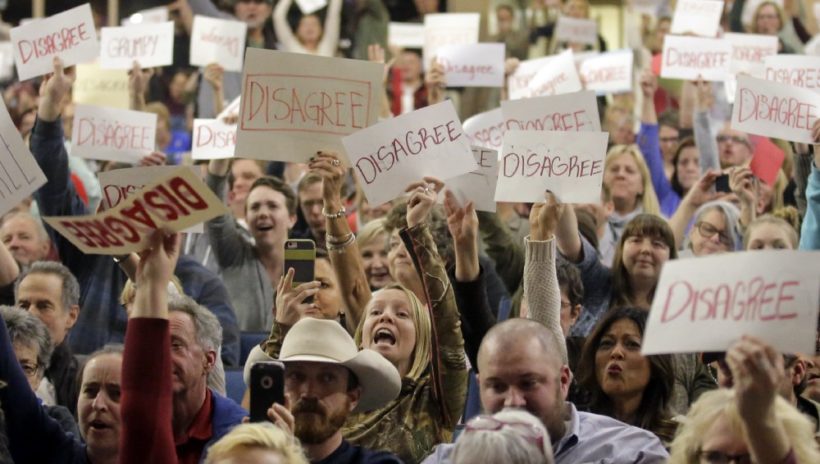 redo Jump to...
print Print...
Example of Media Bias:
(by Fred Lucas, The Daily Signal, Feb. 10, 2017) – Democrats who used to work on Capitol Hill are helping to disrupt Republican lawmakers' town hall meetings across the country through a nationwide effort to oppose and "resist" President Donald Trump's agenda. …
They call their group Indivisible Guide, a name that came from an actual guide posted online telling activists how to pressure members of Congress. Among topics: what to say when going to town halls and calling or visiting a member's office.
Leaders of the organization have loose ties to George Soros, the billionaire hedge fund manager who bankrolls liberal causes, according to the Capital Research Center, a conservative think tank that investigates nonprofits.
…Board members of Indivisible Guide denied financial backing from Soros. …while the Capital Research Center argues that Indivisible Guide's board has indirect ties with left-leaning groups funded by Soros, as well as with other liberal organizations. …
Indivisible Guide boasts that it has disrupted town halls held by Republican lawmakers in Utah, California, Pennsylvania, Indiana, Michigan, and Nebraska. And the group, which amplifies its message over Twitter and other social media, promises it isn't finished.

Politico reported that local activists shouted down Rep. Justin Amash, R-Mich. Police had to escort Rep. Tom McClintock, R-Calif., at a town hall meeting because of protesters.
One CNN report presented the disruption of a town hall meeting held Thursday night by Rep. Jason Chaffetz, R-Utah, as a sign of a "grassroots" reaction to Trump such as the taxpayer-based tea party movement was against the Washington establishment.
… The website of Indivisible Guide, also known simply as Indivisible, provides scripts for what activists should say when calling the office of their House or Senate members on various issues—among them opposing senior Trump adviser Steve Bannon's role in the White House, Trump's nomination of Neil Gorsuch to the Supreme Court, his refugee policy, and most other policy positions.
The website says:
More than 4,500 local groups have signed up to resist the Trump agenda in nearly every congressional district in the country. What's more, you all are putting the guide into action—showing up en masse to congressional district offices and events, and flooding the congressional phone lines. You're resisting—and it's working. … we want to demystify the heck out of Congress and build a vibrant community of angelic troublemakers.
Longstanding liberal groups MoveOn, the Working Families Party, and the ACLU have joined Indivisible Guide's effort.
Just two days after Trump's Jan. 20 inauguration, Indivisible Guide, MoveOn .org, and the Working Families Party organized a teleconference for activists that attracted 60,000 listeners, Politico reported.
Indivisible did another call with the ACLU focusing on Trump's executive order aimed at increasing the vetting of immigrants from seven terrorism-prone Middle Eastern countries; it drew about 35,000 listeners.
MoveOn .org is conducting "Resist Trump" rallies across the country. The ACLU issued pamphlets about how to demonstrate, including for protesters who attempted to disrupt Washington during Trump's inauguration.
In running for the Democratic presidential nomination, Sen. Bernie Sanders, I-Vt., called the Working Families Party "the closest thing there is to a political party that believes in my vision of democratic socialism."
Identifying Media Bias
To accurately identify different types of bias, you should be aware of the issues of the day, and the liberal and conservative perspectives on each issue.
Types of Media Bias:
Questions
1.What type of bias does the media display in not publicizing the background of Indivisible?
2. If former Republican congressional staffers formed a group to oppose and "resist" President Barack Obama's agenda when he was elected, do you think the media would report that story differently from this one? Explain your answer.

Scroll down to the bottom of the page for the answers.
Answers
1. Bias by omission and spin.
2. Opinion question. Answers vary.
---
What is Indivisible?
Doug Criss of CNN states on 2/11/17:
Indivisible is a group that's pretty much opposed to all things Trump.
Indivisible's guide … was on the Internet by December [2016].
Indivisible became a nonprofit about three weeks ago [in January 2017].