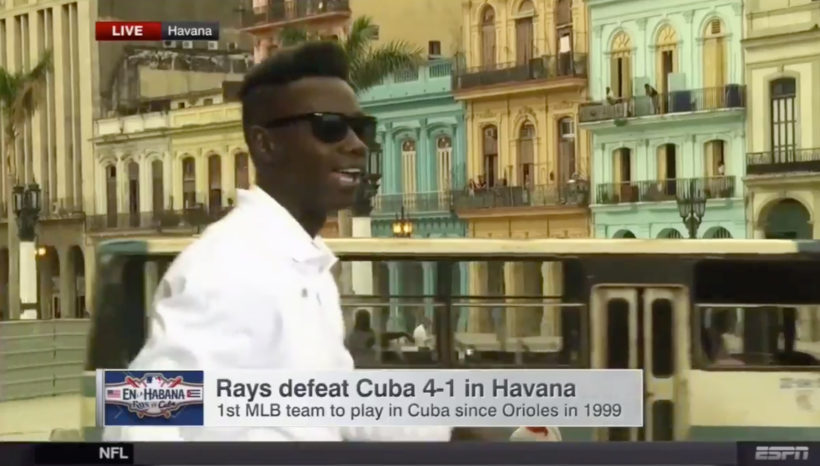 redo Jump to...
print Print...
Example of Media Bias:
From a CapitolHillCubans report:
On Wednesday afternoon, after the Tampa Bay Rays played the Cuban national team, Cuban dissidents interrupted a live ESPN broadcast chanting "Freedom for Political Prisoners!" and "Down With Castro!"

They were then intercepted and dragged off by secret police officials.
ESPN was in Cuba to cover President Obama's visit. He had just attended the baseball game with Cuban dictator Raul Castro.
Anchor Bob Ley was reporting live as shouts could be heard off camera and paper was thrown in the air as a young Cuban man  jumped into the shot.
"We have a moment here with a political demonstration on our set," Ley said, stepping out of the frame.
The man threw papers into the air and yelled before being pulled down. The protester, as well as several others, could be seen being dragged away by "plain clothes policemen," according to Ley. One man was aggressively thrown into the back of a police car, with his hands waving wildly. Ley said:
"Astonishingly, as soon as (the paper) hit the ground, they made several arrests, they were taken off here — dragged off here — one dissident was taken off, police restraining him by the neck, putting him in a car, so they've been taken away."
Local reporter Yusnaby Perez posted the video, tweeting (translated to English), "This occurred in #LaHabana minutes after leaving Obama. Opposition disrupts shot live and imprisoned it #Cuba."
Watch the video:
Most U.S. media did not report on the violent arrest of these peaceful protesters who called "Freedom for Political Prisoners!" and "Down With Castro!"  Instead:
The headlines below are a story from President Obama's visit that the media did judge was newsworthy:
"Must see: President Obama and Raul Castro do the wave" (USA Today)
"WATCH: President Obama does the wave with Cuban president Castro" (CBS Sports)
"Obama, Castro Do 'the Wave' at Baseball Game" (NBC News)
"Watch President Obama Do the Wave With Raúl Castro at a Baseball Game" (TIME Magazine)
"WATCH: President Obama, Raul Castro do the wave" (ABC News)
"Obama Does The Wave With Castro At Cuban Baseball Game" (MSNBC)
Identifying Media Bias
To accurately identify different types of bias, you should be aware of the issues of the day, and the liberal and conservative perspectives on each issue.
Types of Media Bias:
Questions
1. What types of bias are illustrated in this post?
2. Why do you think American media outlets did not find this young man's quest for freedom newsworthy?
3. Watch the ESPN video with the young man calling for freedom. Which do you think the media should have focused on: Why he was protesting? His age…his race….his fate (what happened to him and those with him? what type of treatment will they receive?…)

Scroll down to the bottom of the page for the answers.
Answers
1. The media completely ignored this astonishing event: a young Cuban man in this repressive regime willing to risk probable imprisonment and mistreatment by Castro's police. This demonstrates bias by: story selection (Obama and Castro doing the wave: newsworthy; young Cuban man being hauled off to jail for expressing his desire for freedom: not newsworthy)  and omission (every news outlet chose not to report this story).
2. Opinion question. Answers vary.
3. Opinion question. Answers vary.