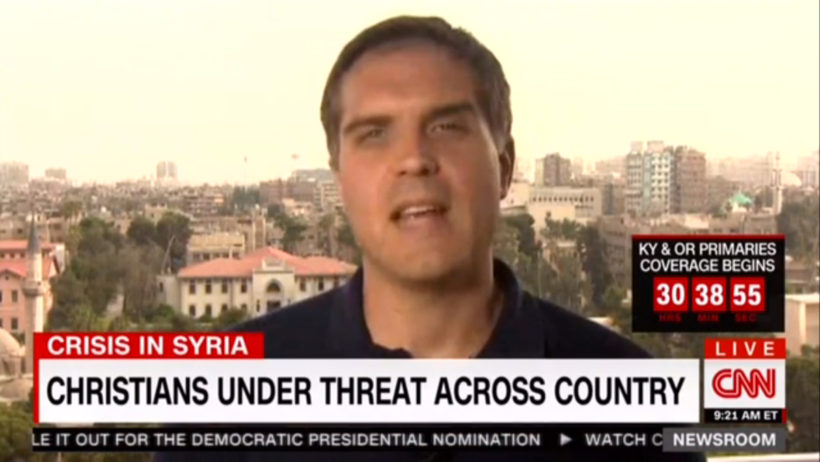 redo Jump to...
print Print...
Example of Media Bias:
Monday morning on CNN's Newsroom, international correspondent Frederik Pleitgen gave a report on a topic the media often ignores: Christians persecuted by Islamic radicals. Host Carol Costello introduced Pleitgen's report on "Syria's most famous Christian town" by describing how "Jihadist groups" were "vowing to oust Christians from Syria, burning down Christian [towns] and destroying priceless icons."
Pleitgen noted that "several townspeople are still missing" and all of the children he spoke to had fled their homes.
CNN ended their report by noting the "sad situation" of the "defiant" Christians "living in fear" in Ma'Loula. Pleitgen noted that what "really got" to him and the CNN crew was the fact that this was the last remaining place on earth that still speaks and keeps the language of Jesus, Aramaic, alive to this day. Pleitgen noted that was now at risk because of the Islamist militants. (excerpted from a May 16 report by Kristine Marsh at mrc .org)
Watch the CNN report below:
Identifying Media Bias
To accurately identify different types of bias, you should be aware of the issues of the day, and the liberal and conservative perspectives on each issue.
Types of Media Bias:
Questions
1. CNN's is just one report on the plight of Syrian Christians (or Arab Christians in the Middle East).  What type of bias does the media display by ignoring this or similar stories?
2. Christianity, which originated in the Middle East in the 1st century AD, had been one of the major religions of the region from 4th-century Byzantine reforms and until the Arab Muslim conquests of the mid-to-late 7th century AD. Christians now make up 5% of the Middle Eastern population, down from 20% in the early 20th century. International Business Times reported in January 2016: "Middle East Christians Flee: Populations In Syria, Egypt, Palestine and Iraq Dwindle Amid Strife"
Should this be a news story? Explain your answer.
CHALLENGE: Do an internet search for 'Muslim hate crimes' or 'anti-Muslim attacks.' Then do a search for 'Christian hate crimes in the Middle East' or 'anti-Christian attacks.'  Does the media fairly and accurately report on these topics?

Scroll down to the bottom of the page for the answers.
Answers
1. Bias by story selection.
2. Opinion question. Answers vary.