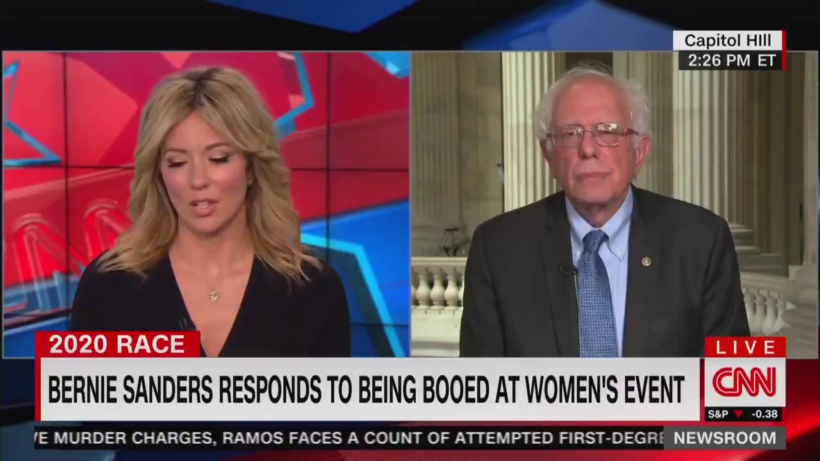 redo Jump to...
print Print...
Example of Media Bias:
Each of the 2020 Democratic presidential candidates have remained silent about the mass protests in Venezuela on Tuesday as Venezuelans called on socialist President Nicholas Maduro to step down.
Even Sen. Bernie Sanders (I-Vt.), a self-proclaimed socialist who received the endorsement of Venezuelan dictator Nicolás Maduro in 2016, has been able to avoid speaking about the clearest case of socialist ruin and oppression in recent decades.
CNN's Brooke Baldwin interviewed Sanders on Tuesday afternoon, but did not ask him a single question about the breaking news out of Venezuela. She did not ask about Maduro's endorsement or about Sanders's refusal to call Maduro a dictator this past February.
As the Daily Wire's Ryan Saavedra pointed out, Baldwin interviewed Sanders for 12 minutes, and did not ask him a single question about Venezuela.
Immediately after interviewing Sanders, Baldwin turned to Venezuela, as if the two stories had nothing in common.
Yet Sanders's advocacy for big government takeovers of various industries — most recently the health care industry — could bring the same kind of poverty and tyranny Venezuela is currently experiencing to the U.S. America's freedom and prosperity are far from guaranteed — in fact, these benefits are extremely rare in world history, while government oppression is far too common.
Self-declared democratic socialists like Sanders – and Congresswomen Alexandria Ocasio-Cortez (D-N.Y.) and Rashida Tlaib (D-Mich.) should address the struggle for freedom in Venezuela.
During the insurrection, armored cars ran into protesters. Yet not a single Democratic presidential candidate spoke out about this horror.
CNN's Brooke Baldwin should be ashamed of herself for not asking Sanders a pivotal question on the breaking news of the day — a question he should answer, given Maduro's endorsement of his candidacy.
Democrats cannot ignore the horrific tyranny in Venezuela or opposition leader Juan Guaidó's struggle to liberate his country. …These representatives [should be asked to] explain why the socialism that destroyed Venezuela is a good idea in America. …
(Excerpted from a post by Tyler O'Neil, PJMedia, April 30)
---
Watch the end of the interview by Brooke Baldwin and her switch to Venezuela immediately after:
Identifying Media Bias
To accurately identify different types of bias, you should be aware of the issues of the day, and the liberal and conservative perspectives on each issue.
Types of Media Bias:
Questions
Why do you think CNN's Brooke Baldwin would not ask presidential candidate Bernie Sanders – a Democratic Socialist who was endorsed by socialist president Nicholas Maduro – about the breaking news from Venezuela during a 12 minute interview?

Scroll down to the bottom of the page for the answers.
Background
Venezuela's interim president Juan Guaidó and Leopoldo López — whom sympathetic soldiers freed from house arrest at dawn — went to a military base on Tuesday and declared the "final phase" of their effort to topple de facto president Nicolás Maduro. What happened that led to this?
First, Maduro became a full-blown dictator in January 2016, when he stripped the opposition-controlled National Assembly, Venezuela's congress, of virtually all powers. (In December 2015, the opposition had won legislative elections by a landslide, despite Maduro's use of massive state resources and press censorship to support his candidates.)
Second, Maduro single-handedly stacked the National Electoral Council with cronies to prevent future opposition election victories. The new government-backed electoral body convened a sham election and created a substitute congress with hand-picked legislators, called the Constituent Assembly. In other words, Maduro usurped the constitutional powers of congress and created his own legislative power.
Third, Maduro re-elected himself to a new term in a fraudulent May 20 election, without allowing any credible international observers and after banning Venezuela's top opposition leaders from running against him.
Fourth, Maduro illegally proclaimed himself president for a new full term in office on Jan. 10, 2019, despite international warnings that such a move would be unconstitutional.
Almost immediately, more than 50 world democracies — including the United States, Brazil, Colombia, Argentina and virtually all 28 members of the European Union — declared Maduro an illegitimate president and recognized National Assembly leader Guaidó as Venezuela's interim leader, in charge of convening new elections. (from the Miami Herald)
Answers
Opinion question. Answers vary.