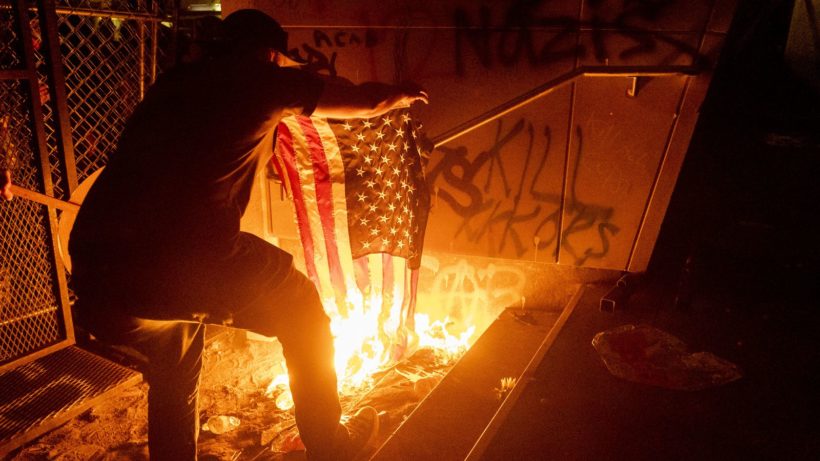 redo Jump to...
print Print...
Example of Media Bias:
The Associated Press Stylebook was amended this week to discourage the use of the word "riot" to describe violent protests, instead expanding the definitions of "protest"  and "demonstration" to include violence.
"Use care in deciding which term best applies: A riot is a wild or violent disturbance of the peace involving a group of people. The term riot suggests uncontrolled chaos and pandemonium," said the AP Stylebook, which sets style guidelines followed by many mainstream media publications.

"Focusing on rioting and property destruction rather than underlying grievance has been used in the past to stigmatize broad swaths of people protesting against lynching, police brutality or for racial justice, going back to the urban uprisings of the 1960s," it added.

"Unrest is a vaguer, milder and less emotional term for a condition of angry discontent and protest verging on revolt."

"Protest and demonstration refer to specific actions such as marches, sit-ins, rallies or other actions meant to register dissent. They can be legal or illegal, organized or spontaneous, peaceful or violent, and involve any number of people."
The recommendation comes after months of rioting and looting in cities nationwide sparked by the death of George Floyd in May.
Riots in the immediate aftermath of the police shooting of Jacob Blake in Kenosha, Wis. in August led to the fatal shooting of two people and caused an estimated $2 million in damage to city-owned property alone. Violent demonstrations across the country have also injured a number of law enforcement officers, including in Portland, Ore. where riots have raged for more than 125 days straight.
Merriam-Webster Dictionary defines a riot as "violent public disorder, specifically a tumultuous disturbance of the public peace by three of more persons assembled together and acting with a common intent."
The Associated Press called for the use of "unrest" in place of "riot" when referring to property destruction caused by rioting.  (by Brittany Bernstein, Oct. 1, National Review)
Identifying Media Bias
To accurately identify different types of bias, you should be aware of the issues of the day, and the liberal and conservative perspectives on each issue.
Types of Media Bias:
Questions
Note:  The AP Stylebook, per Wikipedia, is: "an English grammar style and usage guide created by American journalists working for or connected with the Associated Press. …The Stylebook offers a basic reference to grammar, punctuation and principles of reporting, including many definitions and rules for usage as well as styles for capitalization, abbreviation, spelling and numerals."
1. What type of bias does the AP display by instructing journalists and others to refrain from using the word "riot" to describe violent actions taken by some protesters in cities across the country and instead use "protest" or "unrest"?
2. If news consumers are not aware of this switch, how do you think it might affect their view of the riots?

Scroll down to the bottom of the page for the answers.
Background
WHAT IS THE ASSOCIATED PRESS?
The Associated Press (AP) is a news service that provides content of all kinds to thousands of newspapers, radio stations, television networks and web sites. The Associated Press is the most commonly used of all news services.
The AP reports: "More than half the world's population sees AP journalism every day."
It especially important for all AP reporters to be fair and accurate because of its size and reputation.
The AP comprises 242 bureaus and employs 3,700 people worldwide. It serves 1,700 U.S. newspapers and 5,000 radio and TV outlets. There are also 8,500 international subscribers [news outlets] covering 121 total countries of the 196 independent countries in the world. A large majority of news reports today are from AP reporters.
As you read news in the future, begin to look for AP next to the dateline of a news article.  It indicates that the story was written by an AP reporter and purchased by the newspaper.  A dateline is a line at the beginning of a news story giving the name of city from which the story was sent.  Note the number of news articles coming from the same source – the AP
From the Associated Press' "NEWS VALUES AND PRINCIPLES": We are The Associated Press. We have a long-standing role setting the industry standard for ethics in journalism. It is our job — more than ever before — to report the news accurately and honestly.
Answers
1. Bias by spin.
2. Opinion question. Answers vary.