(by Lance Fairchok, AmericanThinker.com) – This Memorial Day our nation has been at war for over [six] years against a brutal and intractable enemy. Most Americans know only what they hear in news sound bites and see in flashing images on TV, as the attacks of 9-11 fade from our memory and no sacrifice is required of our citizens; the battles our soldiers fight become part of the background noise, the evils they shield us from distant and unreal.
The strength of our nation lies in our ability to defend our institutions and our culture, and in the willingness of our citizens to take a stand for the rights and against the wrongs that they hold incontrovertible. We are guarded by the knowledge that whatever our origin and whatever our beliefs, regardless of politics or ideology, the essence of America seeps deep into our hearts and that defending what she stands for is not only right, it is an honor and a hallowed duty. Out of the fiery crucible of history, our union has emerged stronger than any that came before her, in large part by the sacrifice of our soldiers.
Unlike previous generations, few Americans know a service member or have served themselves; the military is a distant and poorly understood institution, often maligned and frequently misrepresented. Despite this, and like those courageous generations that came before us and sacrificed to build the prosperity we enjoy, there are always those who step forward to answer the nation's call. It is these brave few that we remember and honor on Memorial Day. Remarkable men and women, the best of us, to whom we owe so much, that perished in their duty. Their loss is a great sadness, but it is a greater sadness still that so few of us know their names.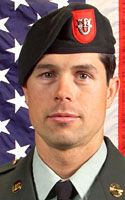 Sergeant Timothy Padgett, from DeFuniak Springs in Walton County Florida, was 28 years old when he died in a firefight in Helmand Province, Afghanistan. Sgt Padgett was a Special Forces medic. He almost certainly spent more time helping remote villages and their children than he did the wounded in combat. That is what the Green Berets do; that is what Americans do. He came home last spring in a flag draped casket, to a small town that remembers him as a volunteer firefighter, who had his Mom drive him to fires before he got his driving license in high school. He understood at a young age what citizenship means. He was the youngest of three, and his mother calls him her baby. Her heart is broken, yet she respects his decision to serve, and in that heartrending sadness, she is proud of his bravery, his dedication and his desire to help others.
I was on Hurlburt Field, the local Air Force Base the day they brought Sgt Padgett home to Florida. As I came through the terminal of the Base Operations building, I saw a thousand young Americans standing motionless. Dressed in Battle Dress Uniforms identical to each other, their faces as different as the many lands that sent immigrants to our shores; Korean, Italian, African, German, Polish, Chinese, Mexican, Russian. Each one profoundly American, and brave beyond any reasonable expectation, brave even beyond imagining. Many standing there were veterans of Afghanistan and Iraq; they had seen the enemy's vision for our future. They had fought him, and they know the depravity of his ideology. They stood in silent ranks as an honor guard carried the casket in a solemn cadence past them; each individual salute a personal tribute, so precise, so intent, they utterly shamed me.
To most Americans this dignity is reserved for Presidents and Statesmen, yet these young volunteers give it to comrades fallen in battle, a warrior's farewell, as proud and as powerful as anything I have ever seen. It was appropriate, yet somehow insufficient. There should have been busses here, with teachers and students, construction workers, doctors, lawyers, families with children, immigrants, everyday people, standing silently and respectfully, standing with the bravest of us, standing in tribute to who we are, thankful for all we have, thankful for this brave, honest, eager young man. There should have been thousands.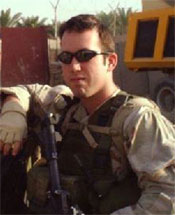 Twenty Three year old Sgt Eddie Jeffers died in Iraq on September 19th, 2007. Eddie was from Daleville Alabama. He was on his second tour and newly married. His father has pictures of Eddie on his desk, pictures of a tall young man in uniform, smiling with his proud father, pictures of a warm and loving relationship, images that are doubly precious now. The February before his death, Eddie wrote an article entitled "Hope Rides Alone," about the frustration he and his men felt about how the press and our political leaders were spinning the war. They battled a vile enemy and were there to win. Eddie was a patriot, not in the sense of blind nationalism, but with an intuitive understanding of what freedom brings to humanity. He believed in liberty, he believed that people had the right to freedom whether they lived in America or Iraq, he believed in the innate goodness of man even as he fought profound evil.
"We are the hope of the Iraqi people. They want what everyone else wants in life: safety, security, somewhere to call home. They want a country that is safe to raise their children in. Not a place where their children will be abducted, raped and murdered if they do not comply with the terrorists demands. They want to live on, rebuild and prosper. And America has given them the opportunity, but only if we stay true to the cause and see it to its end."
Eddie's war was about freedom from tyranny and terror. For Eddie, there was no second-guessing, no moral confusion, no other option but to fight for what he believed in, for the people he saw everyday on the streets of Ramadi and Anbar Province.
Some people influence their world far beyond the wisdom of their years, far beyond the wisdom of their elders, far beyond the understanding of a nation that barely knows its children have gone to war. In a time when the battle lines are clear for those who have the eyes to see, the bravery, the loyalty, and the strength of these men should knock us to our knees in thanksgiving and humility. In the eternal battle between good and evil, each drop of blood they shed should be sacred to us, and remind us that the blessings we have are hard won, and fleeting.
On Memorial Day Eddie's father does not know what he'll do or where he'll go. The pain of losing his son is too fresh, too deep. He knows Eddie believed in what he was doing, and he knew his family loved and supported him. He takes some comfort in that. He wears a gold star on his lapel every day; one is in his window, and one on his car. They are his daily tribute to his son.
Remember Eddie, Timothy, and their families. Remember there are many more like them across the nation, whose children, husbands and wives still serve in the dangerous places of the world. Think of the wounded and maimed, the recovering and scarred who were so brave and so young and who suffer still. Remember them and say a prayer before you gather to enjoy this solemn holiday with family and friends. Think how terrible our world would be if they had not been willing to do what they have done, what so many like them still do.
This article was first posted at AmericanThinker.com on May 25, 2008. Reprinted here May 14, 2009 for educational purposes only.
Questions
1. What is the commentator's purpose for writing this article?
2. Why is it important for Americans to remember those who died serving our country?
3. Mr. Fairchok writes in paragraph 6:
"There should have been busses here, with teachers and students, construction workers, doctors, lawyers, families with children, immigrants, everyday people, standing silently and respectfully, standing with the bravest of us, standing in tribute to who we are, thankful for all we have, thankful for this brave, honest, eager young man. There should have been thousands."
Do you agree with his assertion? Explain your answer.
4. Most towns hold Memorial Day services to remember those who died while in service to our country. What is your town doing to commemorate the dead? (Check your local paper, or call your Town Hall or local AmVets or VFW to learn the details.) Think about attending the service with your family or friends to honor those who died to keep us free.