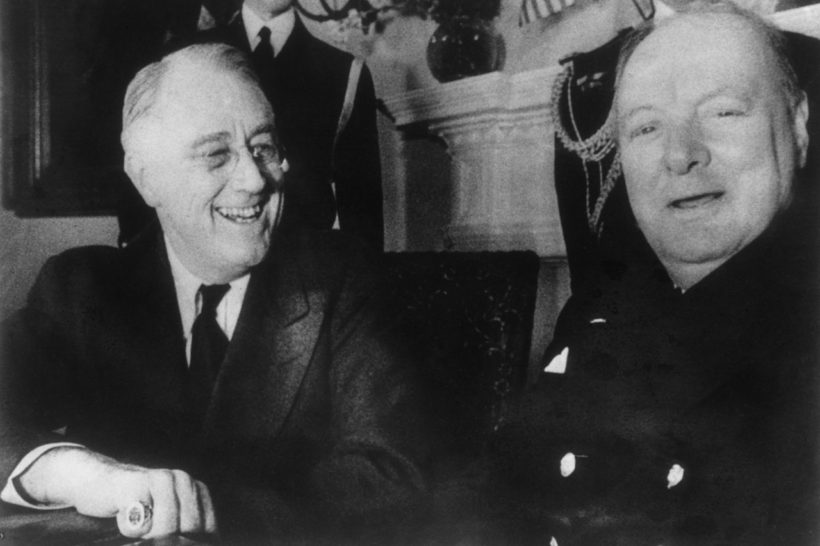 redo Jump to...
print Print...
(Mark Tooley, Spectator) — British Prime Minister Winston Churchill arrived in Washington, D.C. on December 22, 1941, just two weeks after the Japanese attack on Pearl Harbor had made Britain and America war-time allies.  Though Churchill was politically right of center and U.S. President Franklin Delano Roosevelt left of center, they were kindred spirits as champions of democracy against the totalitarian Axis powers.
Churchill's visit was a public relations smash. FDR had him stand on a chair in his crowded office so all the White House press could see the premier.
On Christmas Eve, Churchill joined FDR on the White House balcony to help light the National Christmas Tree, where FDR invited him to address the crowd after his own speech.
Churchill later addressed a joint session of Congress, which thrilled to his recitation of Britain's defiance of Hitler during the Blitz. Churchill also accompanied FDR to a wreath laying at Mt. Vernon, honoring American Founding Father George Washington, who had defeated the British monarchy in a war for independence.
In addition, Churchill accompanied FDR twice to church, once on Christmas, and once on New Year's Day. FDR was more of a faithful churchman than Churchill, who reputedly had likened himself to a "flying buttress" who supported the church from the "outside." But both were reared in a similar Anglican denomination, accustomed to the Book of Common Prayer, and to the great old Anglo and American hymns. Both appreciated the majesty and symbolism of public worship, especially in war time, in vivid contrast to the pagan Fascism of their enemies.
During the Christmas Eve tree lighting on the White House south lawn, the Marine Band had performed "Joy to the World" and the "Hallelujah Chorus" from Handel's "The Messiah."
On Christmas Day, FDR took Churchill to Foundry Methodist Church, about a mile north of the White House. The minister prayed for "those who are dying on land and sea this Christmas morning." Churchill later remembered of the service:
"Certainly there was much to fortify the faith of all who believe in the moral governance of the universe."
Surprisingly, it was the first time Churchill ever heard "O Little Town of Bethlehem," written 75 years earlier by a Philadelphia pastor while visiting the Holy Land during Christmas. Memorably, the hymn declares:
"Yet in thy dark streets shineth the everlasting light; the hopes and fears of all the years are met in thee tonight."
According to historian David McCullough's book "In the Dark Streets Shineth: A 1941 Christmas Eve Story," both FDR and Churchill typically "sang lustily, if not exactly in tune."
A week later, on New Year's Day, FDR took Churchill to Christ Episcopal Church in Alexandria, where George Washington and Robert E. Lee regularly worshiped. There Churchill again shed tears when he heard for the first time another song, "The Battle Hymn of the Republic," which he later instructed be played at his funeral, in 1965.
McCullough's book includes a DVD of the Mormon Tabernacle Choir singing Christmas music, with McCullough narrating. Fewer than 40 pages, "In the Dark Streets Shineth: A 1941 Christmas Eve Story" offers a pleasing remembrance of a very dark moment in the world, when the light of Christmas [and the hope found only in Jesus Christ] was especially needed.
Excerpted and adapted from a Dec. 10, 2010 article by Mark Tooley at Spectator .org.
---
Watch historian David McCullough describing Churchill's visit with FDR shortly after Pearl Harbor:
Questions
1..  Tone is the attitude a writer takes towards his subject: the tone can be serious, humorous, sarcastic, ironic, inspiring, solemn, objective, cynical, optimistic, encouraging, critical, enthusiastic…  Which word do you think best describes the tone of this editorial?  Explain your answer.
2. Watch the video of historian David McCullough describing Churchill's visit with FDR shortly after Pearl Harbor, including the importance of songs, especially "O Little Town of Bethlehem." (the song is detailed from 2:28 to 6:24 on the video).  What do you think Mr. McCullough's purpose is for relating this information about the song, as well as Churchill's reaction to it?
3. Toward the end of the video, Mr. McCullough explains:
"History isn't just dry dates and statistics – history is human.  History can be a great source of strength and affirmation, an aid to navigation especially in dark and dangerous times — and the words and music we love and that have stood the test of time mean still more when we know their story."
How does this encourage you?
Background
O Little Town of Bethlehem
O little town of Bethlehem
How still we see thee lie
Above thy deep and dreamless sleep
The silent stars go by
Yet in thy dark streets shineth
The everlasting Light
The hopes and fears of all the years
Are met in thee tonight
For Christ is born of Mary
And gathered all above
While mortals sleep, the angels keep
Their watch of wondering love
O morning stars together
Proclaim the holy birth
And praises sing to God the King
And Peace to men on earth
How silently, how silently
The wondrous gift is given
So God imparts to human hearts
The blessings of His heaven
No ear may hear His coming
But in this world of sin
Where meek souls will receive him still
The dear Christ enters in
O holy Child of Bethlehem
Descend to us, we pray
Cast out our sin and enter in
Be born to us today
We hear the Christmas angels
The great glad tidings tell
O come to us, abide with us
Our Lord Emmanuel
O come to us, abide with us
Our Lord Emmanuel
Written by Phillips Brooks, an Episcopal minister from Philadelphia, who was inspired to write it after visiting Bethlehem in 1865.