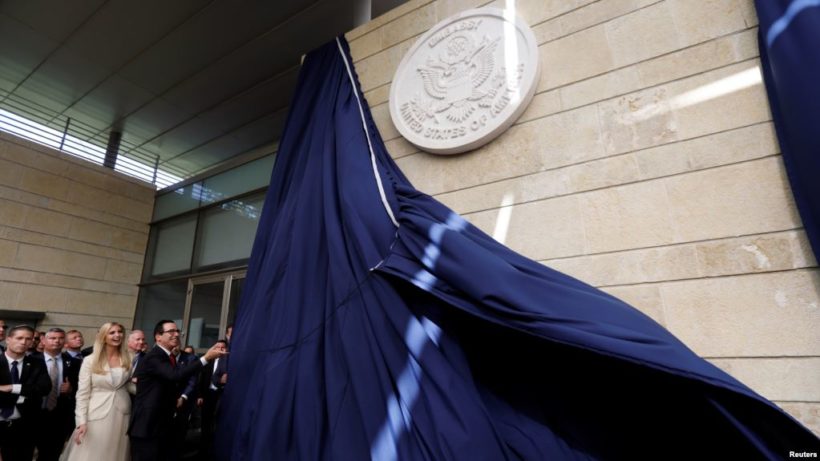 redo Jump to...
print Print...
Since 1995 it has been US law (the Jerusalem Embassy Act) that Washington's embassy in Israel must be moved from Tel Aviv to Jerusalem….
But every six months since the law was passed every US president has signed a waiver to hold off on a switch which would enrage Palestinians and their Arab supporters. (Presidents Bill Clinton, George W. Bush and Barack Obama chose to adhere to Palestinian demands rather than uphold U.S. law.)
The international community has never recognized Jerusalem as the capital of Israel or its unilateral annexation of a band of territory around the city's eastern sector, which it captured in the 1967 Six-Day war.
---
(by Brooke Singman and Judson Berger, Fox News) – The Trump administration officially opened the new U.S. Embassy in Jerusalem on Monday, May 14, [which is also the 70th anniversary of Israel's founding] in a historic move cheered by Israelis but met with mass protests from Palestinians that turned deadly in the lead-up to the ceremony, [as they tried to breach the border, despite repeated warnings from Israel that an attempted incursion would be met with military force].
Clashes at the border had left dozens of Palestinians dead and hundreds wounded by the time the ceremony ended. But Israel's prime minister Benjamin Netanyahu praised the Israeli security forces for protecting the Gaza-Israel border, as U.S. officials held out hope that the prospect of peace is still in reach.
…In moving the embassy from Tel Aviv to the holy city — a relocation long promised in Washington, but never honored by the past 3 presidents — Trump said during a video address to those assembled in Jerusalem, America was simply recognizing reality.
"For many years, we have failed to acknowledge the obvious, plain reality that the [Israeli] capital is Jerusalem. At my direction, the United States finally and officially recognized Jerusalem as the true capital of Israel," Trump said.
The relocation fulfills a key campaign promise of the president and makes good on Trump's recognition of Jerusalem as Israel's capital just months ago. To mark the occasion, the Trump administration sent a delegation including Ivanka Trump, son-in-law and senior adviser Jared Kushner, Secretary of the Treasury Steve Mnuchin, U.S. Ambassador to Israel David Friedman, and Deputy Secretary of State John J. Sullivan.
"The United States will always be a great friend of Israel and a partner in the cause of peace," Trump said in his video address. "We extend a hand in friendship to Israel, the Palestinians and to all of their neighbors. May there be peace."
Israeli Prime Minister Benjamin Netanyahu expressed how "deeply grateful" he and the Israeli people are to the U.S.
"President Trump, by recognizing history, you have made history…today the embassy of the most powerful nation on earth, our greatest ally, the United States of America, today the United States Embassy opened here. What a difference."
Netanyahu added that it was a "great day for Israel," for the U.S.-Israel alliance and for peace. …
But Palestinians, who claim east Jerusalem as the capital of a future state, vehemently oppose the relocation. Most believe Israel has no right to exist. Weekslong protests flared to new levels of violence in the hours before the ceremony at spots along the Gaza-Israeli border.
Prime Minister Netanyahu referenced the clashes during his remarks, praising the "brave soldiers protecting" the borders.
But the violence threatened to overshadow the jubilant ceremonies in Jerusalem. At least 52 Palestinians were killed and 900 wounded, Palestinian health officials said, as Israeli security forces fired on a surge of protesters at the border, vowing to prevent a breach. It marked the deadliest day since the Hamas-led border protests began in March.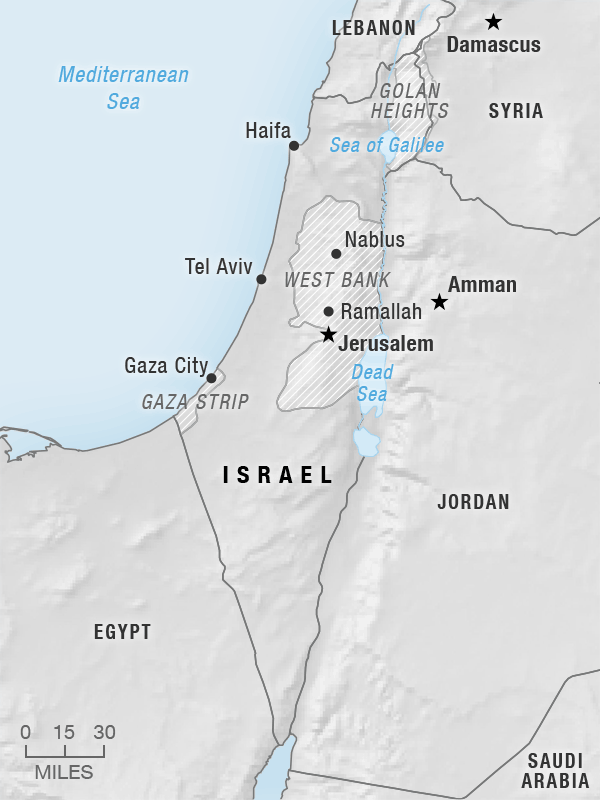 Earlier Monday, Mnuchin said the Trump administration's decision to relocate the Israel embassy from Tel Aviv to Jerusalem is a "national security priority" for the U.S.
Kushner, also a senior White House adviser, said that the sitting president has "delivered" where previous presidents "backed down."
"We believe, it is possible for both sides to gain more than they give – so that all people can live in peace – safe from danger, free from fear, and able to pursue their dreams," he said, adding: "Jerusalem must remain a city that brings people of all faiths together."
…The prime minister said Trump's decision recognized a 3,000-year Jewish connection to Jerusalem and the "truth" that Jerusalem would be Israel's capital under any future peace deal.
Meanwhile, Israel bolstered its border security as thousands of Gaza residents amassed at the Israeli border. Since weekly border marches began in late March, dozens of Palestinian protesters have been killed and more than 2,000 wounded by Israeli army fire.
Hamas leaders have [threatened a] border breach in the days leading up to the embassy celebration, while Israel has warned it would prevent protesters from breaking the border at any cost.
Palestinian officials have criticized the Trump administration for its decision to move the U.S. Embassy to Jerusalem. Palestinian President Mahmoud Abbas cut ties with the U.S., declaring it unfit to be the sole mediator for potential peace between Israel and Palestine.
The Trump administration had brushed off Palestinian criticism, saying that the embassy move could be a first step for brokering a peace agreement.
Published at Fox News on May 14, 2018. Fox's Ryan Gaydos, Samuel Chamberlain and the Associated Press contributed to this report. 
Questions
1. For ISRAEL, give the following information:
capital

location/the countries that share its borders

the religious breakdown of the population

the type of government

the chief of state (and head of government if different) If monarch or dictator, since what date has he/she ruled? – include name of heir apparent for monarch

the population
Find the answers at the CIA World FactBook website. For each country, answers can be found under the "Geography" "People" and "Government" headings.
NOTE: Before answering the following questions, read the "Background" and watch the video under "Resources" below.
2. For ISRAEL:
a) list the who, what, where and when of the news item
b) What is the Jerusalem Embassy Act?
c) Why do Israelis, Jewish people around the world and supporters of Israel including conservatives and/or conservative Christians think the U.S. embassy should be located in Jerusalem, not Tel Aviv?
d) Why are Palestinians, Muslims around the world, many European leaders and liberals/progressives angry that President Trump fulfilled his promise and is abiding by U.S. law (Jerusalem Embassy Act)?
e) President Trump said that that by moving the embassy to Jerusalem America was simply recognizing reality. He also said, "We extend a hand in friendship to Israel, the Palestinians and to all of their neighbors. May there be peace." The Trump administration continues to repeat the idea that Israel is there to stay and Jerusalem is its capital. That is the fact. President Trump and U.S. officials involved believe that facing this reality that Jerusalem is the capital of Israel will bring about a peace between Israel and the Palestinians. Do you think it is possible, where previous presidents have failed in helping to negotiate peace between the two groups? Explain your answer.
f) Watch the videos under "Resources" below. How is the tone and the information in these videos different from (or similar to) any news you may have watched or read (or any headlines you may have seen)?
g) Hamas leaders in Gaza have called multiple times for "days of rage" against Israel. What do you think of Palestinian rage toward the Israeli state?
Background
White House senior adviser Jared Kushner (who is Jewish – and also President Trump's son-in-law), called for unity at the embassy opening. He said,
"This land is the only land in the Middle East in which Jews, Muslims, and Christians, and people of all faiths participate and worship freely according to their beliefs. Israel protects women's rights, freedom of speech, and the right of every individual to reach their God-given potential. We believe, it is possible for both sides to gain more than they give — so that all people can live in peace — safe from danger, free from fear, and able to pursue their dreams. Jerusalem must remain a city that brings people of all faiths together."
---
Hamas is a Palestinian Sunni Islamist terrorist organization that since January 2006 forms the majority party of the Palestinian Authority….
Hamas is known outside the Palestinian territories for its suicide bombings and other attacks directed against Israeli civilians, as well as military and security forces targets.
Hamas' charter…calls for the destruction of the State of Israel and its replacement with a Palestinian Islamic state in the area that is now Israel, the West Bank, and the Gaza Strip……
In January 2006, Hamas won a surprise victory in the Palestinian parliamentary elections….  Many [Palestinians] perceived the preceding Fatah government as corrupt and ineffective…
Since Hamas has taken control, the Palestinian territories have experienced a period of sharp internal conflicts, known as Fauda (anarchy), in which many Palestinians have been killed in…fighting [between Hamas supporters and Fatah supporters]. (from a 2011 wikipedia entry)
According to Hamas' charter, which outlines key principles and policies, the terror group aims to establish a state of Palestine "with Jerusalem as its capital" and states that "not one stone" of the city can be given up. The charter reads in part:
"Jerusalem is the capital of Palestine. Its religious, historic and civilizational status is fundamental to the Arabs, Muslims and the world at large. Its Islamic and Christian holy places belong exclusively to the Palestinian people and to the Arab and Islamic Ummah."

"Not one stone of Jerusalem can be surrendered or relinquished. The measures undertaken by the occupiers in Jerusalem, such as Judaization, settlement building, and establishing facts on the ground are fundamentally null and void."
Resources
What did Presidents Clinton, Bush and Obama say about Israel's capital?
---
Watch a video "The Truth About Jerusalem:"
---
Watch a video "Why Isn't There a Palestinian State" from Prager U:
---
Watch a May 2018 report by Pierre Rehov:
Daily "Answers" emails are provided for Daily News Articles, Tuesday's World Events and Friday's News Quiz.