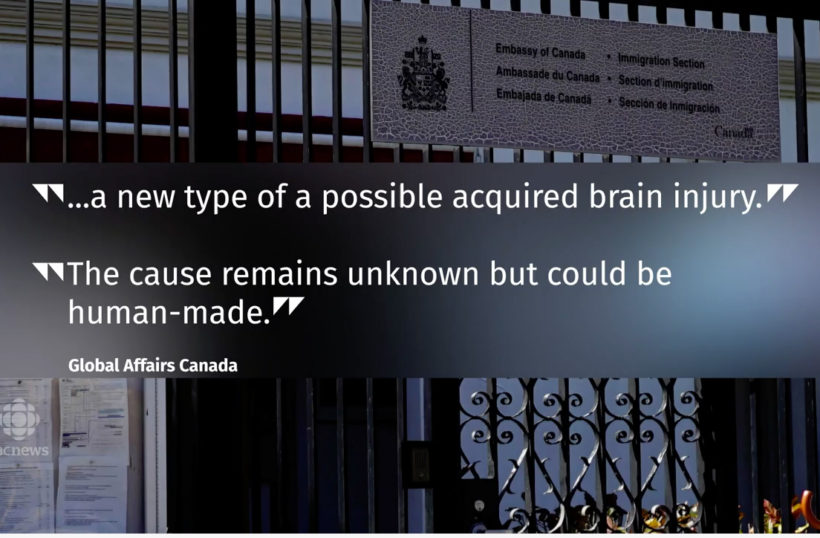 redo Jump to...
print Print...
(by Sharon Marris, Sky News UK) – Canada is removing diplomats' family members from its Cuban embassy over a mystery illness – amid fears some could be suffering from a new type of "acquired brain injury."
The Canadian embassy will now be designated an unaccompanied post, meaning diplomats will have to live there alone.
The post in Havana will now rank alongside those in Iraq and Afghanistan as being too dangerous for diplomats' loved ones.
Canadian officials will also review the 15 roles at the embassy to see whether some staff can be brought home.
Ten Canadians, including children, have been affected by the illness, with symptoms including headaches, nose bleeds, loss of hearing, short-term memory loss, nausea and dizziness.
Researchers found some of those affected heard a "novel localized sound at the onset of symptoms in their homes or hotel rooms," and many described it as "intensely loud, and with a pure and sustained tonality."
Some 24 United States diplomats have also been affected, some as far back as late 2016, with the country deciding to cut its Havana staffing numbers by two thirds in October due to the uncertainty.
Former secretary of state Rex Tillerson said at the time that there had been "targeted attacks."
Canadian officials said there had been no new instances since 2017 but families who had returned to Canada had continued to suffer symptoms, sometimes improving before their illness returned again.
The cause is unknown but initial suggestions from American experts of a sonic attack or psychosomatic causes have been dismissed as unlikely.
Air and water have also been tested but no clues were found.
Computer scientists at the University of Michigan said the problems may have been caused by eavesdropping devices and the ultrasonic distortion they produce, which can be harmful.
In a statement, Global Affairs Canada, which oversees the country's international presence, said medical specialists who examined the sufferers had "raised concerns for a new type of a possible acquired brain injury".
They added: "Additional research is needed to better understand this. The cause remains unknown but could be human-made."
No tourists appear to have fallen ill and Canadian officials maintain Cuba is safe for holidaymakers.
The Cuban Government has said it does not know what is behind the illness and has been working with US and Canadian officials to investigate.
Published at Sky News on April 17.
Questions
1. For CUBA, give the following information:
capital

location/the countries that share its borders

the religious breakdown of the population

the type of government

the chief of state (and head of government if different) If monarch or dictator, since what date has he/she ruled? – include name of heir apparent for monarch

the population
Find the answers at the CIA World FactBook website. For each country, answers can be found under the "Geography" "People" and "Government" headings.
NOTE: Before answering the following questions, read the "Background" and watch the video under "Resources" below.
2. For CUBA:
a) list the who, what, where and when of the news item
b) List the symptoms Canadian diplomats and their family members had while stationed in Cuba.
c) What event occurred that led to injuries, according to researchers who talked to the injured?
d) What did the U.S. do after 24 of our diplomats were also affected with the same unknown illness? – How did Secretary of State Rex Tillerson describe the injuries?
e) Following extensive investigations by the U.S. and now Canada, no conclusive evidence has been discovered as the cause of the injuries. Canadian officials say it is safe to vacation in Cuba. If you won a free trip to Cuba, would the mysterious injuries/illnesses affect your decision to accept the trip? Explain your answer.
Resources
Watch a Canadian news report:
Daily "Answers" emails are provided for Daily News Articles, Tuesday's World Events and Friday's News Quiz.