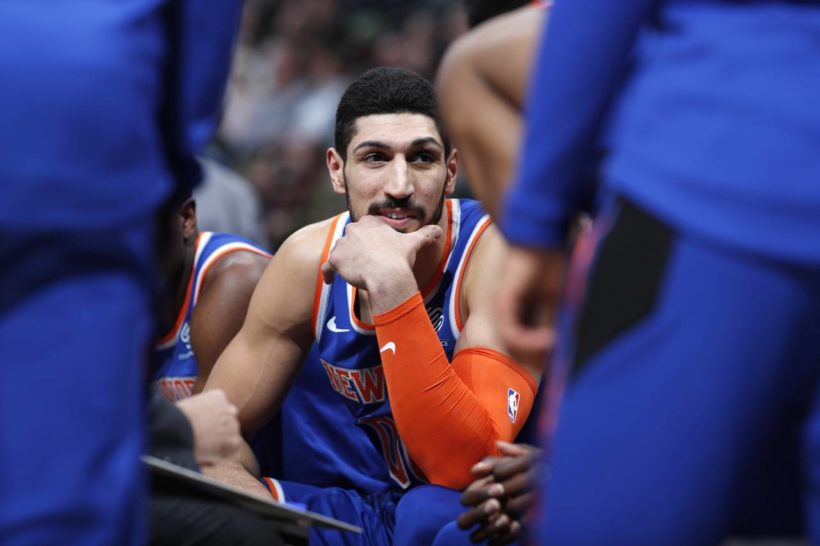 redo Jump to...
print Print...
(Compiled from articles at WSJ and FoxNews) – Turkey said it would seek the extradition of a prominent NBA player, part of a global hunt President Recep Tayyip Erdogan has launched to capture supporters of a Pennsylvania-based Turkish cleric he accuses of [inciting; instigating] the 2016 coup that nearly swept him from power.
Prosecutors in Istanbul allege that Enes Kanter, a Turkish center for the New York Knicks, belongs to the movement of U.S.-based Turkish cleric Fethullah Gulen, which Turkey regards as a terrorist organization [the U.S. does not], and have …publicized an arrest warrant for Mr. Kanter through Interpol, a Turkish official said Tuesday.
The 26-year-old Mr. Kanter, who has been playing in the NBA since 2011, calls himself a "servant" of Mr. Gulen, who lives in Pennsylvania. But the basketball player denies the organization of Mr. Gulen has had any involvement in terrorism-related activity. Mr. Gulen has denied playing any role in the failed coup.
Kanter told reporters January 4 that he would [skip] the Knicks' game against the Washington Wizards on Jan. 17 in London because he believes he could be [arrested or] assassinated for his support for Mr. Gulen. [The Knicks lost the game to the Wizards by a single point.]
"I talked to the front office and sadly I'm not going because of that freaking lunatic, the Turkish president," Kanter said. "There's a chance I can get killed out there. That's why I talked to the front office, and I'm not going so I'm just going to stay here and just practice here."
When asked if he really thought he could be killed if he went to the United Kingdom, he replied, "Oh yeah, easy. They've got a lot of spies there. I think I can get killed there very easy. It would be a very ugly situation."
"Anyone who speaks out against Erdogan is a target," Mr. Kanter said in another tweet on Tuesday. "That includes me."
Former Turkish basketball player Hedo Turkoglu slammed New York Knicks forward Enes Kanter over Kanter's decision to skip a game in London due to alleged fears he could be killed over his opposition to Turkish President Recep Tayyip Erdogan.
Turkoglu, the current president of the Turkish Basketball Federation and a chief adviser to Erdogan, accused Kanter of "trying to get in the limelight with irrational justifications and political remarks."
Turkoglu said Kanter's remarks amounted to a "smear campaign" against Erdogan.
"Kanter not only targeted the Republic of Turkey, governed by the rule of law, with unjust accusations but he also regarded the British security forces as weak and attempted to harm Turkish-British relations," the statement read. "It is obvious that this person's remarks are irrational and distort the truth."
Kanter has been a vocal critic of Erdogan for years, once referring to him as "the Hitler of our century." His Turkish passport was revoked in 2017 and an international warrant for his arrest was issued by Turkey.
Kanter's father, Mehmet, was indicted last year and charged with "membership in a terror group." The former professor lost his job after the failed military coup even though he publicly disavowed his son and his beliefs.
In July, Kanter told Fox News he gets "three or four death threats every week." He said he believed the threats are from pro-Erdogan supporters both in Turkey and outside of it.
Kanter said he feels safe in the U.S.
"But anywhere outside America would be very dangerous," he said.
Compiled from reports by David Gauthier-Villars at WSJ.com on Jan. 15 and Ryan Gaydos at FoxNews on Jan. 7. Reprinted here for educational purposes only. May not be reproduced on other websites without permission.
Questions
1. For TURKEY, give the following information:
capital

location/the countries that share its borders

the religious breakdown of the population

the type of government

the chief of state (and head of government if different) If monarch or dictator, since what date has he/she ruled? – include name of heir apparent for monarch

the population
Find the answers at the CIA World FactBook website. For each country, answers can be found under the "Geography" "People" and "Government" headings.
NOTE: Before answering the following questions, read the info under "Background" and watch the video under "Resources" below.
2. For TURKEY:
a) list the who, what, where and when of the news item
b) For what reasons has the president of Turkey issued an arrest warrant with Interpol for Turkish NBA player Enes Kanter?
c) Why did Kanter skip his team's game against the Washington Wizards that was played in London last week? What did he say?
d) Kanter said he feels safe in the U.S. "But anywhere outside America would be very dangerous," he said.
-What is your reaction to the fact that Mr. Kanter trusts the U.S. but not UK government to keep him safe?
-How do you think the government of Turkey views the U.S. if they would not try to do anything to Mr. Kanter here, but might in the UK?
Background
More from the Wall Street Journal article by Daid Gauthier-Villars:
The developments mark a dramatic escalation in Mr. Kanter's protracted feud with Mr. Erdogan, which traces to a 2016 incident, and provide a measure of the extent of Turkey's efforts to prosecute sympathizers of Mr. Gulen.
Turkey has submitted a formal request to the U.S. seeking extradition of the 77-year-old cleric, but U.S. officials have said evidence Turkey provided didn't meet the legal standard for extradition.
President Erdogan [a devout Muslim who is transforming Turkey's government from secular to Islamic]  and Mr. Gulen were once allies. The Turkish leader leaned on the cleric's movement to thrust scores of young graduates groomed by Mr. Gulen's sprawling network of [Islamic] schools into the Turkish administration.
Since the 2016 failed coup, however, the Turkish leader has purged the state apparatus of tens of thousands of civil servants he suspects have had sympathy with Mr. Gulen. Mr. Erdogan has also ordered the national intelligence agency and other security institutions to pull out all stops in hunting for suspected Gulenists [Muslims who follow Gulen's Islamic teachings] overseas. Turkey says it has snatched over 100 suspects through different operations in places ranging from nearby Kosovo to far-flung Malaysia.
"Rest assured that they will feel Turkey breathing down their neck," Mr. Erdogan's spokesman, Ibrahim Kalin, told reporters in September. "I cannot share any details but anything can happen anytime anywhere. Mr. President has given very clear instructions on this issue."
Turkish authorities narrowly missed an opportunity to detain Mr. Kanter in 2017 when he made a layover in Romania. He was detained at the airport because, unbeknown to the athlete, Turkey had canceled his passport and issued warrants for his arrest. With support from the U.S., Mr. Kanter managed to avoid being sent to Turkey.
The warrants stemmed from a pair of complaints that Mr. Erdogan and former NBA player Hidayet Turkoglu, who was known as "Hedo" during his basketball career, had filed against Mr. Kanter over alleged insults.
In spring 2016, Mr. Kanter had published a series of tweets praising Mr. Gulen and lambasting President Erdogan and Turkoglu. In one of his posts, he had written an acrostic about a snake and a thief which contained the letters of the president's surname in large type. In another, he had mocked Mr. Erdogan for hiring Mr. Turkoglu as an adviser, asking if he would seek advice on "how to steal ball."
An official with the Turkish presidency didn't return messages seeking comment. Through a spokesman, Mr. Turkoglu declined to comment. In an op-ed article published in the Washington Post on Tuesday, Mr. Kanter said he knew that singling out the president of Turkey would land him in trouble but never thought it would reach such an extreme. The player has said the situation has left him estranged from his family living in Turkey.
While the two insult cases are pending, Messrs. Kanter and Turkoglu have continued sparring over social networks. Last week, when Mr. Kanter first announced that he wouldn't go to London because he feared for his life, Mr. Turkoglu published a statement in English, German and Turkish accusing him of conducting a smear campaign against Turkey.
Resources
Watch a Jan. 4 interview with Enes Kanter:
Daily "Answers" emails are provided for Daily News Articles, Tuesday's World Events and Friday's News Quiz.