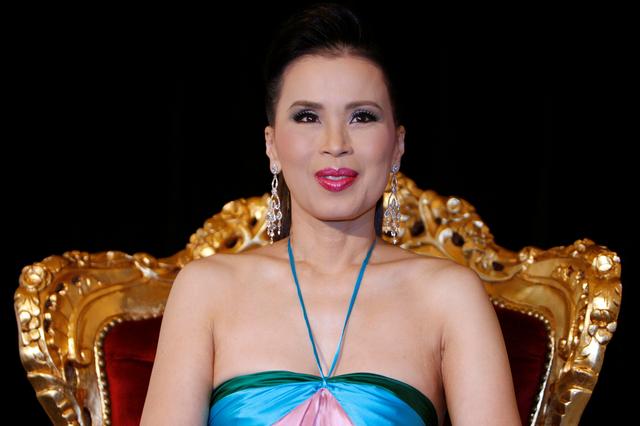 redo Jump to...
print Print...
(by Nicholas Sakelaris, UPI) — For the first time in the 86-year history of Thailand's constitutional monarchy, a member of the nation's royal family has run for prime minister.
Ubolratana Mahidol, the oldest child of the late King Bhumibol, (who reigned from 1946 until his death in 2016) was nominated by the Thai Raksa Chart Party, which is aligned with the country's exiled former leader, Thaksin Shinawatra.
Ubolratana, 67, completed her undergraduate and graduate degrees from the the Massachusetts Institute of Technology and the University of California, Los Angeles, respectively.
Thailand's royal family is seen as semi-divine, but Ubolratana resigned her royal title of princess in 1972 [when she married an American, a fellow student at the Massachusetts Institute of Technology (MIT), Peter Jensen.
She lived in the United States for more than 26 years before they divorced in 1998. She returned permanently to Thailand in 2001, performing royal duties but never regaining her full royal titles. She is referred to as "Tunkramom Ying," which means "Daughter to the Queen Regent," and is treated by officials as a member of the royal family].
"The Thai Raksa Chart Party is deeply honored to have received Ubolratana Mahidol's kindness in accepting the party's nomination to be prime minister," the party said in a statement."
The election is set for March 24. Friday was the last day for hopefuls to declare their candidacy.
"I am deeply touched," Ubolratana posted on Instagram. "My decision to allow the Thai Raksa Chart to register my name as a candidate for prime minister demonstrates my freedom and rights, with no privileges over other people, as stated in the constitution."
Thaksin [exiled former leader, Thaksin Shinawatra] is a Thai businessman and former politician who was prime minister from 2001 to 2006. He's lived in self-imposed exile since leaving office, when his party was overthrown by a military coup. He's also a fugitive, having been sentenced to two years in jail for abuse of power.
Ubolratana's brother, King Vajiralongkorn, does not support her bid for prime minister, calling it "inappropriate" in a televised address.
"Involvement of a high-ranking member of the royal family in politics, in whatever way, is an act that conflicts with the country's traditions, customs, and culture, and therefore is considered extremely inappropriate," he said.
[Ubolratana's Instagram account was silent immediately after the king's statement]. [The public opposition from King Vajiralongkorn is likely to lead to the Election Commission disqualifying her or the princess dropping out of the race].

The surprise nomination sent shock waves through the country's political landscape as a crowded field of candidates prepared to run for the same post. Gen. Prayuth Chan-ocha, who's ruled Thailand since a 2014 coup, also announced he would run.

[King Vajiralongkorn also cited a provision in the constitution that states the monarch stays above politics and maintains political neutrality.
"All royal family members adhere to the same principles … and cannot take any political office, because it contradicts the intention of the constitution."]
Thailand's lese majeste law makes it a crime to criticize the royal family, which could make it difficult for opponents to campaign against Ubolratana.
Ubolratana was born in Lausanne, Switzerland, while her father was attending college there. She and her father won a gold medal in sailing in the 1967 Southeast Asian Games. She has three children, one of whom died in the 2004 tsunami that killed more than 225,000 people in southern Asia.
Published at UPI .com on February 8. Reprinted here for educational purposes only. May not be reproduced on other websites without permission from United Press International.
Questions
1. For THAILAND, give the following information:
capital

location/the countries that share its borders

the religious breakdown of the population

the type of government

the chief of state (and head of government if different) If monarch or dictator, since what date has he/she ruled? – include name of heir apparent for monarch

the population
Find the answers at the CIA World FactBook website. For each country, answers can be found under the "Geography" "People" and "Government" headings.
NOTE: Before answering the following questions, read the info under "Background" and watch the video under "Resources" below.
2. For THAILAND:
a) list the who, what, where and when of the news item
b) Who is the king of Thailand? How long has he been king? For how long had his father been king?
c) Why does the king oppose his sister's candidacy?
d) What could make it difficult for opponents to campaign against Ubolratana, should she actually be able to run?
Background
Thailand has been a constitutional monarchy since 1932, but the royal family has wielded great influence and commands the devotion of millions.
Nominating a member of the royal family had seemed a potential game-changer for the Thaksin loyalist parties that have been accused by their enemies of being opposed to the monarchy, charges they have always rejected.
Rivalry between the Bangkok-centered, royalist elites and Thaksin and his rural-based supporters has brought street protests, military coups, and violent clashes over almost 15 years.
Ubolratana's announcement followed a long period of mourning for King Bhumibol, who died in October 2016, and as her brother establishes himself on the throne in preparation for an official coronation in May. (from a Reuters article)
---
Thailand's lese majeste laws explained
What are the laws?
The laws protect the most senior members of Thailand's royal family from insult or threat.
Article 112 of Thailand's criminal code says anyone who "defames, insults or threatens the king, the queen, the heir-apparent or the regent" will be punished with up to 15 years in prison.
This has remained virtually unchanged since the creation of the country's first criminal code in 1908, although the penalty was toughened in 1976.
The ruling has also been enshrined in all of Thailand's recent constitutions, which state: "The King shall be enthroned in a position of revered worship and shall not be violated. No person shall expose the King to any sort of accusation or action."
However there is no definition of what constitutes an insult to the monarchy.
And lese majeste complaints can be filed by anyone, against anyone, and they must always be formally investigated by the police.
Meanwhile, the details of the charges are rarely made public for fear of repeating the alleged offence.
Critics say the room for interpretation is too wide and the penalties too severe.
Why does Thailand have them?
The monarch is central to Thai society. King Vajiralongkorn's father, King Bhumibol Adulyadej (who died in 2016 after 70 years on the throne) was widely loved and often treated as a virtual god.
"The monarchy is above any conflict," Winthai Suvaree, a spokesman for the country's military rulers, was quoted as saying by AFP in June.
Thailand's ruling junta, which overthrew Prime Minister Yingluck Shinawatra's government, is seen as staunchly royalist.
The military took power on May 22, 2014 after months of anti-government protests, saying it would return stability.
Prime Minister Prayuth Chan-ocha has stressed that lese majeste laws were needed to protect the royals. (from a Jan. 2016 BBCNews report)
Resources
Watch a news report:
Daily "Answers" emails are provided for Daily News Articles, Tuesday's World Events and Friday's News Quiz.