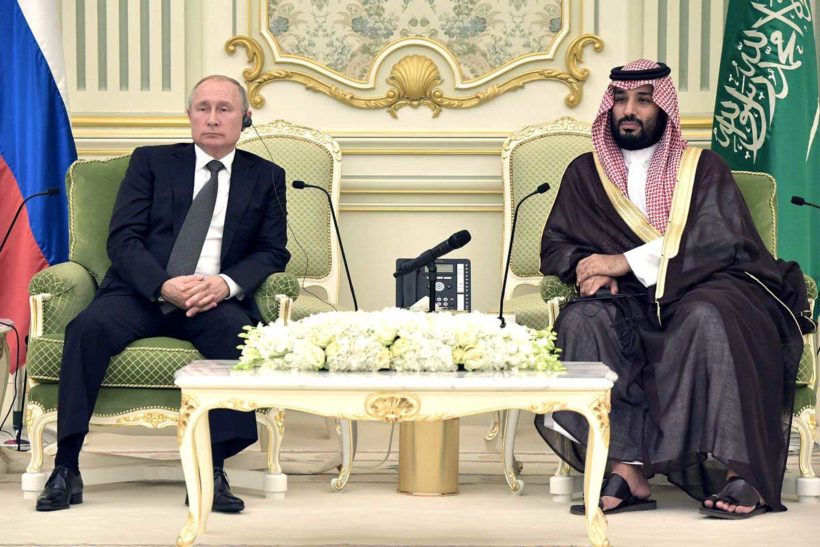 (by Alex Ward, Vox) — A long-standing deal between Saudi Arabia and Russia — two of the world's oil-producing powerhouses — fell through over the weekend, sending global markets into a spiral…
…Last week, members of the Organization of the Petroleum Exporting Countries (OPEC), a cartel of 15 countries of oil-producing nations, met…to discuss what to do as the coronavirus's impact has lowered global demand for oil [especially due to the drop in Asia's oil consumption that's being driven by the outbreak there].
Russia is not part of the bloc [OPEC], but Russian officials were invited to the meeting. That's because three years ago Russia made a deal to coordinate its production levels with the group, in a pact known as OPEC+.
At last week's meeting, Saudi Arabia, the cartel's leader, suggested the participants collectively cut their oil production by about 1 million barrels per day, with Russia making the most dramatic cut of around 500,000 barrels a day. Doing so would keep oil prices higher, which would bring in more revenue for nations in the bloc whose economies are heavily dependent on crude exports.
Riyadh considered the move necessary as Asia, which is roiling from thousands of cases of coronavirus mainly in China and South Korea, no longer consumes as much energy as it did only a few months ago. China's refineries, for example, cut their imports of foreign oil by about 20 percent last month. Lower demand leads to a drop in the commodity's price, which thus hurts countries' bottom lines.
The Russians, wary of such a move for weeks, opted against the plan. It's still unclear exactly why that's the case. Some say Russia wants prices to stay low to hurt the American shale oil industry or is gearing up to seize a bigger sliver of Asian and global oil demand for itself.
"The Russians are more worried about market share and think they'd do better competing with the Saudis rather than cooperating at this point," says Emma Ashford, an expert on petrostates at the CATO Institute in Washington.
Saudi Arabia didn't take too kindly to the Kremlin's decision and responded by slashing its export prices over the weekend to start a price war with Russia. That brought the price per barrel down by about $11 to $35 a barrel — the biggest one-day drop since 1991.
The upshot of that decision is the Saudis have positioned themselves to snatch what's left of Asian oil demand by having a cheaper product to sell, aided by very low production costs per barrel. But there's a big downside: The price for oil is a global one. If the Saudis tank it, as they just have, it goes down pretty much everywhere.
Dwindling revenues mean global energy companies — including smaller shale-producing firms in Texas and the Dakotas — make less profit. That's spooked markets around the world, with shares in Tokyo dropping 5 percent and a top index on Wall Street falling by 7 percent, forcing a trading stop shortly after open on Monday. …
Few can predict what will happen next, especially since it's unclear what further effects the coronavirus may have on the global economy. What is clear, though, is that lower demand for oil and longer-term trends in the energy market have ruptured the tepid Saudi-Russia alliance for now — and the consequences will be felt everywhere, including in the United States. …
Published by vox .com on March 9, 2020. Reprinted here for educational purposes only. May not be reproduced on other websites without permission from Vox.
Questions
1. What problem did members of OPEC and Russia meet to address last week?
2. a) What suggestion did OPEC's leader Saudi Arabia make to address the problem?
b) What result would this have had? – Why was this important?
3. How did MBS (Saudi's Prince Mohammed bin Salman) respond to President Vladimir Putin's refusal to comply?
4. What effect did the oil war between Saudi Arabia and Russia have on the stock market on Monday?
Resources
Watch a March 9 Arirang News report:
Daily "Answers" emails are provided for Daily News Articles, Tuesday's World Events and Friday's News Quiz.