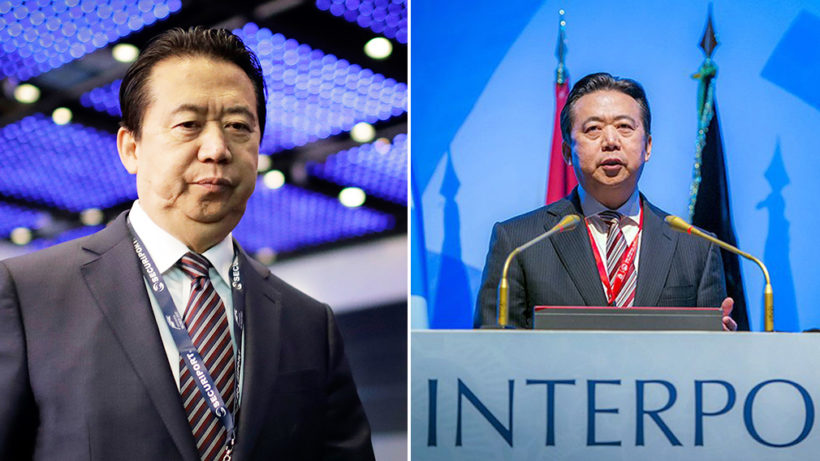 redo Jump to...
print Print...
(by Ben Westcott, Eliott C. McLaughlin, Saskya Vandoorne, CNN) – The missing head of Interpol, who vanished after returning to his homeland, is under investigation in China, authorities in Beijing have confirmed.

In a terse one line statement Sunday evening, China's ruling Communist Party admitted Meng Hongwei, who also holds the position of vice minister of public security in China, was "under investigation by the National Supervision Commission for alleged violations of laws." [Since Xi Jinping came to power in 2012, well over a million party officials have been disciplined in some way. Xi has implemented a sprawling campaign against graft at all levels of government, military and state industry. Officials under suspicion often disappear into the party's investigatory body, which can hold them for months without releasing information or providing them with legal counsel.]

Chinese authorities had previously remained tight-lipped about the whereabouts of Meng, following his sudden disappearance last month after he flew from France to China.

Sunday's statement did not specifically say that Meng had been arrested, or that he remains in China. However, previous suspects who have been described as "under investigation" by the National Supervisory Commission — the country's top anti-corruption agency — have often reappeared in the custody of the government at a later date.

[The 64-year-old, who is also a vice-minister at China's Ministry of Public Security, was "taken away" for questioning by discipline authorities "as soon as he landed in China" last week, a source told the South China Morning Post, a Hong Kong-based newspaper known for its connections inside the Chinese government.

It is not yet clear why Meng is being investigated or exactly where he is being held. Although still listed as a vice-minister on the public security ministry's website, Meng lost his seat on its Communist Party Committee – its real decision-making body – in April.]

In a separate development, Interpol said it had received Meng's resignation from the international police agency with "immediate effect" according to statement posted Sunday. It made no mention of the former president's sudden disappearance or his current whereabouts.

Meng's disappearance comes just one week after one of China's best-known actresses, Fan Bingbing, reappeared following a lengthy disappearance, admitting to tax evasion and promising to pay a large fine.
"That China feels so emboldened to disappear even one of its most famous actresses … should be a real wake up call that anyone within China could be next," human rights advocate Michael Caster wrote for CNN in September.
Meng's disappearance was first reported to authorities by his wife, Grace, who went to police in Lyon on Thursday, according to the French Interior Ministry. She told police that she last heard from him 10 days prior and had received threats on social media and by telephone, according to the statement.
Speaking to reporters at a hotel in Lyon, France, Grace said that that her last contact with her husband came via a WhatsApp text message with a knife emoji and the instructions, "Wait for my call."
Interpol had asked Chinese authorities for information about Meng Hongwei. Interpol Secretary General Jurgen Stock said in a statement posted to Twitter on Saturday, "Interpol has requested through official law enforcement channels clarification from China's authorities on the status of Interpol President Meng Hongwei."
"Interpol's General Secretariat looks forward to an official response from China's authorities to address concerns over the President's well-being," the statement continued.
Interpol said Sunday night that South Korea's Kim Jong Yang, a vice president representing Asia on Interpol's executive committee, would serve as acting president until the organization's general assembly picks a permanent president next month.
Interpol, or the International Police Criminal Organization, facilitates international police cooperation. It has 192 member countries.
Published at CNN on Oct. 7. Updated 1:26 AM ET, Mon October 8, 2018
---
The following excerpt is by Laurie Chen and Mimi Lau of Hong Kong's South China Morning Post:
Meng was appointed head of Interpol in 2016, and was due to serve until 2020.
His appointment caused concern among academics and human rights advocates, who feared he would abuse Interpol's powers to forcibly repatriate Chinese dissidents and fugitives. Last April, Interpol issued a red notice for Chinese fugitive tycoon Guo Wengui at Beijing's request.
Critics said Meng's disappearance would sound alarm bells in global organizations that work with China.
Katrin Kinzelbach, associate director of the Global Public Policy Institute in Berlin, said Meng had been under close observation since joining Interpol as his appointment had caused concern among academics and human rights advocates.
"Ironically, Meng's disappearance can be a wake-up call, making it more difficult for the PRC [China] to [obtain] leadership positions in international organizations," she said.
Kinzelbach also urged Interpol to issue a yellow notice – a global alert used to help locate missing persons – on Meng's behalf.
"As a matter of fact, Interpol cannot by itself investigate the whereabouts of its missing president, but it can, and in fact should, issue a yellow notice," she said. PRC's national authorities would then have to search for him. That is ironic, because Meng Hongwei seems to be a victim of their disciplinary procedures," she said.
She said his disappearance was unlikely to have an impact on Interpol's operations as his role was that of an executive. However, his appointment was an alarming sign of China's ability to shape international organizations, including those in which its authoritarian influence was extremely dangerous, she said.
Published at South China Morning Post on Oct. 6, 2018. Additional reporting by Reuters. 
Questions
1. For CHINA, give the following information:
capital

location/the countries that share its borders

the religious breakdown of the population

the type of government

the chief of state (and head of government if different) If monarch or dictator, since what date has he/she ruled? – include name of heir apparent for monarch

the population
Find the answers at the CIA World FactBook website. For each country, answers can be found under the "Geography" "People" and "Government" headings.
NOTE: Before answering the questions below watch the videos under "Resources."
2. For CHINA:
b) What is Interpol?
c) Why were human rights activists concerned when China's Meng Hongwei was appointed President of Interpol in 2016?
d) Where is Mr. Meng now? (What happened to him?)
e) Why is Meng's wife so worried about him?
Background
From an analysis by BBC Asia Editor Celia Hatton (from an Oct. 5 BBC News article):
Has Meng Hongwei angered China? — 
Meng Hongwei's disappearance seems to fit in with a now familiar pattern among China's senior Communist Party officials. The official in question suddenly drops out of the public eye and an alarm is raised that the person is "missing," usually by members of the public.
Eventually, the party issues a terse statement that the official is "under investigation," the official is then booted from the party for "disciplinary infractions" and – eventually – a prison sentence is announced. Since Chinese President Xi Jinping came to power in 2012, well over a million party officials have been disciplined in some way.
Mr. Meng's case is notable for a few reasons. First, his wife notified the French authorities after he had only been missing for a few days. Family members of missing party officials rarely, if ever, reach out to foreign authorities, in fear their relatives will face ever greater punishment.
Did the wife do this because she felt there was no other option? Also, at one time, China prized Mr. Meng's lofty position at Interpol.
If he has really gone missing within the Chinese state apparatus, whom did he anger, or what could he have done for Beijing to willingly, and publicly, forfeit the top job at Interpol?
How has Interpol reacted?
In a statement, the organization said it was aware of reports of the "alleged disappearance" of Mr. Meng. "This is a matter for the relevant authorities in both France and China," it said.
Interpol added that the secretary general – not the president – was in charge of the day-to-day running of the 192-member organization.
As president, Mr. Meng leads the Executive Committee, which provides the overall guidance and direction to Interpol. Mr. Meng's term is scheduled to run until 2020.
Before taking over at Interpol, Meng Hongwei was deputy minister in charge of public security in China.
After his election human rights groups expressed concern that the move could help China pursue political dissidents who have fled the country.
Resources
From Euronews: What is Interpol?
Watch an Oct. 5 TRT (Turkish public broadcasting) report:
Daily "Answers" emails are provided for Daily News Articles, Tuesday's World Events and Friday's News Quiz.