redo Jump to...
print Print...
(Compiled from reports at UPI and NBC News) – German officials said Tuesday they plan to increase defense spending this year, but not to levels high enough to meet President Donald Trump's demands. Trump has insisted that all NATO members meet their committment to the organization.
German Defense Minister Ursula von der Leyen said Monday Germany will increase its defense spending from current levels 1.2 percent of GDP to 1.5 percent over the next seven years.
NATO allies, including Germany, are expected to contribute 2 percent of their GDP towards defense. Speaking to German military officials in Berlin on Monday, German Chancellor Angela Merkel said meeting the 2 percent benchmark would not be "completely beyond the imagination"
President Trump has expressed dissatisfaction in the past over the failure of many NATO allies to meet the 2 percent [NATO] requirement and has urged countries in the alliance to boost their contribution levels.
The U.S. spends more than 3.5 percent of its GDP on defense.
Although NATO allies fall short of the 2 percent level, many nations in the alliance have increased defense spending within the past year [after President Trump pushed for them to meet their commitments to NATO.]  According to Bloomberg, European nations increased spending from an average of 1.44 percent to 1.46 percent, while Canada increased sending from 1.16 percent to 1.29 percent.
Just eight of NATO's 29 members meet the alliance's target of spending 2 percent of GDP on defense: The United States, Britain, Greece, Estonia, Latvia, Lithuania, Poland, and Romania. In total, 15 members (including those 8) have plans to reach the 2 percent target by 2024 – the year all members pledged in 2014 to do so by.
Trump has criticized Europe's NATO members for not contributing enough to fund the alliance by contributing their fair share. While meeting with Mr. Trump this week, NATO Secretary-General Jens Stoltenberg agreed that more NATO members had to do their part.
"We still have too many allies [NATO member countries] spending too little on defense," he said.
President Trump on Thursday singled out Germany — which says it won't reach the 2 percent target by 2025 — as a country that "has not contributed what it should be contributing, and it's a very big beneficiary."
This renewed effort by the Trump administration comes at a time when the U.S. and its allies are increasingly worried about what they see as Russian aggression against the West.
"At no point since the end of the Cold War has NATO been more relevant than it is today," a senior State Department official told reporters Wednesday.

"As the largest and wealthiest European member-state, the example that Germany sets is a very powerful one," the official said before a NATO meeting in Brussels at the end of April. "And the practical impact that it would have in strengthening European security if it fully lived up to its stated public commitments would be hard to overstate."
This is not a new message from Trump. The president has had a strained relationship with NATO during his campaign and time in office, calling the alliance "obsolete" and suggesting he might not defend allies that didn't [pay enough to meet their NATO responsibilities.] He later rowed back those comments and eventually committed to NATO's central mutual defense clause, but unease in Europe has lingered.
Many Western analysts agree that Trump has a point: Germany has a powerful and healthy economy and therefore should commit to spending more of its defense budget.
Furthermore, this president is not the first to voice these concerns. Officials in the administration of President Barack Obama, most notably former Defense Secretary Robert Gates, strongly urged Germany and others to spend more on their militaries.
"There are few defense professionals in Europe who dispute that Germany currently contributes far less than its share on defense within NATO," said Justin Bronk, a research fellow at the London-based Royal United Services Institute think tank.
Germany spends proportionally less on its military than countries like Portugal, Bulgaria and Norway.
Ulrike Esther Franke, a Berlin-based policy fellow at the European Council on Foreign Relations explained that Germany has also relied on the so-called security umbrella from the U.S., which still has around 34,000 troops in the country today.
"The Cold War was over and there really was no need to spend much on defense and security," Franke added. "Many European countries, but especially Germany, just felt that they could get away with it."
Compiled  from reports at UPI on May 14 by Ray Downs and NBC News on April 26 by Alexander Smith, Abigail Williams and Andy Eckardt.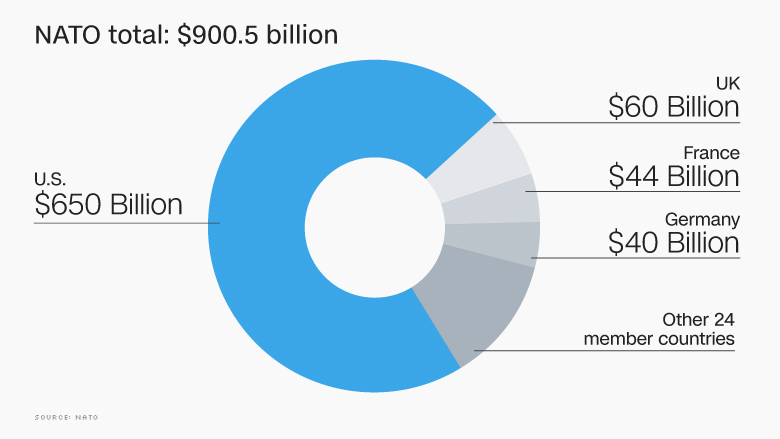 Questions
1. For GERMANY, give the following information:
capital

location/the countries that share its borders

the religious breakdown of the population

the type of government

the chief of state (and head of government if different) If monarch or dictator, since what date has he/she ruled? – include name of heir apparent for monarch

the population
Find the answers at the CIA World FactBook website. For each country, answers can be found under the "Geography" "People" and "Government" headings.
NOTE: Before answering the following questions, read the "Background" and watch the video under "Resources" below.
2. For GERMANY:
a) list the who, what, where and when of the news item
b) How much is each of the 29 NATO member countries supposed to spend defense spending? (They all agreed to this amount in 2014 and committed to do so by 2024.)
c) How much of an increase has Germany said they will make?
d) How much does the U.S. spend on defense?
e) From the article:
The fundamental role of NATO is to safeguard the freedom and security of its member countries by political and military means. This renewed effort by the Trump administration comes at a time when the U.S. and its allies are increasingly worried about what they see as Russian aggression against the West. 'At no point since the end of the Cold War has NATO been more relevant than it is today,' a senior State Department official said.
Germany is the largest European country in NATO and has the strongest economy. Do you agree with President Trump's demand that Germany especially meets their obligation to NATO? Explain your answer.
Background
NATO:
The North Atlantic Treaty Organization (NATO) is an alliance of 29 countries from North America and Europe committed to fulfilling the goals of the North Atlantic Treaty signed on April 4, 1949.
Twelve countries were part of the founding of NATO: Belgium, Canada, Denmark, France, Iceland, Italy, Luxembourg, the Netherlands, Norway, Portugal, the United Kingdom, and the United States. NATO grew by including Greece and Turkeyin 1952 and West Germany in 1955, and then later Spain in 1982.
In accordance with the Treaty, the fundamental role of NATO is to safeguard the freedom and security of its member countries by political and military means. (from nato.int)
NATO was established to counter the risk that the Soviet Union would seek to extend its then-control of Eastern Europe to other parts of the continent.
NATO's role as a political and military alliance was to provide for collective defense against any form of aggression and to maintain a secure environment for the development of democracy and economic growth.
NATO is committed to the peaceful resolution of disputes. If diplomatic efforts fail, it has the military capacity needed to undertake crisis-management operations. These are carried out under Article 5 of the Washington Treaty – NATO's founding treaty – or under a UN mandate, alone or in cooperation with other countries and international organizations. (from nato.int)
Go to NATO's website for a list of member countries here.
---
From a January 2018 Reuters report: "Diplomat tells Germany: Raise military spending, don't be a freeloader":
Wolfgang Ischinger, Germany's former envoy to Washington who is now chairman of the Munich Security Conference (MSC), urged the German government to reverse their restrictive stance on arms exports and formally back commitments to NATO.
Ischinger said he considered it "undignified" for Germany's sole contribution to the global fight against Islamic State to be reconnaissance flights.
"The biggest European Union state is all for victory over Islamic State in Syria and Iraq; we take photos, but we leave the dirty business of shooting to others," he told Reuters in an interview on Tuesday.
"We should not develop the reputation of being one of the world's best freeloaders," he added.
Ischinger said the German government had increased its engagement in global affairs in line with a 2014 pledge at the annual MSC conference, including through its deployment of German troops to Lithuania to protect NATO forces, and its participation in a U.N. peacekeeping mission in Mali.
But he said Germany still remained reluctant to take on combat roles, and had failed to offer clear ideas for how to shape the future of Europe.
Ischinger said failure to explicitly state a commitment to the NATO target would "ruin our credibility in this area." He rejected comments in which German Foreign Minister Sigmar Gabriel, a Social Democrat, argued that other European countries would fear a Germany that spent that much of its budget on the military.
"How can it be that our rich country with over 80 million citizen doesn't have a single helicopter we can use in Afghanistan, not a single useable submarine," Ischinger said, referring to recent news reports confirmed by military officials. "How can it be that we send our soldiers to Afghanistan without the best armored vests?"
Resources
During a meeting at the White House with Secretary General Jens Stoltenberg on Thursday, May 17 President Donald Trump pointed out Germany is not meeting their full NATO commitments:
Daily "Answers" emails are provided for Daily News Articles, Tuesday's World Events and Friday's News Quiz.