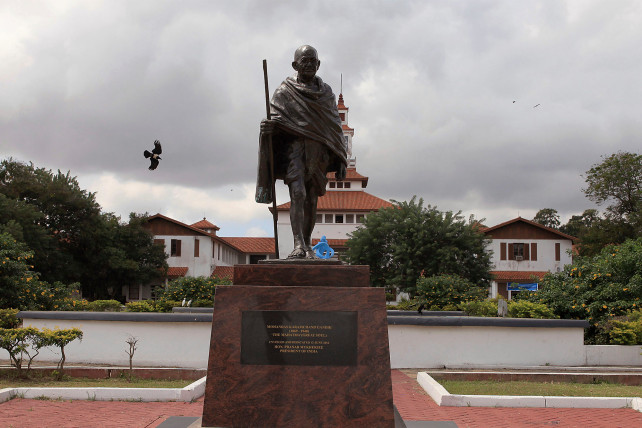 redo Jump to...
print Print...
(BBC News) – A statue of Mahatma Gandhi, the famed Indian independence leader, has been removed from a university campus in Ghana's capital, Accra.
University of Ghana lecturers began a petition for its removal shortly after it was unveiled in 2016 by India's former President Pranab Mukherjee.
The petition said Gandhi was "racist" and African heroes should be put first. [The petition to remove the statue from the University of Ghana in Accra used his early writings during his two decades as a lawyer on the continent to give weight to critics' argument.]
In the wake of the row, Ghana's government at the time said the statue would be relocated.
Lecturers and students told the BBC that the statue, originally located at the university's recreational quadrangle, had been removed on Wednesday, December 12.
The university confirmed this, saying that the Ministry of Foreign Affairs and Regional Integration was responsible.
Law student Nana Adoma Asare Adei told the BBC: "Having his statue means that we stand for everything he stands for and if he stands for these things [his alleged racism], I don't think we should have his statue on campus."
Mahatma Gandhi was one of the most celebrated figures of the 20th Century. He is best known for leading non-violent resistance to British colonial rule in India.
However, as a young man he lived and worked in South Africa, and although he has inspired people throughout the world his comments on black South Africans have been controversial. [While living in South Africa, Gandhi referred to the country's black population as "Kaffirs," a racial slur, and said Indians were "infinately superior." The word "Kaffir" is deemed so offensive that it is rarely uttered aloud or published, the Washington Post said.] [The petition cited other protests against tributes to historical figures at universities around the world.
Protests against Gandhi have occurred in Davis, Calif., where a similar statue met opposition, and in London, where plans to honor Gandhi also faced criticism.]
Published at BBC News on December 13, 2018.  Reprinted here for educational purposes only. May not be reproduced on other websites without permission from BBC News. [Bracketed content from NY Post.]
Questions
1. For GHANA, give the following information:
capital

location/the countries that share its borders

the religious breakdown of the population

the type of government

the chief of state (and head of government if different) If monarch or dictator, since what date has he/she ruled? – include name of heir apparent for monarch

the population
Find the answers at the CIA World FactBook website. For each country, answers can be found under the "Geography" "People" and "Government" headings.
2. For GHANA:
a) list the who, what, where and when of the news item
b) For what reason was the statue removed? Be specific.
c) What type of statues did the petitioners say should be put in Ghandi's place?
d) Why was Ghandi famous? – Do you think the university did the right thing to remove the statue? Explain your answer.
e) How does it differ from students at U.S. universities demanding the removal of American historical figures – mainly Confederate army officers such as General Robert E. Lee? NOTE TO STUDENTS: Many issues can be controversial. While you might not feel strongly about a certain topic, others around you might take a strong position on one side or the other. Learn to logically defend your position, and politely respect your neighbor's point of view. And if your neighbor gets argumentative with you, remind each other that both sides need to be tolerant of the other's point of view.
Daily "Answers" emails are provided for Daily News Articles, Tuesday's World Events and Friday's News Quiz.